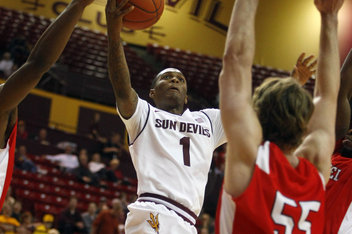 Thoughts from Last Night
· It is easy to fall in love with Brock Motum's scoring ability, but his defense is just too lax to ignore. Kelly Olynyk is certainly skilled enough to put up points for Gonzaga, but most of his 22 2nd half points were unchallenged while Motum was guarding him. Motum has to learn to use his body better, especially on the defensive glass.
· Florida State is struggling on both ends of the floor right now, and the biggest problem seems to be with the play at the point guard position. The offense isn't moving as it should, and players such as Michael Snaer are not getting the ball in spots where they can make plays. Ian Miller needs to step up and take control of this team before the season gets any worse. The defensive issues are tougher to deal with as there seems to be no communication out on the floor, leading to missed assignments, no rotations, and other basic adjustments. Perimeter defenders need to do a better job stopping penetration from the point of attack.
· North Texas' Tony Mitchell is not having anywhere near the season that many expected in his sophomore year, and in a few ways he has even regressed. His understanding of the game on both ends of the floor is low, and you can only get by on athletic ability for so long. It's still early and there is time for him and the Mean Green to get back on track, but he needs to show improvement soon.
· St. Mary's Matthew Dellavedova continues to show why he is one of the best point guards in the country, at least on the offensive end. He has a great feel for the game, and he works hard to get his teammates the best looks possible. His understanding of the pick-and-roll is at a high level, and he does a good job getting into the lane and using his body to finish.
· Arizona State's Jahii Carson continues to be the least talked about freshman star right now, but his name should be well-known if his early play carries over to the Pac-12 conference. Last night against Hartford – 20 points on 9-12 shooting from the floor, 5 rebounds and 6 assists, with only 2 turnovers. He still needs to continue to work hard on the defensive end to keep his man in front of him, but his future looks very bright.
· I wish there were words to describe the Tennessee offense, but I am not sure if there is anything fitting. What we have learned is Trae Golden is not the player to run the offense. The Volunteers needs to find someone who can focus on moving the offense and Golden can concentrate on scoring.
What to Watch Tonight
Syracuse v. Long Beach State
The Orange continues to roll on during the non-conference schedule and the versatility of its weapons makes it tough to plan for. I've already discussed Michael Carter-Williams on numerous occasions these past few weeks, but he continues to impress with his ability to push the ball in transition as well as setting his teammates up in the halfcourt. Backcourt mate Brandon Triche is a steady influence who can score in a variety of ways as well as continuing to improve as a defender. James Southerland has made the most of Carter-Williams' ability to see over the top of the defense, where he finds Southerland set up behind the 3-point line. CJ Fair uses his athleticism well though he needs to become a stronger finisher around the basket.
Long Beach State will look to get out in the open floor and take advantage of their athleticism, led by forward James Ennis. Ennis is long, strong and very athletic, most of which makes up for his lack of skill. Syracuse will need to watch him crashing the boards from the weakside of the zone. Mike Caffey also likes to attack the defense quickly and LBSU will need him to get into the middle of the zone to free up his teammates.
Creighton at Nebraska
Other than a misstep against Boise State, Creighton has been playing as well as expected, led by All-American Doug McDermott. McDermott continues to find ways to score, whether in the post, mid-range, or behind the 3-point line. Big man Gregory Echinique has been effective in the post with limited touches, and he does a great job defending around the basket. Grant Gibbs isn't flashy, but he makes plays and protects the ball, and is a better defender than many give him credit for. Ethan Wragge is a great option as a weak-side spot shooter.
Tim Mile's Nebraska squad has been a pleasant surprise, including a dismantling of USC just a few nights ago. It's a very balanced attack, with Brandon Ubel providing an efficient scorer around the lane, and Ray Gallegos and Dylan Talley doing a great job breaking down defenders and getting into the defense. Big man Andre Almeida moves well and hustles for an over-300 pound player, and his bulk makes it tough for offensive players to get around.
Others to Watch
LaDontae Henton and Kadeem Batts, Providence vs. Rhode Island – The Friars have done as well as could have been expected with leader Vincent Council out with an injury. Henton and Batts should have their way with an undersized Rams' squad. Henton needs to focus more on attacking the basket instead of settling for jump shots, and he should have plenty of opportunities tonight.
Jud Dillard, Tennessee Tech vs. Green Bay – Dillard has done a great job picking up some of the scoring lost with the move of Kevin Murphy to the NBA. He loves to use his size to attack openings in the defense, but he will need to be aware of Green Bay's 7'1 NBA prospect Alec Brown, a good defender and shot-blocker. Dillard will need to pick his spots carefully and hope he can draw Brown into some early fouls.
Chase Tapely, San Diego State vs. UC Santa Barbara – Tapely has been up and down early this season, dealing with some nagging injuries, but the Aztecs will need him to help keep the offense under control, especially when Jamaal Franklin and Xavier Thames start to hoist up multiple ill-advised shots. Tapely will be pressured on the perimeter, so he needs to protect the ball and look to keep the offense moving to find the open spots.
Remember to follow me on Twitter – @NBADraftBlog – leave your comment below, or email me at [email protected]