A strong slate of games this past weekend and it was a good chance to see some of the top prospects go head to head. As non-conference games continue through the month, many teams will be focusing more on finding player combinations which will carry through to March. This also gives us a chance to see some prospects put in positions or situations which they may not be used to. A prospect's future isn't determined in December, but these games can answer a lot of questions.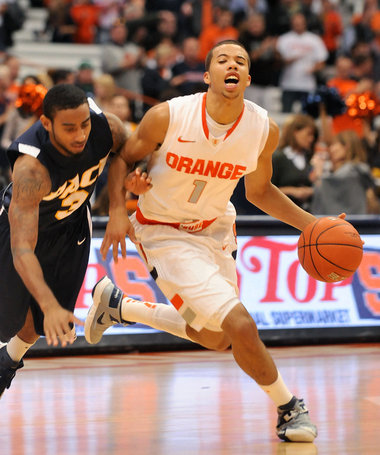 Thoughts From the Weekend
· Michael Carter-Williams keeps piling up the assist numbers, but Arkansas showed that if you push the pace, you can force him into a lot of mistakes right now. Still, with his size and vision, once he learns to let the game come to him, he could be a star.
· There is little doubt that B.J. Young can score in a variety of ways once he gets into the lane, but he still far from where he needs to be as a pro prospect. He needs to find ways to get his teammates involved, especially when the defense collapses on him in the lane. Also, he needs to put in a greater effort on the defensive end. The raw ability is there, but he just needs to bring the level of different areas of his game up.
· James Southerland gets added to the Senior Watch List this week based solely on the fact that he can do one thing very well – shoot. He will need to show much more than that at the next level, but having his size and shooting ability is a good start.
· Jeff Withey has shown much greater offensive awareness this year, but he still needs to make rebounding a priority. He needs to use his body and length to get to the ball quicker.
· Nerlens Noel works as hard as any Kentucky freshman we have seen in the last few years, but I really think his talent was exaggerated. He is a decent defender, and has good shot blocking instinct; the problem is that it is easy to draw him away from the basket where his blocking ability comes in handy. Also, he needs to find some way to be an offensive threat. Right now, you can single cover him with a smaller player and not lose much. Willie Cauley-Stein shows great promise as well, he is just so raw to really judge where his ceiling is.
· Archie Goodwin is as athletically-gifted as they come, and will make some spectacular plays as long as he in college, but his control issues are too tough to ignore. He needs to find a way to understand the game better and realize it's not just a quest to make highlight films.
· No matter how well or not Kentucky played its last 2 games, losses to Notre Dame and Baylor, the kids are not to shoulder the majority of the blame. It is on their coach, John Calipari. In both of these games, there seemed to be no game plan, no adjustments made, nothing that showed he was actually teaching these kids. There is no movement on the offensive end and no semblance that offenses were drawn up to face 2 very different defenses.
· Jordan Adams continues to be the lone UCLA freshman who has impressed in any way, and that is because he is making adjustments on the court and finding ways to score. It may be conditioning issues, as some have hinted, but Shabazz Muhammad has shown nothing more than being a one-dimensional scorer, and just an average defender. I don't even know how to describe what I have seen from Kyle Anderson, but it isn't good. Anyone who suggested he could play the point guard at the NBA level is out of their mind.
· Doug McDermott continues to make his early case for Player of the Year, but Grant Gibbs is the one keeping this team on track. Gibbs has a great knack for getting players the ball where they can make a quick play.
· Rodney Williams' transformation over the last year and a half has been phenomenal, and every game he starts to look more and more like the prop prospect people raved about when he entered college. He has the skill, but his effort level continues to impress on both ends of the floor.
· Erick Green continues to impress, and the key to his scoring has been his ability to get to the free throw line. He is getting to the line around 10 times a game, and hitting near 90%. The Hokies' squad isn't deep, but they are pushing the pace anyway and looking to get easy basket whenever possible.
· Allen Crabbe is not only a pro prospect for how much he scores, but how he does it. His ability to come off of screens quickly and ready to shoot will give him a chance to make an immediate impact at the next level.
Monday Preview
A slow Monday in terms of quality games, but one to keep an eye on is USC at Nebraska. Nebraska coach Tim Miles has proven to be an excellent coach and with seniors Brandon Ubell and Dylan Talley leading the way, the Cornhuskers will play tough defense and move the ball around on offense. For USC, if they are to be taken seriously come NCAA Tournament time, these are the types of games they need to make sure to win. Nebraska's defense is going to challenge the Trojans out on the perimeter, so J.T. Terrell and Jio Fontan need to show some semblance of control on the offensive end. The team as a whole needs to look for better shots, and though they aren't the most talented group of players, if they execute the game plan they should find a way to win.
Remember to follow on Twitter – @NBADraftBlog – and leave your comments below or send to [email protected]