A small Friday night schedule, but some great games, including the continuation of the Big East-SEC Challenge, so let's get right into it: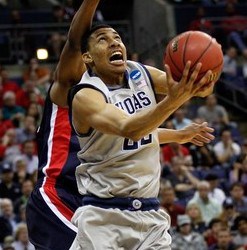 Thoughts from Last Night
– Notre Dame executed their game plan well on both ends of the floor, and deserve full credit for their win, but the most striking part of the game last night was Kentucky's ineptness on the offensive end. People may point to the youth, but I don't remember any Calipari-coached Kentucky team having so much trouble on the offensive end. Archie Goodwin's control issues are worse than I originally believed, and there is no effort to get other players the ball in places where they can make plays. Nerlens Noel played hard all game, but he seems to only have one move and little touch around the basket. Kentucky's defensive issues were known coming in and last night did little to show otherwise.
– Jack Cooley is one of the toughest players in college right now, and not many know how to use their body as well as he does. Jerian Grant also has control issues – his tendency to over penetrate leaves the team in bad spots – but his athleticism is able to bail him out right now. That won't be the case at the next level.
– Though he didn't start, for disciplinary reasons, Patric Young is showing a much better understanding of the game, and his role, on both ends of the floor.
– Vander Blue is still adding new wrinkles to his offensive game, but he needs to start showing more of the expected Marquette defensive toughness on the perimeter.
– Though it was the pressure from the guards that spurred the LSU comeback, I am now starting to see the athletic ability that everyone raved about in Johnny O'Bryant coming out of high school.
Tennessee at Georgetown
The Hoyas' offense has looked in mid-season form early this year, and the play of Markel Starks has a lot to do with that. Starks has done a great job not only getting the Hoyas into their sets quickly, but sensing openings quickly and aggressively looking to score. Otto Porter has been as good as expected. Porter has done a great job expanding the range on his jumper, and seems to have little problem getting good looks, even when covered well. Greg Whittington and Mikael Hopkins have done a great job using their length to their advantage on both ends of the floor.
Tennessee has rebounded well from their drubbing at the hands of Oklahoma State. Jarnell Stokes has done a good job establishing himself as a massive post presence, and he has shown that he can also put the ball on the floor on occasion and take it to the rim. Trae Golden isn't as good as many claim him to be, but he is serviceable at the point guard position – just don't rely on him for scoring. Jordan McRae has looked good when he plays aggressively.
Syracuse at Arkansas
Arkansas will need to establish the pace if they hope to hang with the Orange. BJ Young is a handful on both ends of the floor, but it will be interesting to see if he can find ways to penetrate the Syracuse zone. Marshawn Powell and Coty Clarke need to be active on the boards, and Hunter Mickelson will need to show some toughness against the bulkier Orange frontline.
Michael Carter-Williams has quickly established himself as one of the best distributors in the country, and his ability to see over the top of the defense makes it tough to limit him. Brandon Triche is taking advantage of his chance to be the Orange's leader and his teammates have responded. CJ Fair is doing a great job using his athleticism to get to the basket, but he still needs to do a better job finishing. Perimeter shooting, especially beyond the arc, is a problem early on, but the looks should continue to be there.
Oregon State vs. Kansas
The Jayhawks have responded well since an early loss to Michigan State, but in many ways, this team is still looking for its identity. Jeff Withey is starting to become a more well-rounded player, adding an improved offensive arsenal to his defensive and rebounding prowess. Senior guards Elijah Johnson and Travis Releford have been inconsistent on offense, but have showed that they could possibly be one of the better defensive backcourts in the country. Adding freshman Ben McLemore to the backcourt rotation gives Kansas an explosive player on the offensive end.
Oregon State is adjusting to life without big man Angus Brandt, who is out for the season with an injury, but Devon Collier has done a great job establishing himself as an explosive scorer and a tough rebounder for his size. Ahmad Starks is generously listed at 5'9, but his speed on both ends of the floor is a huge catalyst for the Beavers. Joe Burton is the consummate wide-body, and he is more skilled than many give him credit for. I think the key for Oregon State going forward is for Roberto Nelson to step-up and become a much bigger part of the offense.
Others to Watch
Kentavious Caldwell-Pope, Georgia at South Florida – Caldwell-Pope should be able to find his shot against a vastly overrated Bulls' defense. The biggest thing he needs to work on is becoming more a versatile scorer and stop settling for the jumper.
Cleveland Melvin, DePaul at Auburn – Melvin has done a great job early on using his length and athleticism to be a force on both ends of the floor. If DePaul can set the pace early on, Melvin may score 30 against this Auburn team.
Jud Dillard, Tennessee Tech at Lipscomb – Dillard has stepped up and become the team leader after the graduation of Kevin Murphy, but he could have his hands full with a tough Lipscomb team and their even tougher crowd. Dillard will need to be aggressive without forcing the issue and he should find his openings.
Remember to follow me on Twitter – @NBADraftBlog – and leave your comments below or send them to [email protected]