The new season is almost here, and the road to the 2013 NBA Draft has begun. It's time to continue my look at this year's junior class and give some brief notes on areas where they need to show improvement to maximize their appeal to the NBA if they choose to leave school.
(You can read previous entries here: Senior Watch List, Junior Watch List, Sophomores Part I)
Remember, these are not meant to replace scouting reports, which will come out during the season. Some of these players are already pro candidates, while others will clearly need a senior season. These are not all-inclusive and just meant as a brief primer for those who want to track draft prospects throughout the season.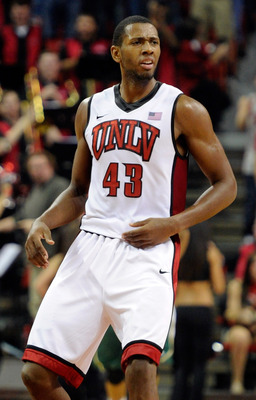 Mike Moser, UNLV, Forward, 6'8, 210
14.0 ppg, 10.5 rpg, 2.3 apg, 1.9 spg, 45.0 FG%, 78.0 FT%, 33.1 3FG%
Moser used his outstanding athletic ability to have a breakout season in his 1st year with UNLV after transferring from UCLA. He can be a beast around the basket, and can finish strong or with finesse. Moser uses his body well to finish through contact. He is an outstanding rebounder on both ends of the floor, having great instincts, using his body well and going strong after the ball. He has the ability to hit open jumpers, out to 3-point range, and in the right match-up, he can beat his man in isolation to the basket or pull up for a short jumper in the lane. He runs the floor well and can get out and finish in transition. On the defensive side, Moser plays with good energy and can guard multiple positions.
What he needs to show this season: Moser's shot selection is a mess. Part of it is the UNLV offense, which is predicated on beating their opponent down the floor and getting quick shots, but part of it is Moser overestimating his abilities away from the basket area. Moser can one day be a good perimeter player, but he needs to polish his ballhandling and learn good vs. bad shots. The other part of this is the more Moser stays on the perimeter, the less chance he has on the offensive boards, which is one of his biggest strengths. Defensively, Moser has a lot of work to do, especially as a perimeter defender. He falls for shot and ball fakes easily, and he doesn't move his feet particularly well, leaving him in bad spots against experienced wings. He is a tough post defender for his size, but he does give up some strength, so he needs to do a better job denying the ball to his man.
Sean Kilpatrick, Cincinnati, Guard, 6'4, 221
14.3 ppg, 4.6 rpg, 2.1 apg, 1.3 spg, 42.8 FG%, 75.0 FT%, 37.6 3FG%
Kilpatrick has made his name as a scorer, but he has quietly developed a very well-rounded game. He is a good perimeter shooter, especially when he gets set behind the 3-point line. He has a quick release and good range. He hits open spots quickly and is very good at making good cuts when he is being overplayed on the perimeter. Kilpatrick is good transition scorer, able to push the ball himself or run one of the wings, and either take the ball to the basket or spot up on one of the wings for the jumper. Kilpatrick, like most of Mick Cronin's players, is a very tough defender. He plays the ball well and has good lateral movement. Off the ball, he plays passing lanes well and is a good help defender.
What he needs to show this season: Kilpatrick needs to work on becoming a more versatile scorer, especially finding ways to be more aggressive and attack the basket. Also, he needs to become more selective with his shots, not settling for contested jumpers and looking to create space for better looks at the basket. Because he settles for perimeter shots, he doesn't get to the line often, where his shooting ability should get him some easy points. He needs to also do a better job using screens to get open looks, especially coming off of screens quick and tight.
CJ Wilcox, Washington, Guard, 6'5, 195
14.2 ppg, 3.4 rpg, 1.2 apg, 43.7 FG%, 83.9 FT%, 40.3 3FG%
Wilcox was an excellent bench scoring option for the Huskies last season, but with Terrence Ross and Tony Wroten gone to the NBA, Wilcox will need to step up and become the team's primary scoring threat. Wilcox is a very good perimeter shooter, having good size and getting good elevation to shoot over most defenders. He has a quick release and good range. If he has time to get his feet set, he already has NBA-range on his shot. He uses his dribble well to create space when needed. Wilcox is also a good scoring option in transition, with the ability to take the ball to the basket or spot up on the wing. Wilcox can guard multiple positions and he has improved as both an on and off-ball defender.
What he needs to show this season: Wilcox needs to do a better job moving with the ball on offense, developing quick moves to get open and doing a better job coming off of screens in position to make a play. Also, he needs to not settle for contested jumpers and work on improving his ballhandling enough to get into the lane and score around the basket. While he is a decent ballhandler, he doesn't react to pressure well and he needs to have better awareness of where the pressure will come from and get the ball away quickly. On defense, he has improved, but he can still be inconsistent, especially when he is away from the ball. He has a tendency to focus too much on where the ball is and he loses his man through a screen or a quick cut.
Aaron Craft, Ohio State, Guard, 6'2, 195
8.8 ppg, 3.2 rpg, 4.6 apg, 2.5 spg, 50.0 FG%, 71.3 FT%, 35.9 3FG%, 2.2:1 A/TO
There may not be a point guard in all of college ball who has better control of his team, and understanding of his opponent, than Craft. He gets the Buckeyes into their offense quickly on every possession and he knows exactly when he needs to come get the ball and reset when needed. Craft is an excellent ballhandler and strong passer, especially getting the ball to teammates where they can make a play. He uses his dribble well to create space and he uses a variety of dribbles, including a great hesitation dribble, to get past defenders in space. He has good body control and can be creative getting shots off around the basket. He is a decent perimeter shooter when he has space and can get his body set and squared. Craft is an excellent on-ball defender, using his body and feet to force his man away from their strengths. He has very good lateral movement and has quick hands. Craft is very good in the open court, drawing defenders and hitting open teammates.
What he needs to show this season: Craft runs his offense well, but he isn't really a playmaker, not that that is bad. He makes the plays his team needs him to make, but NBA teams will be interested in seeing him create more shots for others, especially off of penetration and the pick-and-roll. Concerns about his offensive ability are not as bad as many may make out. Similar to Kendall Marshall last year, Craft finds ways to score when his team needs him, but it isn't his primary concern. He can become a more consistent shooter, especially working on a mid-range jumper off the dribble and a short jumper or floater in the lane. Defensively, Craft needs to watch his position off the ball, especially making sure he doesn't cheat too much towards the ball when he is on a good shooter. Also, he needs to work on getting over screens on the perimeter and in pick-and-roll situations.
Daniel Miller, Georgia Tech, Center, 6'11.5, 257
8.1 ppg, 6.5 rpg, 1.5 apg, 2.4 bpg, 49.8 FG%, 76.2 FT%
Miller showed a great amount of improvement last season, even if the numbers don't appear to be great. He is an agile big man, with smooth footwork and good touch on the offensive end. He has developed a nice dribble move into the lane for a short jumper and is effective working on either side of the lane. He is a good screener on the perimeter and he understands how to run the pick-and-roll. He runs the floor well for his size and has good hands and can finish at the rim on the break. Defensively, Miller positions himself well in the post and on the perimeter, and he does a good job getting out and hedging on the pick-and-roll. Miller is good help defender in the lane and has improved his timing and his extension on blocking and altering shots.
What he needs to show this season: At his size, Miller needs to work on becoming stronger and learning to use his body better to get position on both ends of the floor. Defensively, he needs to improve how he uses his lower body to force players away from the basket and to clear space to go after rebounds. Speaking of rebounds, Miller needs to do a better job anticipating the shot miss, getting his position and going strong after the ball. On the offensive end, Miller needs to be more assertive looking and calling for the ball. Once he gets it, he needs to work on going strong to the basket. To average 30 minutes per game and to go to the free throw line only 42 times all year, as a center, is awful. Miller can shoot the ball and getting him to the free throw line would help the team, but Miller needs to want the ball. Same goes for the pick-and-roll – he sets a good screen and rolls well to the basket, but he needs to look for and call for the ball when he has an opening, which is plenty.
De'Mon Brooks, Davidson, Forward, 6'7, 227
15.7 ppg, 6.2 rpg, 53.0 FG%, 72.1 FT%, 36.8 3FG%, 22.8 mpg
Brooks is coming off a season where he led Davidson in scoring, was the SoCon Player of the Year and was an honorable mention All-American, all with averaging only 23 minutes a game. Brooks has good length and he uses it well to crash the offensive glass and score around the basket. He is comfortable shooting with either hand and he likes to go strong to the rim. He protects the ball well, both as a ballhandler and when rebounding on the defensive end. Brooks is capable of guarding multiple positions and is comfortable defending one the perimeter or in the post.
What he needs to show this season: Brooks puts up very good numbers for the amount of minutes he plays, but he needs to stay on the court for longer stretches. Brooks gets called for an excessive amount of fouls, but he can learn to avoid some of his bigger problems areas. When he is guarding other wings, he needs to work on being quicker with his feet and avoiding reaching for the ball. He may not have the speed, but he can learn to anticipate and beat his man to the spot to head off their penetration. He does well guarding against bigger players in the post, but he needs to do a better job not falling for shot fakes that get him in the air. On the offensive end, he needs to work on his ballhandling to create space off the dribble and to help him get by his defender. He needs to work on becoming a more consisten shooter in all areas on the court. One area he can certainly improve on his shot is to get more lift and arc on the shot instead of shooting straight at the basket. He should also be able to get to the line more, but for all of this to work, he needs to get his minutes up consistently.
Check back soon as I finish my look at the seniors, as well as some more from the junior and sophomore classes. Follow me on Twitter – @NBADraftBlog and leave your comments below or email me – [email protected]