College basketball season is closing in on us and the Road to the 2013 NBA Draft has begun. It's time to continue my look at this year's senior class and some brief notes on areas where they need to show improvement to maximize their value at the next level.
(You can read previous entries here: Part I; Part II; Part III, Part IV, Part V, Part VI, Part VII, Part VIII)
Remember, these are not meant to replace scouting reports, which will come out during the season. These are not all-inclusive and just meant as a brief primer for those who want to track draft prospects throughout the season.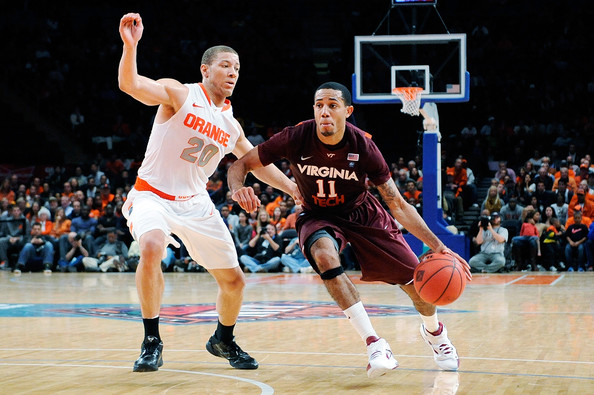 Erick Green, Virginia Tech, Guard, 6'3, 185
15.6 ppg, 3.3 rpg, 2.8 apg, 1.3 spg, 43.8 FG%, 82.8 FT%, 37.5 3FG%, 1.9:1 A/TO
Green was one of the few highlights on a Hokies team which would ultimately be Seth Greenberg's last. Former assistant James Johnson takes over and he will need Green to do even more with a depleted roster. Green handles the ball well, can get into the lane off the dribble and has good body control getting to the rim, where he can finish in a variety of ways. When he gets his feet set, he has good range and consistency on his jumper. Green is a solid defender, able to stay in front of the ball and doing a good job denying passing lanes and staying with his man off the ball.
What he needs to show this season: As the Hokies' point guard, Green will need to become much more of a playmaker, especially helping get a young roster into some kind of offensive rhythm. He needs to do a better job seeing the floor and while he comes off of screens well, he needs to work on making the right reads. It's a tough situation for Green, because the team also needs him to score as well, or more, than he did last season. When he gets into the lane, he needs to go stronger to the basket and not shy away from contact, as he is a very good free throw shooter. Defensively, Green needs to do a much better job getting through screens, especially getting over the top against good perimeter shooters.
Jordan Hulls, Indiana, Guard, 6'0, 182
11.7 ppg, 2.5 rpg, 3.3 apg, 1.1 spg, 50.4 FG%, 89.9 FT%, 49.3 3FG%, 1.6:1 A/TO
Hulls may not get the notoriety of his teammates on a team that many have picked as the pre-season #1 team, but he is an integral part of what makes the team so good. He gets the Hoosiers into their offense quickly and keeps the ball moving. He is a good ballhandler and has a good first step to get by his defender. He understands court spacing well, and he is a knock-down three point shooter when set and given space. Hulls moves the ball quickly up the court in transition and sees the whole floor well. He is a fundamentally solid defender, positioning himself well and having good lateral movement. He has strong defensive instincts and defends passing lanes well.
What he needs to show this season: As a 4th or 5th option in the Hoosiers offense, Hulls does exactly what the team needs him to, but there are still areas he will need to improve to play at the next level. Shot selection isn't normally an issue for a player who shoots 50% from the field, but when he gets by the first defender, he can be erratic going to the basket and take some wild shots. Without good size, he ends up fading away from the basket when he may just be better off stopping and shooting a short jumper. That leads to the next area, which is being able to shoot his jumper off the dribble. Hulls uses screens well to create space for his shot, but he needs to work on getting set and not rushing the shot. Defensively, Hulls needs to work on not getting stuck in screens, especially when he is run through the lane off the ball.
Cashmere Wright, Cincinnati, Guard, 6'0, 178
10.9 ppg, 3.8 rpg, 4.6 apg, 2.0 spg, 40.9 FG%, 66.7 FT%, 37.1 3FG%, 2.0:1 A/TO
Wright is a catalyst on both ends of the floor for a team looking to at least match last year's Sweet 16 run. Wright handles the ball well and doesn't force many bad passes. He sees the floor well and does a good job getting his teammates the ball where they can make a play. He is a good spot-up shooter with a quick, fluid release and good range. He pushes the ball well in transition and can finish or hit an open teammate on the wings effectively. Wright is a strong defender, able to pressure the ball full court, and doing a good job helping trap ballhandlers. He anticipates passes well and is quick to jump passing lanes. He is active when the Bearcats settle into a zone and is a good help defender.
What he needs to show this season: Wright uses screens well to create space for his own shot, but he needs to show the ability to make reads of perimeter screens, especially in pick-and-roll situations. Part of this will depend on Cincinnati running their offense differently. Last season, most of the perimeter screeners would stay out on the perimeter looking for jumpers. Wright also needs to work on turning the corner quickly when using a screen to get into the lane. He needs to show that he can use his dribble to create space for his jumper, as well as being able to hit the jumper off the dribble.
Ryan Kelly, Duke, Forward, 6'11, 230
11.8 ppg, 5.4 rpg, 44.4 FG%, 80.7 FT%, 40.8 3FG%
Kelly emerged as a solid offensive threat for the Blue Devils last season, using a combination of post and perimeter play to put up points. Kelly has good range on his jumper and his size allows him to get good looks. He is a good screener and has the ability to thrive as a pick-and-pop or pick-and-roll player. He has good touch when he gets the ball around the basket and has improved as a post option on offense. Kelly can defend either on the perimeter or in the post, and he has improved his lateral movement and footwork.
What he needs to show this season: Kelly needs to be more aggressive on the offensive end. He is a decent ballhandler for his size and with his perimeter skill, he can draw defenders out to him, but he will often settle for contested jumpers. When he does choose to take the ball to the basket, he needs to go strong to the rim and not shy away from contact. With Mason Plumlee as a primary post option, Kelly would work well as a high post player, which means he would need to work on his passing skills. His footwork has improved as a post player, but he needs to work on adding a variety of moves, including a quick drop-step and a face-up move. Defensively, Kelly needs to keep improving his footwork on the perimeter and the post, and he needs to improve his all-around defensive awareness, especially away from the ball.
Trevor Mbakwe, Minnesota, Forward, 6'8, 245
(2010-11) 13.9 ppg, 10.5 rpg, 1.5 bpg, 58.2 FG%, 62.9 FT%
Mbakwe was poised for a big year last season before a torn ACL in his right knee ended his year after 7 games. He is a beast around the basket, going strong to the rim and finishing through contact. He had done a good job improving getting position in the post and he showed that he has good hands and can finish with some touch. Mbakwe is a relentless rebounder on both ends of the floor, using his body well to seal off his space and going strong after the miss. He has a great ability to keep balls alive that he can't get to the first time, and when he does grab a rebound, you aren't going to get it away from him. As a defender, Mbakwe uses his body well to hold his position and he can be aggressive going after offensive players driving towards the basket.
What he needs to show this season: If Mbakwe is back to a 100% entering this season, he should have no problem picking up where he left off. The keys areas Mbakwe needs to work on are the finesse areas of his game – his footwork on both ends of the floor, and seeing the floor and hitting open teammates. He should develop his mid-range game, both being able to knock down the 10-15 foot jumper, as well as getting the ball in the high or low post and facing up for a short jumper or drive.
Check back soon as I wrap up my look at the seniors, as well as continuing my look at the junior class. Follow me on Twitter – @NBADraftBlog and leave your comments below or email me – [email protected]