About 6 weeks until the first games of the college basketball season, and the road to the 2013 NBA Draft has begun. It's time to continue my look at this year's senior class and some brief notes on areas where they need to show improvement to maximize their value at the next level.
(You can read previous entries here: Part I; Part II; Part III, Part IV, Part V, Part VI)
Remember, these are not meant to replace scouting reports, which will come out during the season. These are not all-inclusive and just meant as a brief primer for those who want to track draft prospects throughout the season.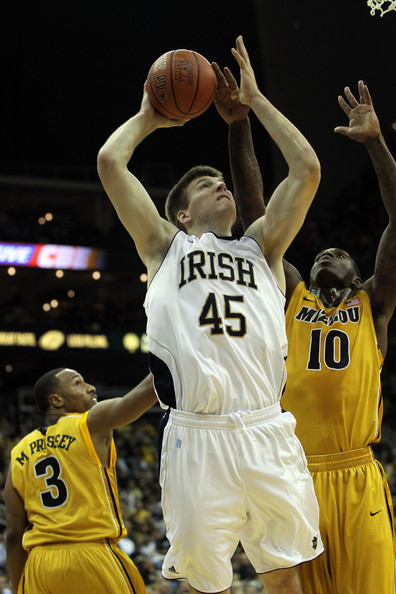 Jack Cooley, Notre Dame, Forward, 6'9, 244
12.4 ppg, 8.9 rpg, 1.6 bpg, 62.4 FG%, 67.4 FT%
Cooley, who originally made his name as a Luke Harangody look-alike in South Bend, emerged last season as a legitimate inside presence for the Irish. He is a physical player, uses his body well on both ends of the floor, and understands his role in the Notre Dame offense. He is a solid screener on the perimeter and is a good option on the pick-and-roll. He has a good touch around the basket and is able to finish with both hands. He rebounds well, using his body to establish position and going strong after the ball.
What he needs to show this season: Cooley is ready to take the next step and become a legitimate go-to scoring option for Notre Dame. While he was the Irish's leading scorer, his points usually came off of defensive breakdowns or when the defense focused on stopping the perimeter shooters. Now, Cooley needs to step up and be the man the offense revolves around. His athleticism isn't great, and he really needs to improve his foot speed and the speed of his post moves. Also, improved foot speed will help him on the defensive end, both in stopping quicker post players and in helping him guard on the perimeter and in pick-and-roll situations.
D.J. Cooper, Ohio, Guard, 5'11, 176
14.7 ppg, 3.7 rpg, 5.7 apg, 2.3 spg, 34.8 FG%, 74.5 FT%, 30.7 3FG%, 2:1 A/TO
Cooper has made a name for himself at the national level with his play in the 2010 and 2012 NCAA Tournaments. The lefty scorer has shown that he thrives in big moments and wants the ball in his hands with the game on the line. He has good speed and he uses it well to get into the lane. He uses screens well to create separation, either coming off them quickly to go to the rim or to give him space for his jumper. He has good range on his shot, and is able to hit from mid and long-range. Once in the lane, he does a good job avoiding the defense and hitting the short jumper or floater. On the defensive end, he has good instincts and jumps passing lanes well. He has quick hands and can make plays as a help defender.
What he needs to show this season: Cooper sees the court well and runs the Ohio offense well, but when he has the ball, he is looking to score first and then pass if he is stopped, especially in pick-and-roll situations. He draws the defense well, but he needs to be quicker making decisions and finding open teammates. Along with this, making better decisions should extend to his shot selection, especially not forcing bad shots in the lane. On the defensive end, Cooper needs to improve his lateral movement when on the ball, as well as doing a better job getting over screens.
Abdul Gaddy, Washington, Guard, 6'3, 195
8.1 ppg, 2.6 rpg, 5.2 apg, 39.8 FG%, 69.1 FT%, 33 FG%, 2.4:1 A/TO
One year removed from an ACL injury, Gaddy came back and had a strong season, adding an element of control to a Washington backcourt that featured Tony Wroten and Terrence Ross. Gaddy is a very strong defender, both on and off the ball. He positions himself well and has good lateral movement. He has strong instincts and can force his man into poor decisions. On offense, he is a patient point guard, letting plays develop before he makes a decision. He makes good decisions, sees the floor well, and gets teammates the ball where they can make a play.
What he needs to show this season: The loss of Ross and Wroten to the NBA will affect Gaddy in a few ways. Most important, he will need to become more of a playmaker instead of just waiting for one of those two to get open. Gaddy will need to force the defense to play him and create openings for a team that has few experienced scorers. As part of this, Gaddy will need to become more of a scoring threat himself. Though he doesn't have great explosiveness, he can break defenders down off the dribble and get to the basket, where he uses his body well to get his shot off. Also, Gaddy needs to develop a more consistent jumper from both mid and long-range.
CJ Harris, Wake Forest, Guard, 6'3, 190
16.7 ppg, 3.1 rpg, 2.5 apg, 1.1 spg, 47.7 FG%, 84.4 FT%, 42.2 3FG%, 1:1 A/TO
Harris has been one of the few bright spots for the Demon Deacons over the past few seasons. A versatile scorer, Harris is comfortable driving to the rim or hitting the long-range jumper. He is aggressive with the ball and is good at creating space for his shots. Playing mostly off-guard, Harris does a very good job without the ball looking to get open, using screens and cutting effectively. He chooses his spots wisely and doesn't take many bad shots. On the defensive end, Harris plays well off the ball, denying passing lanes and keeping good position. He moves his feet well and works hard to get through screens.
What he needs to show this season: With Tony Chennault gone, Harris will be relied upon more to work at the point than he did last season. He is capable, but his mentality is a scorers'. He should look to hit the open man when he draws help in the lane instead of trying to get shots off in traffic. He also could improve his consistency with his jumper off the dribble, as he tends to float once he goes up for his shot. Defensively, he plays good defense, but usually enough to not get beat. I would like to see him step it up and pressure the ball more this season.
Christian Watford, Indiana, Forward, 6'9, 232
12.6 ppg, 5.8 rpg, 41.6 FG%, 81.5 FT%, 43.7 3FG%
Watford made himself a fan-favorite throughout the country with his last-second three-pointer to beat Kentucky in December. While the rest of his season had some up's and down's, he had a very good March as Indiana got back to the NCAA Tournament. With the emergence of Cody Zeller on the interior, Watford spent more time playing on the perimeter, but he handled himself well. He can knock down the open jumper from long range and is capable of beating some players off the dribble. He is still at his best when setting up in the high or low post and facing up to the basket. He handles contact well and is a good free throw shooter. He works hard on the defensive end and goes strong after missed shots.
What he needs to show this season: Watford has a strong body, but he needs to be more physical, especially when defending in the post. Also, while his footwork looks good on the offensive end, he doesn't have the same fluid movements defensively. On the perimeter, he needs to be more aware of who he is guarding and making sure to get out on shooters. Watford should also look to crash the boards more, especially on the defensive end.
D.J. Seeley, Cal State – Fullerton, Guard, 6'4, 195
17.3 ppg, 5.5 rpg, 1.8 apg, 1.5 spg, 43.9 FG%, 73.1 FT%, 43.4 3FG%
Seeley made the most of his first year at CSF after sitting out a year (transfer from California). He thrives in a fast paced game, but has shown the ability to attack the basket in halfcourt offenses. He has a very good first step and gets into the lane quickly, with the ability to finish with either hand. Seeley is also a good spot-up shooter from long-range, having a quick, fluid stroke. He is active on the boards for his size, and is quick to get to missed shots. He is a good on-ball defender, moving his feet well and forcing his man away from the basket area. He can either push the ball or run the wings in transition, and is quick to the basket.
What he needs to show this season: Seeley is quick and moves well, but I want to see him do a better job moving without the ball, looking to hit open spots and create separation from his man. Also, I want to see him improve his ballhandling enough to where he can use his dribble to create space for his jumper, as well as create shots for his teammates. He needs to start to add a mid-range jumper to his offensive arsenal, as he will not get into the lane as easily at the next level. On the defensive end, Seeley has to be more conscious of his positioning off the ball. He has a tendency to roam and get turned around against motion offenses.
Check back soon for the next group of seniors, as well as the start of a look at the junior class. Follow me on Twitter – @NBADraftBlog and leave your comments below or email me – [email protected]