About 2 months from the first games of the college basketball season, and the road to the 2013 NBA Draft has begun. It's time to continue my look at this year's senior class and some brief notes on areas where they need to show improvement to maximize their value at the next level.
(You can read previous entries here: Part I; Part II; Part III, Part IV, Part V)
Remember, these are not meant to replace scouting reports, which will come out during the season. These are not all-inclusive and just meant as a brief primer for those who want to track draft prospects throughout the season.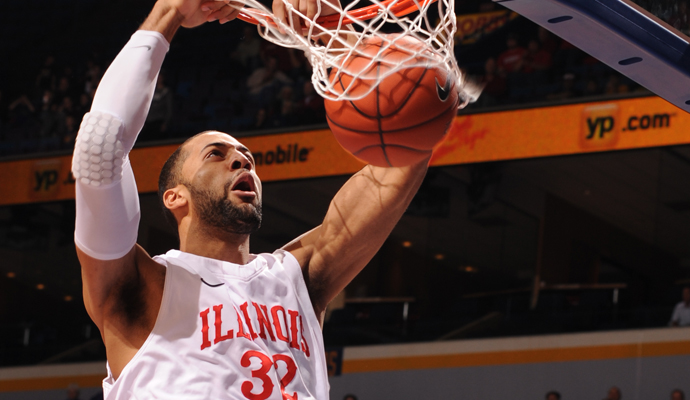 Jackie Carmichael, Illinois State, Forward, 6'9, 240
13.9 ppg, 9.7 rpg, 1.4 bpg, 53.3 FG%, 71.4 FT%
Many hoops fans may not know the name Jackie Carmichael, but he is in position to have the kind of season to make everyone take notice. A physical presence on both ends of the court, Carmichael has developed a versatile offensive game to go with his NBA body. He has good hands and can finish strong or show nice touch around the basket. He understands his role in the pick and roll – setting solid screens and opening up quickly to the ball. Carmichael can hit the short jumper out to 10 feet and occasionally will take the ball off the dribble to the basket. He is a strong rebounder on both ends, chasing down missed shots and securing the ball. He plays tough in the post on defense and doesn't back down against anybody.
What he needs to show this season: On the offensive end, Carmichael has to continue to develop the finer points to his offensive game. His footwork and post moves need polishing, and more important, he needs to be aggressive in working towards the basket. He will often settle for getting forced away from the basket and shooting from 6-10 feet instead of 2-3 feet from the basket. Along with this, Carmichael needs to use his lower body better to establish position in the post, looking to get as deep as possible to make a quick move. He draws a lot of attention around the post and he needs to anticipate double teams better and look to get the ball to the open man. Defensively, he needs to improve his pick and roll defense, hedging and rotating back to his man.
Drew Crawford, Northwestern, Guard, 6'5, 210
16.2 ppg, 4.7 rpg, 2.1 apg, 1.2 spg, 48.4 FG%, 70.7 FT%, 41.2 3FG%
Teammate John Shurna received most of the attention last season, but Crawford's play earned him the respect of many who watched as Northwestern looked to secure an NCAA bid. Shurna is gone, but Crawford should build on last season's numbers. Crawford is a very good perimeter shooter, able to spot-up well beyond the 3-point line, or to hit his jumper off the bounce or coming off of screens. He has a good Basketball IQ and the Northwestern version of the Princeton offense has taught him to understand the value of spacing on the court. He moves well without the ball and sees the floor well, making good passes and getting to open spots quickly. His on-ball defense improved last season, and he does a good job denying passing lanes off the ball. He likes to hit the boards and uses his body well to battle for missed shots.
What he needs to show this season: The Northwestern offense may be very methodical in looking for shots, but Crawford should look to be more explosive going to the basket off the dribble. He also should use his body better to handle contact and get his shot off. He is a decent ballhandler, but he should use his dribble better to create space for his jumper. While his defense has improved, he still needs to work on his lateral quickness and getting over screens on the perimeter.
Lamont "MoMo" Jones, Iona, Guard, 6'0, 196
15.7 ppg, 3.3 rpg, 2.9 apg, 1.2 spg, 45.8 FG%, 78.0 FT%, 35.3 3FG%, 1.3:1 A/TO
Jones came to Iona last season after 2 years running the point for Arizona but mainly played off-guard next to Scott Machado. Machado is gone and Jones should have little trouble keeping the Gaels moving in their fast-paced offense. Jones has great speed, a good handle, and is very good in the open floor. He has a good first step and can get to the rim or hit the short jumper. He does a good job drawing defenders in the lane and finding an open teammate. Defensively, Jones plays good on-ball defense and can pressure the ball full-court.
What he needs to show this season: Jones can push the ball like Machado did last season, but he needs to remember that his strength lies in attacking the lane in the half-court and scoring or drawing the D and kicking the ball out. He needs to improve his decision-making, especially as the pace picks up. On the defensive end, Jones needs to work on his lateral movement, keeping his man in front of him and out of the lane, as well as working harder to get over screens.
Jeronne Maymon, Tennessee, Forward, 6'7, 265
12.7 ppg, 8.1 rpg, 55.8 FG%, 65.8 FT%
Maymon has been a consistent presence as Cuonzo Martin continues to get the Volunteers back towards the top of SEC. He is a wide-body, but he moves well for his size. He has good hands and a nice touch around the basket. Maymon is a solid screener and runs the pick and roll well. He is a strong rebounder on both ends, using his body to create space and boxing out well before going after the ball. Defensively, he uses his weight well and it allows him to be effective against taller players. Maymon has also improved as a perimeter defender, positioning himself well and moving his feet better.
What he needs to show this season: Maymon doesn't have a lot of speed, and while his footwork is good for his size, it can still improve. He should look to pattern his offensive skills in a way like Jared Sullinger did. Improve his post moves, look for angles and use the backboard to get good shots off against more athletic defenders. He should also look to developing a consistent mid-range jumper to help draw defenders out from the rim or to allow him to play in the high post. On the defensive end, I want to see him be even more physical than he is now, especially using his lower body to force offensive players away from the rim. Meanwhile, he should continue to work on his footwork to guard against quicker players.
Mike Muscala, Bucknell, Forward/Center, 6'11, 234
17.1 ppg, 9.1 rpg, 1.8 apg, 1.7 bpg, 50.4 FG%, 85.3 FT%, 35.0 3FG (20 attempts)
Muscala is looking to cap off a stellar college career by getting Bucknell back to the NCAA Tournament for the 2nd time in his 4 years. He is a highly-skilled big man, able to play on the perimeter or with his back to the basket. In the post, he has very good footwork and is able to finish with either hand around the basket. He has the ability to face-up and knock down the mid-range jumper. He sees the floor well and is a good passer out of the post. On the defensive end, he also moves his feet well and does a good job altering and blocking shots.
What he needs to show this season: Muscala is able to have his way in the Patriot League based on his skill level, but to play at the next level, he will need to work on his strength and speed. He needs to be more aggressive on both ends of the floor. Defending the post, he needs to use his body better to keep players off the blocks and work on his defensive footwork. On the offensive end, I want to see him become more consistent with his jumper, and look to increase his consistency at longer ranges.
Jeff Withey, Kansas, Center, 7'0, 235
8.7 ppg, 5.9 rpg, 3.5 bpg, 54.0 FG%, 79.7 FT%
Withey emerged last season as a strong defensive presence on a Kansas team that made the NCAA title game. Withey had the best block rate (percentage of blocks a player registered while on the floor) in the country, even better than Anthony Davis. He is active on the defensive end, helping well and getting out the perimeter when needed. He runs the floor well and can finish in transition. He has good hands, improved his ability to hit shots around the rim and can also finish up high.
What he needs to show this season: With Tyshawn Taylor and Thomas Robinson gone, Withey will need to pick up a bigger offensive role, getting position and calling for the ball. He will need to develop his footwork and post moves, as well as building his strength to help him establish position on both ends of the floor. Defensively, he needs to do a better job picking when he goes for a block, making sure not to fall for shot fakes. Also, teams will look to draw him away from the basket and he will need to improve his perimeter defense.


Check back soon for the rest of the seniors, as well as the start of the sophomores/juniors. Follow me on Twitter – @NBADraftBlog and leave your comments below or email me – [email protected]