Less than two months from the start of the college basketball season, and the road to the 2013 NBA Draft has begun. It's time to continue my look at this year's senior class and some brief notes on areas where they need to show improvement to maximize their value at the next level.
(You can read previous entries here: Part I; Part II; Part III)
Remember, these are not meant to replace scouting reports, which will come out during the season. These are not all-inclusive and just meant as a brief primer for those who want to track draft prospects throughout the season.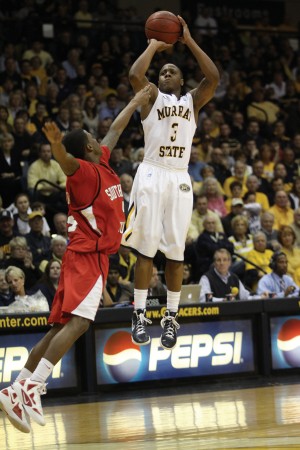 Isaiah Canaan, Murray State, Guard, 6'0, 193
19.0 ppg, 3.5 rpg, 3.6 apg, 1.4 spg, 46.8 FG%, 83.7 FT%, 45.6 3FG%, 1.3:1 A/TO
Canaan is coming of a huge scoring year for the Racers, helping lead them to a 31-2 record last season. Canaan has great range on his jumper, and is capable of shooting well off the catch or the dribble. He has a very quick release which allows him to get his shot off against taller defenders. He is a capable ballhandler and does a good job getting the ball up the court quickly and getting the Racers into their offense. On the defensive end, Canaan position himself well on and off the ball, and he does a good job keeping his man in front of him. He has also improved his ability to fight through and get over the top of screens.
What he needs to show this season: Similar to what Isaiah Thomas had to do his final year in Washington, Canaan will need to show that he is capable of being a distributor at the NBA level. Primarily, he will need to show that he can make the proper, and quick, reads off pick-and-roll situations. He receives a lot of high screens in the Murray State offense, but he uses them primarily to get space for his shot. Also, he should look to get into the lane more often, working on a reliable short jumper or floater. Defensively, he will need to continue to get through screens and avoid any size mismatches.

Reggie Johnson, Miami, Center, 6'10, 284
10.0 ppg, 7.2 rpg, 1.6 apg, 1.0 bpg, 49.2 FG%, 70.8 FT%, 36.4 3FG% (11 attempts)
Johnson came back after off-season knee surgery to provide a major lift to a Miami squad which was lacking in the middle. A huge physical presence, Johnson does a good job using his weight to his advantage on both ends of the floor. Offensively, he sets himself well on the blocks, has good hands, and a nice touch around the rim. He sets solid screens on the perimeter, and does a good job giving the guards space to make a play. He also has a decent mid-range jumper which he can hit when open. On the defensive end, Johnson's width makes it difficult for post players to make an easy scoring move around him. He anchors his body well and he clears out space for rebounds.
What he needs to show this season: Conditioning has always been an issue for Johnson and will continue to be so heading into this season. He moves well for his size, but the pace of the professional game would be too much for him to be effective. With his skill set, if he can get in better shape, he could be a legitimate pro prospect. He has decent footwork, but he will need to show some different moves to become a more effective scorer. Also, while he sets good screens in the pick and roll, he needs to roll to the basket quicker and look for the ball as he moves. Footwork is also an area he needs to improve on the defensive end. His size gives him some advantages, but more polished post players use a variety of steps and fakes to get around him quickly.

Julian Boyd, Long Island, Forward, 6'7, 235
17.4 ppg, 9.3 rpg, 55.7 FG%, 74.1 FT%, 42.0 3FG%
Boyd capped off his junior season by winning the Northeast Conference Player of the Year award while helping to lead the Blackbirds to the NCAA Tournament. Boyd is athletic for his size and runs the court very well, especially filling the lanes and finishing at the rim. He is active on the boards on both ends, going strong after missed shots and keeping the ball alive until he can corral it. He is an effective scorer around the rim, and he also does a good job using strength mismatches to his advantage. On the defensive side, Boyd is a good help defender and he looks to challenge shots when he can get there.
What he needs to show this season: Boyd relies on athleticism and strength more than skill, so he will need to start to show that he can expand his game. He understands how to try and establish position in the post on both ends of the floor, but he relies on using his arms and upper body too much; using his lower body to establish position will give him a better chance of making plays. He has shown that he can knock down the perimeter shot on occasion, but he should become consistent from at least 15 feet. Along with that, he will need to show that he can be an offensive threat taking the ball from the perimeter to the basket, which means he needs to improve his ballhandling skills. LIU likes to play at a quick pace, but this often leads to many on the team, including Boyd, to make bad decisions.

Brandon Paul, Illinois, Guard, 6'4, 200
14.7 ppg, 4.7 rpg, 2.9 apg, 1.4 spg, 39.2 FG%, 72.7 FT%, 33.3 2FG%,
Paul made his presence known on the national level with a 43-point outburst against Ohio State in January, but he had been having a solid season prior to that game. Paul is very good at using his dribble to create space for his jumper or to break down his defender and get into the lane. He is good at drawing contact and still getting a shot off. He has good range on his jumper, and can shoot off the catch or the bounce. He is a strong defender on and off the ball, and he is a decent rebounder for his size. Paul is able to push the ball quickly in transition or run one of the lanes; either way, he can score.
What he needs to show this season: Paul has, at times, operated as the de facto point guard for the Illini, but the way Bruce Weber's offense was structured, Paul never had to really act as a playmaker. I think his best bet to get to the NBA will be to show that he is capable of running the point well – facilitating for his teammates and becoming stronger in the pick and roll game. Also, he needs to be more aggressive with the ball in his hands; when he is hesitant, it throws off his rhythm, especially on his jumper. On the defensive end, he does a good job on the perimeter and getting over screens, but he needs to do a better job limiting plays on the pick and roll.
Michael Snaer, Florida State, Guard, 6'5, 202
14.0 ppg, 3.8 rpg, 1.9 apg, 1.1 spg, 43.6 FG%, 84.6 FT%, 40.4 3FG%
Snaer is coming off a very good season, capped by being named the MVP of the ACC Tournament. However, he did not perform well in 2 NCAA Tournament games, including being held scoreless against St. Bonaventure in the Round of 64. He is a very good spot shooter, and has very good range. He also shines in big moments, having 3 buzzer-beater threes last season. Also, he has improved his ability to get to the free throw line and then cashing in once he gets there. What's often overlooked is how good of a perimeter defender Snaer can be, capable of defending either guard spot. He is very good at defending passing lanes off the ball, and he knows how to get over screens against good shooters.
What he needs to show this season: I mentioned Snaer's ability to hit his jumper, but he needs to work on being able to create his own shot. Also, he does an okay job using screens to get open, but he can do a better job coming tighter off the screens and getting good, quick looks. Finally, I hope to see him become more aggressive looking to get to the basket off the dribble. While he is a good defender, he needs to watch a tendency to get caught standing straight up on the ball. With the loss of James, Dulkys, Loucks, and Gibson, this is clearly now Snaer's team and he needs to set the attitude.
Mouphtaou Yarou, Villanova, Forward/Center, 6'10, 255
11.3 ppg, 8.1 rpg, 0.8 bpg, 47.4 FG%, 69.1 FT%
Statistically, Yarou has continued to improve slightly each season, yet, he has not turned into the player many have hoped when he first got to Villanova. He does a much better job using his body to establish position in the post, and he is starting to understand how to play in the pick and roll a bit. He crashes the boards well on both ends and has done a better job getting good shots off of offensive rebounds. Defensively, Yarou has done a good job playing more physical in the post, and as on offense, he has done a better job understanding how to defend the pick and roll.
What he needs to show this season: The list here has stayed somewhat constant from the last two seasons. Yarou needs to be more consistent on the offensive end, and he needs to learn how to finish strong at the basket. Decision making in the post needs to improve, especially finding open shooters off of double teams, as well as recognizing the defense and getting into his post moves quicker. On the defensive end, Yarou needs to continue to improve his footwork and do a better job challenging shots as a help defender. Yarou finished last season off with a very good March and hopefully that is how he starts next season.

Check back soon for the next group of seniors, as well as the start of the junior class. Follow me on Twitter – @NBADraftBlog and leave your comments below or email me – [email protected]