Less than two months from the start of the college basketball season, and the road to the 2013 NBA Draft has begun. It's time to continue my look at this year's senior class and some brief notes on areas where they need to show improvement to maximize their value at the next level.
(You can read previous entries here: Part I)
Remember, these are not meant to replace scouting reports, which will come out during the season. These are not all-inclusive and just meant as a brief primer for those who want to track draft prospects throughout the season.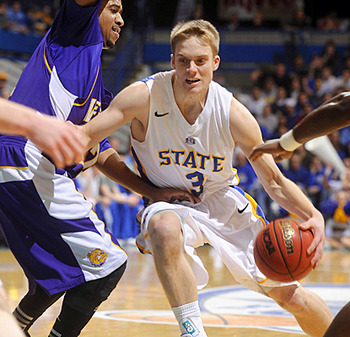 Alex Oriakhi, Missouri, Forward, 6'9, 255
6.7 ppg, 4.8 rpg, 1.3 bpg, 49.5 FG%, 56.9 FT%
Oriakhi was expected to be a major contributor at UConn last season, but his role changed once Andre Drummond re-classified and started college. The result was decreased minutes and a subpar season, leading to Oriakhi taking advantage of the Huskies' probation and heading to Missouri for his senior year. Oriakhi will give the Tigers a strong physical presence in the post. He is a strong screener on the perimeter, but doesn't have a lot of other offensive skills. He battles well for position in the post on both ends, and he is also a decent perimeter defender for his size. He is strong at defending against the pick and roll. He rebounds well and while not extremely athletic, he is a good help defender and can block shots.
What he needs to show this season: Oriakhi has never been much more than an afterthought on offense. As I said above, he does a good job using his body to get position in the post, but his move set is very limited. He isn't very effective outside of a few feet from the basket, and he also needs to improve at the free throw line. However, it is fair to say that any interest he gets from the NBA is going to be because of his physical defensive presence, so while it would be great that he improve in these areas, they aren't pressing.
Nate Wolters, South Dakota State, 6'4, 193
21.2 ppg, 5.1 rpg, 5.9 apg, 1.7 spg, 44.8 FG%, 78.3 FT%, 24.1 3FG%, 2.7:1 A/TO
Wolters has been one of the best kept secrets in college basketball, and most expect him to cap off his college career with another big year. He has good size at the point guard position and plays with a lot of control. He is very effective off the dribble, using it to get into the defense and either gets to the rim or draw the defense and dish to a teammate on the perimeter. He is especially good at drawing contact once he is in the lane and getting to the free throw line. He has very good court awareness on both ends of the floor, and can normally be counted on to make smart plays.
What he needs to show this season: The defensive side is where Wolters needs to do his most improvement. His lateral quickness and foot speed aren't great, and he needs to do a better job getting over screens. Quicker guards can turn the corner easily on him, and if he continues to go under screens, good shooters will get great looks. His perimeter shooting is nowhere near as bad as his numbers say, but he should look to release the ball quicker. He is good at using his dribble to create space, but by the time he releases the shot, the defense has time to recover and contest. I'd also like to see him make quicker and sharper movements off the ball, especially coming off screens or cutting to the basket.
Elijah Johnson, Kansas, 6'4, 195
10.2 ppg, 3.2 rpg, 3.5 apg, 1.4 spg, 43.0 FG%, 69.6 FT%, 33.3 3FG%, 1.9:1 A/TO
Johnson had a solid junior season, playing both guard spots well, and providing a good secondary scoring option. He is a good spot-up shooter, and has improved his ability to get good perimeter looks off the dribble. He sees the court well, protects the ball, and can also push the ball in transition. He can defend both guard positions and he uses his quick hands to create turnovers.
What he needs to show this season: With Thomas Robinson and Tyshawn Taylor gone, Johnson moves up to a primary scorer, which means he will need to deal with a lot more pressure when he has the ball. The key for him will be to be more aggressive when he has the ball, look to get to the basket more, and not settle for as many jumpers. If he is running the point, he should look to get into the lane and draw the defense to find open shooters or Jeff Withey around the basket. Defensively, he needs to work on getting over screens, as well as increasing his court awareness on and off the ball.
Vincent Council, Providence, 6'2, 180
15.9 ppg, 4.1 rpg, 7.5 apg, 1.3 spg, 39.1 FG%, 67.4 FT%, 29.3 3FG%, 2.1:1 A/TO
Council is coming off a season where he was not only the Big East's leader in assists, but also in the Top 5 in the country. Also, Council averaged more minutes per game than any player in the country (38.7). He has good court vision, and he is very good at pushing the ball up the court quickly in transition, and either finishing or drawing the defense and kicking the ball out. When he has the ball on offense, he uses screens well, and can turn the corner quickly to get into the lane. He also does a very good job using his handle to create space for his jumper.
What he needs to show this season: Unfortunately, all of the positives listed above come with some big negatives attached. While he sees the court well, and can get into the defense, he has some issues with control. Also, he rarely seems to have a plan as he attacks the defense, and ends up trying to throw passes after getting too deep or getting into the air. Shot selection is also a major issue. His jumper isn't bad, but when he chooses to take it is. He needs to work on going to the basket stronger and drawing the foul, instead of trying to avoid the defense entirely and taking a bad shot. Defensively, he needs to work on his positioning, especially understanding the right time to pressure the ball. He should also work on getting over screens, especially when he knows a guy can shoot.
Dexter Strickland, North Carolina, 6'3, 180
(19 Games) 7.5 ppg, 2.1 rpg, 2.1 apg, 1.3 spg, 57.0 FG%, 66.7 FT%, 1.5:1 A/TO
Strickland's season was cut short last year after tearing his ACL. Expected to be at full strength, he will be a major asset to a UNC backcourt which lost Kendall Marshall to the NBA. Strickland can play either guard spot, though he doesn't excel at either on offense. Defensively, he can guard extremely well, both on and off the ball. As a point guard, he doesn't have great playmaking abilities, but he does a very good job keeping the offense moving and protecting the ball. He is always very active and can be found crashing the boards on both ends, or getting after loose balls.
What he needs to show this season: First, it will be important to show that the knee is fully recovered, which by all accounts, it seems to be. This is a young North Carolina team, and it will be important for Strickland to establish himself as a team leader, especially with 4 starters gone from last year. Along with helping to run the point, Strickland will need to show a more versatile offensive game, including a reliable jumper. While he won't be needed to take on a significant scoring role, he will need to be a big enough threat to keep the defense honest. Defensively, as long as the knee is fine, I expect him to continue to be one of the best defenders in the country.

Robert Covington, Tennessee State, 6'9, 215
17.8 ppg, 7.9 rpg, 1.3 apg, 1.5 spg, 1.4 bpg, 52.6 FG%, 77.5 FT%, 44.8 3FG%
Covington has great size on the wing, and he uses it well to get good looks for his jumper. He has very good range and doesn't take many bad shots. He runs the floor well, and can hit the jumper in transition or finish at the rim. He has a good nose for the ball and goes strong after rebounds, especially on the offensive glass. On the defensive end, Covington has good court awareness and stays active, especially playing off of screens. Off the ball, he uses his long arms to play passing lanes well and is a decent help and full-court defender.
What he needs to show this season: I want to see Covington use his size better in mismatch situations, especially taking smaller players in the post. Also, he needs to continue to improve his ballhandling skills and become more aggressive taking the ball off the dribble to the basket. He should get to the free throw line more often than he has before. On the defensive end, he needs to work on his lateral movement and positioning out on the perimeter, especially if he wants to guard wings in the NBA. Covington is one of the top players in the NCAA this season and needs to play with that type of confidence.
Check back soon for the next group of seniors. Follow me on Twitter – @NBADraftBlog and leave your comments below or email me – [email protected]