When it comes to the NBA Draft, there is such a disproportionate amount of attention paid to numbers and various statistics. At times, I will find myself start to fall into that trap, but then a player steps out of their college system, and show a lot more to their game than you could have imagined. Sometimes, the things that teams are really looking for can't be quantified, or there are teams that feel they can take a player and add the tools they need to be a successful pro. Duke's Miles Plumlee falls into all of these categories. The numbers he put up rarely wowed anyone, but the team was winning and he was a major part of it. He did a lot of the dirty work, such as setting screens and battling in the post, while more heralded teammates fed off of that and put up numbers that did impress. Again, I was a guilty as anyone in often downplaying or flat out not recognizing what Plumlee did for that team. I was wrong. Third, Fourth, Fifth looks at his film, and you can see how just a small movement or play or his part was the difference in a play being successful. Not that everything was great to watch, but Plumlee knows exactly what he needs to do to fix it. I had the chance to talk to Plumlee recently as he was leaving Minnesota after his last pre-NBA Draft workout. Here, Plumlee discusses his game, playing at Duke, the pre-Draft process, and more: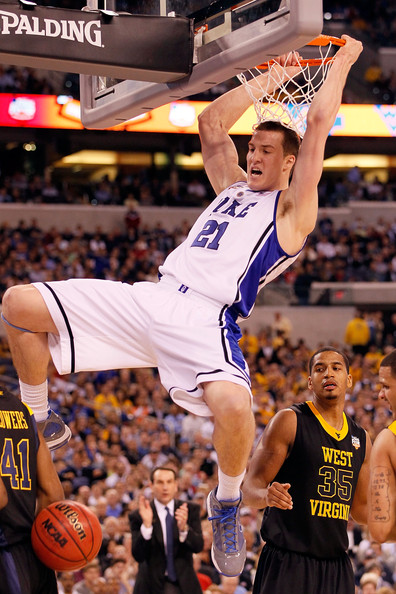 Miles on how his game developed at Duke:
"I probably developed the most with the physical part of the game, especially playing in the paint. I came to college liking to play up high, facing the basket, so I had to learn to play as more of a back-to-the-basket post player."
Miles on the influence of Coach Mike Krzyzewski:
"Coach Krzyzewski has been a huge influence to me, especially on the court. He instilled in me how hard you had to work to play that level, and also how to compete and fight every time you are out there."

Miles on having two brothers (Mason and Marshall) on the same team with him:
"I couldn't have dreamed of anything better than having them there with me and it is something I will never forget."

Miles on season-ending NCAA Tournament loss to Lehigh:
"Of course it was disappointing, and I hope that that one game is not how I am remembered at Duke. You just have to move past it and know that brighter days are still ahead."

Miles on his strengths as a player:
"I would say my biggest strengths are how hard I play and my athleticism. Being as big as athletic as I am for my size makes me unique in this draft, so I just need to keep working hard and show what I am capable of doing."
Miles on what parts of his game he still wants to improve:
"I need to be able to have a more consistent jumper when I am facing the basket, and definitely want to extend my range on it. Also, I will need to make the usual adjustments players have to make when going to the NBA. It is a faster and more physical game."
Miles on what role he can fill for a team immediately:
"I can come in and rebound, defend, and use my athleticism to finish around the basket. I can be a very good complimentary player who can fit into most systems."
Miles on going through the Pre-Draft process:
"The whole process was definitely strenuous, especially all of the traveling from city to city. But It was a great experience and I can look back and say I made it through and accomplished what I wanted to. Now I am just excited for Draft night."
Miles on what he wants teams and fans to know about him:
"I am a low risk, high reward player. My athleticism sets me apart from others my size. I am coachable, want to come in and work hard, and have a lot to offer any team that picks me."
I want to thank Miles for his time and I wish him the best of luck as he looks to fulfill his dream of getting to the NBA. Miles is the perfect example of how little numbers mean when teams are looking at a player as a possible prospect. Chances are, Miles could have gone to another school and played in another system where he could have put up bigger numbers. Instead, he took the opportunity to play for one of the best coaches ever and did whatever Coach Krzyzewski needed him to do to help the team. It is all going to pay off for him tomorrow, and after speaking to Miles, he knows there is still a lot of work ahead, but he seems very ready to tackle it.
Check back this week for more great interviews and scouting reports as we head towards the 2012 NBA Draft. Follow me on Twitter – @NBADraftBlog – for updates, leave your comments below, or feel free to email me at [email protected]