The NBA Draft Blog Scouting Report looks at one of the more difficult players to make sense of in this year's draft – Connecticut's Jeremy Lamb. At times, Lamb looks like an unstoppable scorer and at others, he doesn't look for his shot. He has the ability to score in a variety of ways, and has also shown to be a decent defender. Will Lamb's passive attitude cause teams to pass on him come Draft night? Let's take a look at Jeremy Lamb's game, and see how it could translate to the NBA: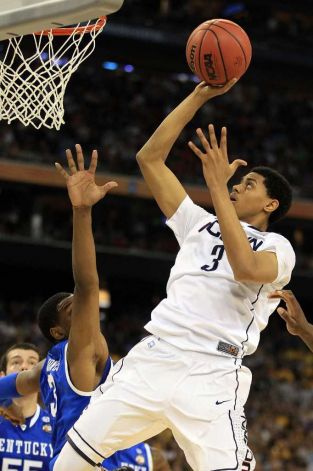 Jeremy Lamb, Connecticut – Sophomore
Guard – 6'5, 179
17.7 ppg, 4.9 rpg, 1.7 apg, 1.2 spg, 47.8% FG, 81.0% FT, 33.6% 3FG

Offense
Perimeter Shooting- Lamb has good, consistent form on his jumper – getting square to the basket, a fast, high release, and good follow-through. He has the ability to hit his jumper off the catch or off the dribble, though he needs to watch a tendency to drift forward when shooting off the dribble. He moves well without the ball and understands how to use screens well to get open. He does a good job being in shooting position coming off of screens, though he needs to make sure to come of screens quicker and tighter. Lamb needs to improve his ability to create space for his shot using his dribble, but he is good at using shot fakes to draw his defender in the air or off-balance. Shot selection has been an issue over his 2 seasons, but he did show improvement in the 2nd half of last year.
Ballhandling/Penetration- Lamb is a good ballhandler, able to use both hands well, keeping the ball low and safe. He needs to add some more advanced dribbles to his skill-set. Right now, everything seems to be done at the same speed. Adding these will allow him to take his man off the dribble easier at the NBA level. He does a good job avoiding pressure and can be used as a primary ballhandler if absolutely necessary. Lamb has shown the ability to get into the lane, usually of a screen or a shot fake. He has shown the ability to stop and hit the mid or shot-range jumper or take the ball to the basket, and he has the ability to finish with both hands around the basket. Lamb has good body control in avoiding help defenders, but may need to be more aggressive at the next level looking to score off penetration.
Rebounding/Passing- Though Lamb is rarely in the position to get many offensive rebounds, he has shown the ability to get to his own misses quickly around the basket. Lamb has very good court vision and does a good job finding open men when he draws help defenders. He needs to improve his reaction to what he sees and how he throws his passes. Often he will make great looks, but be slow getting the ball to his teammate, so they can't make a good play off the pass. He does a good job not trying to force passes and is quick to get rid of the ball if he can't make a play. One play he has been very good at is finding the screener for an open shot when he dribbles off a screen and draws both defenders. In an offense with a strong mid-range big man, Lamb could make some very good plays.
Free Throw Shooting – Lamb is a good free throw shooter, and should improve as he gets to the line more often. He played a lot of minutes last season, and it had little effect on how he shot his free throws. He needs to become more aggressive attacking the rim and drawing contact to get more free throw attempts.

Defense
Perimeter Defense- Lamb is a good on-ball defender, but needs to improve how he defends away from the ball. On the ball, he positions himself well, gets low and has keeps his feet active and arms out. His lateral movement and foot speed improved through the year, but can still be more consistent, and a bit quicker. He needs to improve how he handles screens, needing to be more effective getting over screens up top, and not losing his man when he is being run through multiple screens. Off the ball, he needs to work on his positioning and footwork. He has problems getting turned around when players make cuts or go through screens. He needs to do a better job understanding how to beat his man off-ball to spots if he loses them, and learning to play angles. Also, learning to move laterally and pivoting on changes of direction is important. He makes a good attempt to close on perimeter shooters, but needs to watch being drawn in the air on shot fakes easily.
Rebounding- Lamb does a good job looking to put a body on offensive players when a shot goes up, though it is rare that he can actually hold somebody off long enough before being moved aside. When a ball is near him, he needs to do a better job getting after it quickly and securing it before he looks to make a move up court.

Transition
Lamb does a good job in transition, whether he is the one pushing the ball or if he runs one of the wings. He should look to get the ball up court quicker, but he keeps his head up, and generally makes good decisions about taking it to the basket or giving the ball up. On the wing, he has the ability to set up and knock down the long jumper, or to take the ball off the pass to the basket.

Summary & Intangibles
Athleticism – High
BB IQ – High
Lamb is definitely an enigma to watch on the court. At times, he was capable of single-handedly carrying UConn's offense, and at other times, he would disappear for long stretches and pass up good looks. He is a very good player though and he has the makings of what could be an NBA style offensive game. Also, while he has to still make some adjustments in how he plays defense, especially away from the ball, he could be an above average NBA defender at the 2. Rumblings about his personality and possible fit as a teammate are highly overstated. His draft range falls somewhere in the 7-14 range, but he is likely to go in the Top 10. I think he will be one of the lottery rookies with the potential to shine the quickest, and if he decides to bring it every night, he can be a star in the years to come. If not, he will likely end up being a decent role player.
Remember, leave any comments below, follow me on Twitter – @NBADraftBlog, or feel free to email me at [email protected]