Today, the NBA Draft Blog Scouting Report looks at another underclassman whose decision to enter the draft was highly questionable – Baylor freshman forward, Quincy Miller. Miller has great size for a likely small forward and has shown some skill in the past season, but he still is a long way from being ready to be a real contributor on the NBA level. How big of a risk will someone take based on his potential? Let's take a look at Quincy Miller: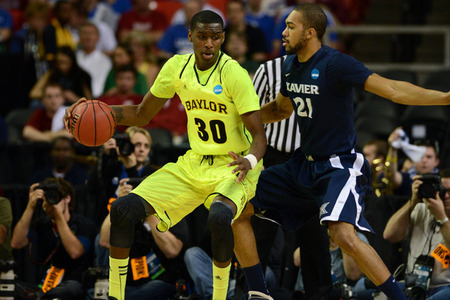 Quincy Miller, Baylor – Freshman
Forward – 6'10, 219
(24.4 mpg) 10.6 ppg, 4.9 rpg, 44.7% FG, 81.6% FT, 34.8% 3FG

Offense
Perimeter Shooting- Miller's form on his jumper is good, for the most part. He gets square to the basket, and gets good arc and rotation on his release. He needs to watch his release point, which can be inconsistent. At 6'10, if he keeps his release point high, he will have little issues getting his shot off, even with a slower release time. He has good range, showing the ability to hit somewhat consistently at 15 feet, and to knock down deeper shots if left open. He needs to improve his ability to create space for his shot off the dribble or using screens. He comes too wide off of screens, allowing defenders to stay with him, and his handle will be discussed in-depth below.
Ballhandling/Penetration- While Miller is 6'10, the majority of his game is played on the perimeter, so he really needs to improve his ballhandling skills. His right hand isn't bad, though he needs to make sure to keep the ball low and close to his body. His left hand needs work, especially when making a move to the basket. He doesn't have a great first step, so he needs to work on using his dribble and shot fakes to get past his defender. Once he gets into the lane, he has shown the ability to stop and hit the short to mid-range jumper, as well as finishing in a variety of ways. I would like to see him be able to finish with his left hand consistently around the left side of the basket, as well as doing a better job being able to draw contact while still getting his shot off.
Rebounding/Passing- Miller has shown some ability on the offensive boards, relying on his length and athleticism to get to missed shots, especially his own, quickly. His ability to get up and down quickly allows him to also try and keep balls alive that he can't get to. However, Miller's lack of strength allows him to get pushed out of position easily. Miller is an average passer, but there are some major areas that he needs to improve. His size on the perimeter allows him to see over the top of defenses, though he needs to make sure to use that to his advantage. This can be especially useful playing the high post in high-low situations. Also, while he doesn't play in the post too often, he still needs to be able to get the ball out quicker if trapped or pressured.
Free Throw Shooting – Miller is a good free throw shooter, but his style of play does not get him to the line often enough. If he is more aggressive in looking to get to the basket, his ability to hit free throws can translate into many more points.

Defense
Perimeter Defense- Miller is a decent perimeter defender, especially at his size. He positions himself well on the ball and uses his long arms to make passes difficult. He has to make sure to try and stay low in his stance, and he needs to work on increasing his foot speed and lateral movement. He understands the need to try and get over screens, though his footwork still gets him stuck often. Off the ball, playing a lot of time in a zone defense has helped Miller to understand how to position himself in a way where he can be an effective help defender, though he still needs to react quicker in help situations. He also makes a good attempt to close on perimeter shooters, though again, he needs to react better.
Rebounding/Blocking- Miller's lack of strength hurts him significantly on the defensive boards. Fundamentally, he rebounds well. He looks to box out and goes strong after the ball, looking to keep it high once he secures it. The problem is, even when he looks to use his body to get position, he is easily moved off the spot. Miller has the potential to be a much better shot-blocker than he is. He does a good job extending fully and going straight up after the shot, but he needs to work on his timing.

Transition
Miller is good in transition, showing the ability to run the wings and either take the ball of the pass to the basket, cut straight to the rim and finish, or spot up on the wings and knock down an open jumper.

Post Play
While Miller is not a regular post player, his size will allow him to take advantage of mismatches on the offensive end. He needs to work on making moves over both shoulders smoothly and with less dribbles. Also, his lack of strength often leaves him being moved away from the basket on his moves, even where he has a big height advantage. The good thing is that even when he is moved away, he has very nice touch around the basket, and is length allows him to still get clean looks.

Summary & Intangibles
Athleticism – Very High
BB IQ – Above Average
Miller was able to show flashes of the player he could possibly become during his one year of college, but those moments were not frequent enough for him to justify coming out in this draft. His size as a player who can play on the perimeter is a huge asset, and he showed little effect on his athleticism after tearing his ACL during his senior year of high school. His knee may be an issue of concern to some, but Miller has looked like he has recovered well. There's no doubt he has some skills, but is still very raw in very important areas, and he certainly could learn to be more aggressive on both ends of the floor. While his potential will still keep him in the 1st round, I place his draft value near the middle to end, somewhere in the 18-26 range. I think he needs to be in a situation where not much is expected of him quickly, and with a coaching staff that can develop his somewhat unique physical talents.
Remember, leave any comments below, follow me on Twitter – @NBADraftBlog, or feel free to email me at [email protected]