The NBA Draft Blog Scouting Report looks at a player who shut down his workouts weeks ago, leading to the assumption of a promise in the lottery – Syracuse's Dion Waiters. Waiters, who flourished this year as Syracuse's sixth man, is athletic and has shown the ability to score in a variety of ways. On top of that, he has shown to be a strong on-ball defender, who can get quick scores off of creating turnovers. However, there are still many holes in his game, including consistency on both ends. Is Waiters just another case of pre-draft hype gone mad? Let's take a look at his game: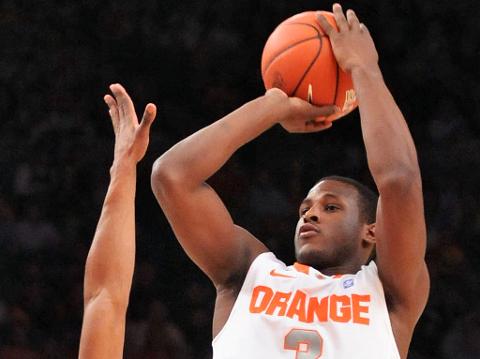 Dion Waiters, Syracuse – Sophomore
Guard – 6'4, 221
(23.9 mpg) 12.7 ppg, 2.4 apg, 1.8 spg, 48.4% FG, 73.3% FT, 36.4% 3FG

Offense
Perimeter Shooting- Waiters has good form on his jumper – he gets good lift from his legs, a high release and good arc and follow-through. One area he needs to show improvement is his release time. Waiters tends to bring the ball down off the catch just to bring it back up and shoot. Bringing the ball straight up off the catch will allow him to get his shot off a bit quicker. He is a good spot-up shooter, but needs to work on becoming a consistent shooter off the dribble. He has good range, extending to the NBA 3-point line, though he is far from consistent. Waiters also needs to work on moving without the ball, especially using screens to catch and shoot. His shot selection isn't great, but that should improve with experience, and he needs to watch a tendency to fade on his jumper, even if no one is close to him. He understands the need for a mid-range game, and has shown improvement finding openings in that area to shoot. Overall, he is a decent shooter who should get better with repetition and experience.
Ballhandling/Penetration- Waiters is a good ballhandler, having the ability to use both hands well and to use advanced dribbles, especially a nice change-of-pace dribble. He protects the ball well and is rarely careless with it. He has a quick first step and once past the defender, can get to the rim quickly. He has very good body control, and can avoid help defenders, but he needs to learn how to handle contact more while getting his shot off. Too often in his attempts to avoid defenders completely, he ends up giving himself a much worse shot attempt. Waiters also needs to improve his ability to hit floaters or stop and hit the short jumper. He uses screens well to get into the lane, turning the corner quickly and with little hesitation. He does need to work on coming off of screens tighter at the next level to give him space from his defender. His ability to uses screens has also made him an improved ballhandler in pick-and-roll situations. He has the ability to finish at the rim in a variety of ways and occasionally shows the ability to finish strong.
Rebounding/Passing- Waiters is rarely active on the offensive boards, to the point where he won't make a play on a missed shot unless it is coming right to him. Though, he is rarely in position to make a play anyway with his propensity to stay on perimeter often. He does have the speed and athleticism to go after long rebounds or at least hustle to try and make a play. Waiters is good passer, seeing the floor well and usually getting the ball to players in spots where they can make a play. As noted above, he has improved a lot as a ballhandler in pick-and-roll or pick-and-pop situations, and has shown the ability to hit the screener or open teammate quickly. He makes some good decisions, including rarely forcing passes, but his court vision still needs to improve.
Free Throw Shooting – Waiters is a good free throw shooter, and should improve. As with his jumper, his form and release are very good, but he tends to rush the shot at times, leaving the shot very flat. He needs to do a better job getting to the line more often, especially being able to draw contact around the basket off penetration.

Defense
Perimeter Defense- Waiters is a good defender both on and off the ball, though there are still some areas where he needs to improve for the next level. On the ball, he positions himself well, gets low in his stance and has good balance. He is usually active, and uses his quick hands to try and force turnovers. His lateral movement still needs work, but playing in a zone tended to mask that. In the zone, he understood how to play off the ball well, positioning himself well in a way that allowed him to try and jump the passing lanes. He will need to make some adjustments positioning himself off the ball in man situations, especially when he is tasked with being a help defender. Waiters does a good job recognizing and trying to get over the top of screens, and if he can't, he looks to beat his man to the next spot. He closes well on shooters and usually makes a good effort even when he isn't in position, though he does need to watch for shot fakes.
Rebounding- As on the offensive boards, Waiters shows little interest in even making a play on a missed shot that isn't right to him. He has the speed and strength, even at his size, to at least get involved, and I assume once he is in man defense, he isn't going to have much of a choice.

Transition
Waiters is very effective in the open court, whether he is the one pushing the ball or running one of the wings. He gets the ball up court quickly, keeps his head up, and generally makes good decisions about taking it to the basket or giving the ball up. On the wing, he is more comfortable taking the ball to the basket off the dribble, but has shown the ability to knock down open jumpers. Defensively, he is very good at spacing himself against the break and forcing the ballhandler to make a play.

Summary & Intangibles
Athleticism – Very High
BB IQ – High
Waiters is an interesting study in this draft class. He was Syracuse's 6th man, but often played starter minutes and was on the court in crunch time. He has shown some flashes on both ends of the court of having high potential, but there have also been too many games where he just seemed to be on a different page than the rest of his team. He's seems to be good at a lot of things, but I don't project him ever being great at any of them, other than the ability to pressure the ball in half-court situations. There's the theory out there that he will be a point guard in the NBA, but other than his ability to run the basic pick-and-roll, he has shown no evidence that he has the understanding or the vision to run a team's offense. He is very athletic and, at times, can score in bunches, but again, he hasn't shown it enough on a consistent basis to validate the pre-draft hype he has received. His draft value is in the 13-20 range, and with Waiters shutting down weeks ago due to an expected promise in the lottery, he is expected to likely go in the 11-13 range.
Remember, leave any comments below, follow me on Twitter – @NBADraftBlog, or feel free to email me [email protected]