This edition of The Case For… looks at one of college basketball's top scorers over the last 2 seasons – Tennessee Tech's Kevin Murphy. Murphy, a two-time First Team All-Ohio Valley Conference player, has shown the ability to hit his jumper from anywhere on the court, while also improving in a lot of other areas on both sides of the ball. At 6'6, he has good size for a shooting guard, and he knows how to use it to his advantage. Having shown what he can do at the NBA Draft Combine in Chicago, team workouts. and at Portsmouth, NBA teams have gotten a good look at what he can do for their team. How much will teams value his scoring ability? Let's look at The Case for Kevin Murphy: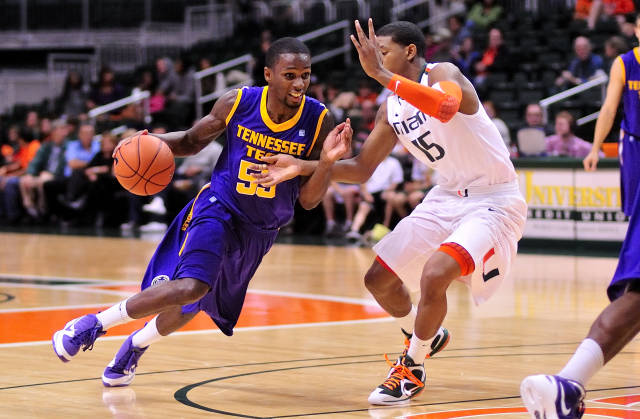 Kevin Murphy, Tennessee Tech, Senior, 6'6, 185
20.6 ppg, 5.2 rpg, 2.3 apg, 44.4 FG%, 72.5 FT%, 41.6 3FG%
The Good – Murphy has built his reputation mainly on his scoring ability and it is easy to see why. He has great form on his jumper – quick release and a high, consistent release point, good lift from his legs, and a smooth follow-through. He has range beyond the NBA 3-point line, and his size makes it easy to get good looks over many who defend him. He has the ability to shoot the jumper well off the catch or off the dribble, and he has added a nice dribble-step back move which allows him to create space for his jumper. He works hard without the ball to get open, and is improving using screens to get space for his shot. Murphy has also developed a good ability to get into the lane off the dribble, and hit the short jumper elevating off a jump stop. Murphy has also done a better job recognizing pressure this season, having faced double-teams or drawn teams' top defenders because of his scoring ability. On the defensive side, Murphy has improved his ability to play on and off the ball on the perimeter. He positions himself well, and has shown better foot speed and lateral movement. He has also done a much better job looking to get over screens on the perimeter, as well as closing out on shooters. Off a missed shot, he does a good job going strong after the ball and securing it.
The Not-So-Good – While Murphy has developed a lot of skills related to his jump shot, he still needs to improve his ability to take the ball to the basket. His first step is average, so he needs to find ways to use ball-fakes and his dribble to break down defenders. Once he gets into the lane, he needs to be able to absorb contact better while still getting his shot off. Getting stronger is a general need for him, and it should help him against physical defenders, which he has had trouble with in the past. Also, he is often forced towards the left side of the court, so he needs to work on being able to dictate more where he takes the ball. Defensively, while Murphy has improved his perimeter defense, he does need to watch his balance when guarding the ball. A tendency to lean forward a little too much leaves him open to getting beat with a quick misdirection step. Also, if he does get beat off the dribble, he needs to look for better ways to cut off his man to the next spot. Off the ball, he needs to continue to work on his court awareness – knowing when and where he needs to position himself to help. If he works on getting stronger, he should be able to use his size better to help on the defensive boards if needed in the NBA.
The Verdict – Murphy is as good a scorer as I have seen in college the last few years, and I have little doubt that most of his offensive game could translate well to the NBA. A lot of what he needs to work on comes from the speed and physical nature of the pro game, so working on improving this area should branch out to help him improve in other areas. If Murphy can hone his scoring ability to be effective in short bursts off the bench, he has a good chance to break into a team's rotation rather quickly. He may never be a great defender, but I think his length and understanding of what he needs to do defensively won't hurt a team while he is on the court. Murphy's draft value falls in the early 2nd round, somewhere in the 33-41 range. If a team gets him after the 41st pick, they will be getting great value for their pick.
See Also – NBA Draft Blog Interview with Kevin Murphy
Leave your comments below, email me any comments or suggestions at [email protected] , and remember to follow me on Twitter – @NBADraftBlog.