One of the most-asked questions I have gotten over the last year has been "What can you tell me about Orlando Johnson?" Many people knew the name, but not many had the chance to watch the UC-Santa Barbara guard in action. Solidly built, with the ability to score in a variety of ways, Johnson has showed much more than that over his career. He is a leader, helping get UCSB to the NCAA Tournament in 2010 and 2011, and just missing in 2012. He is versatile, not only leading the conference in scoring, but also ranking in Top 15 in the Big West in rebounds, assists, and steals, per game. He loves the game, not looking at it as a career, but as a chance to go out and entertain people doing what he does best. Any team he plays for is going to get more than a basketball player, but someone who will embed himself within the organization and community. I had the chance to talk to Johnson recently while he has been working out for NBA teams across the league. Here, Johnson discusses the development of his game, the team workout process, and more: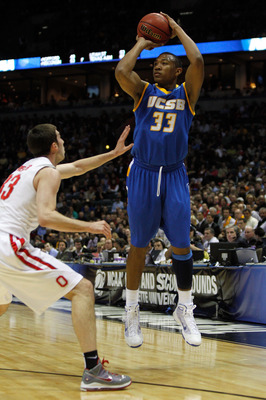 Orlando on how his game developed in college:
"I think the biggest way I developed was mentally. Understanding the game, watching and learning from the film, and picking up little details; those were the biggest things which helped me take my game to another level."
Orlando on his strengths as a player:
"My shooting ability is probably my biggest strength. Also, being able to break down the defense and create for myself, or openings for my teammates. I have good length and a strong body, and I use them well to finish around the rim. As I have gotten older, I have matured in many ways, and it has let me take my game to a higher level."
Orlando on what parts of his game he still wants to improve:
"The players and the pace of the game are both quicker in the NBA, so I have been working on making myself quicker I need to make sure my speed and lateral quickness are the best they can be to defend NBA players."
Orlando on what role he can fill for a team immediately:
"I think I can come right in and provide energy and leadership. I am prepared to work my up on any team. I can't control my time, or things like points and rebounds, but I can control my attitude and energy. Every day, I will just make sure to bring that, and the rest will work itself out."
Orlando on playing in the Draft Combines in New Jersey and Chicago:
"They were great experiences because they allowed me to gauge where my game was, and it allowed me to go out there and show people that what they have heard about my game is true."
Orlando on going through the Pre-Draft process:
"It's been great. I've gotten experience with travelling from city to city, seeing what life is like for a NBA player. Going to each workout is like an audition, but I have enjoyed it. Some people can find it to be nerve-wracking, but I've embraced the workouts. Basketball is something I have played almost all of my life, and this is just the next step for me."
Orlando on whether he felt he was at a disadvantage coming out of the Big West Conference:
"Maybe the first few years I may have felt that way, but the past few summers I had the opportunity play in some of the NBA skill academies, as well as representing the country in international play. I was able to show that I could play at that level of competition, so I think heading into my senior year, teams started to know who I was and what I could do."
Orlando on what he wants teams and fans to know about him:
"In the 4 years I played in college, I was a very consistent player. I will bring everything I have, every night, to make my team better and to make an impact. I think fans of whatever team I play for will enjoy watching me play."
I want to thank Orlando for his time and I wish him the best of luck as he looks to fulfill his dream of getting to the NBA. Orlando is great example of how hard work and the ability to be coached can really lift a player's game. Speaking to him, you get a great sense that he understands that this is just the beginning of his journey and that he is not going to be satisfied with just being in the NBA. I look forward to seeing how he makes the most of his opportunity, and I am positive that wherever he is chosen, the team and the fans will embrace all that he brings.
Check back for more great interviews and scouting reports as we head towards the 2012 NBA Draft. Follow me on Twitter – @NBADraftBlog – for updates, leave your comments below, or feel free to email me at [email protected]