The influence of a senior leader is often overlooked, especially in situations such as a head coaching change. While injuries to key players derailed the Texas A&M season, the senior leadership (along with Dash Harris) of David Loubeau helped keep the team afloat during some rough patches, and helped guide the younger team members in a way that will allow the program to bounce back quickly in the near future. And while coaching changes can be difficult, it did allow Loubeau to show a lot more to his game than playing around the basket. Loubeau settled into a nice role in the high post, where he could hit his jumper and help facilitate the offense. A lot of it had to do with his acceptance of a new role, which set the example for other teammates to do the same. I had the chance to talk to David, who was training at Texas A&M, recently while he was preparing for NBA workouts. David discusses his game development, adjusting to a new coach, and more: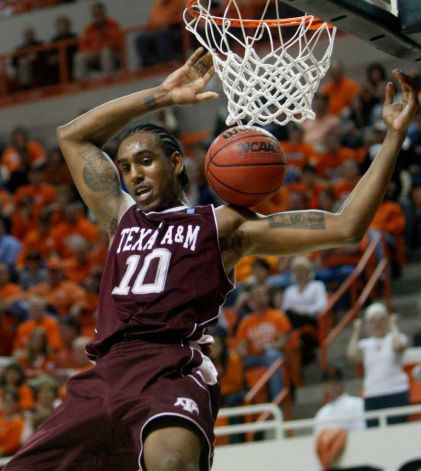 David on his development at Texas A&M:
"I developed the most on the defensive side of the ball, mainly post defense. My offense was polished coming out of high school, but I learned how to adjust it even more. As a freshman, when I got the ball, I would make too many moves trying to score. Over time, I learned to go with one quick move. Rebounding is an area I should have focused more time on developing."
David on adjusting to a new coach after 3 years:
"A totally different offense made it a big-time adjustment. I started playing a lot more in the high post in the new offense. The past season was a disappointment. Besides the injuries, we had to adjust our training cycles and other little things."

David on his strengths as a player:
"My biggest strength is my ability to score from 15-17 feet in. I can score either in the face-up game or with my back to the basket. I can use both hands on either block and have a reliable hook shot. I have also gotten better hitting the high post jumper."
David on what parts of his game he still wants to improve:
"I need to improve my rebounding, both offensive and defensive. I want to improve my range out to the NBA 3 point line. My footwork is good, but I want to improve my defensive and lateral quickness."
David on his role at the next level:
"I think I can come in as an energy guy, doing whatever I need to do to help the team. I am a great teammate, and will support the team on the court and on the bench. I am just going to work hard to be able to show what I am capable of."
David on what he wants teams and fans to know about him:
"I am a real good guy, and support the team and my teammates. I have a lot of skill and energy to bring to a team. People haven't seen my full game yet, and my peak as a player is still down the road."
I want to thank David for his time and I wish him the best of luck as he looks to fulfill his dream of getting to the NBA. I also want to thank Jared Hodges at Walton Sports Management Group for setting up the interview. David did a very good job going through all of the adjustments he had to make at Texas A&M, and is a better player for it. He is certainly someone who will help a team somewhere with his versatility and work ethic.
Check back for more great interviews and scouting reports as we head towards the 2012 NBA Draft. Follow me on Twitter – @NBADraftBlog – for updates, leave your comments below, or feel free to email me at [email protected]