Similar to Draft Classmate Harrison Barnes, Austin Rivers came into college on the verge of being overhyped, and as often happens in situations like that, lack of production tends to bring out a lot of negativity. In the 2nd half of this past season, Duke mixed up their offense more to play to Rivers' strengths, and better results often came along with it. He plays well in isolation and can be a very good shooter, but will the need to be a focal point of the offense dissuade teams from picking him? Let's take a look at Austin Rivers: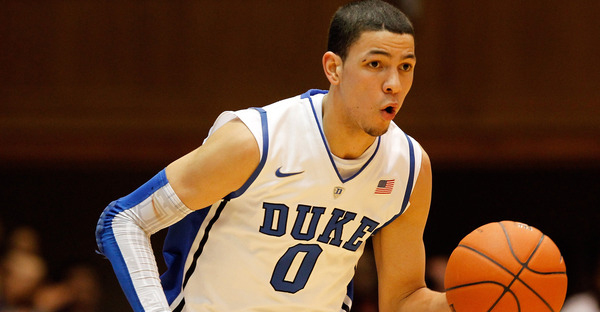 Austin Rivers, Duke – Freshman
Guard – 6'4, 203
15.5 ppg, 3.4 rpg, 2.1 apg, 43.3% FG, 65.6% FT, 36.5% 3FG

Offense
Perimeter Shooting- Rivers has very good form on his jumper, using his legs well to get lift, having a high, quick release, and excellent follow-through. He is able to hit shots off the catch or the dribble. He falls in love with staying behind the 3-point line too often unless he is going all the way to the basket. He needs to develop his mid-range jumper more, especially after he beats his man off the dribble but the help is waiting. He likes to create space for his jumper using his dribble, but he relies often on a crossover to a step-back 3. While it has worked on occasion, it is not something you want to rely on behind the 3-point line. He uses screens well, both with and off the ball, and gets his shot off quickly before the defense recovers. Shot selection is a general issue for Rivers, and his shot selection from the perimeter is no different. Besides his dribble, he uses a good jab step and ball fake to create space or get the defender off-balance, but then will often settle for staying in the same spot to shoot the ball when he has 3 or 4 open feet in front of him.
Ballhandling/ Penetration- Rivers has very good ballhandling skills. He is strong with both hands and keeps very good control of the ball. He has a great set of advanced dribbles to create space and get by his man, including an excellent crossover, as well as good hesitation and spin moves. He does need a tendency to get careless at times, looking to beat traps alone with his dribble or leaving the ball exposed too much when preparing to make his move. Rivers has a good first step, but relies on using his dribble more often to get a defender off-balance before he attempts to go by them. While he is successful many times doing this, it can often take up a lot of time, and can bring an offense to a halt. Once he gets by his man, he is very aggressive attacking the basket, which again, can be good, but also cause some bad situations. He draws defenders easily in the lane, and he has good body control trying to get around them to get to the rim. He can finish in a variety of ways, but there are some big areas that need to improve. Rivers needs to become more confident in his mid-range and short jumpers. At the NBA level, he is not going to get to the basket nearly as often, so he will need to be able to stop and hit the shot when he has space. Also, he needs to do a better job finishing with his left hand on the left side. He prefers to use his right hand on the left side, often scooping the ball up towards the basket underneath defenders. This happens because he is also trying to avoid contact instead of drawing it and still getting his shot. He uses screens well to get into the lane, coming off them tightly and turning the corner quickly. He does need to do a better job keeping his head up and looking for the screener after he releases, especially in pick-and-roll situations.
Rebounding/Passing- Rivers doesn't do much on the offensive boards, unless the ball happens to come right to him. When he drives to the basket and misses his shot, he usually takes himself out of position from grabbing his own miss, and if he is on the perimeter, he usually stays out there instead of looking to get a long rebound. Rivers sees the court well and is capable of making some good passes, but his decision making is still developing. He is very good at drawing help defenders, but he needs to do a better job keeping his head up looking for the open man. When he gets into the lane, he seems to have tunnel-vision, focusing squarely on getting his shot off. Often, it is a good play, but many times, if he looked around, he would find teammates in great position to make a play.
Free Throw Shooting – Rivers has the potential to be a very good free throw shooter, and his percentage doesn't really reflect his ability. Like his jumper, his form is good, but his free throws seem rushed. If he slows down and focuses, he should do very well. He also should get to the line a lot more for the amount of times of he gets into the lane and gets to the rim, but he shies from contact. He has to do a better job looking to draw fouls while still being able to get his shot.

Defense
Perimeter Defense- This is a major area where Rivers needs to improve. On the ball, he positions himself well most of the time, but he needs to do a better job staying low. His lateral movement is good, but his foot speed needs to improve. Also, he needs to improve his balance when in his defensive stance, often leaning to one side which leaves him open to being beat by a quick move. Off the ball, Rivers needs to work on his positioning, especially making sure he is in position to be aware of what is going on around him, making it easier for him to anticipate screens and help if needed. Also, while he does a good job trying to get over screens, because he is often late to react to his man's movements, he ends up getting caught on the screen. When pressuring the ball, especially in half-court situations, he needs to do a better job watching his positioning and balance. He often will pressure his man getting directly on top of him, but he doesn't have the quickness in most instances to stay with him, so he ends up getting beat or fouling. Rivers also needs to make more of an effort closing on perimeter shooters.
Rebounding- Rivers can be a good rebounder on the defensive end. He anticipates missed shots well and looks to get to the ball quickly. He will try to avoid the area if a lot of big men are around, but he will look for opportunities to sneak in if an offensive player is close to grabbing the ball. If he gets a rebound, he can look to push the ball quickly up the court, but he needs to be aware of who is around him before he takes off. He needs to make sure to at least watch for an offensive player trying to make a play on a missed shot from the perimeter and try and put a body on him.

Transition
Rivers can be explosive in open court situations when he has the ball in his hands. He gets up the court quickly and he can beat most players who try to come out and stop him. As in most cases when he has the ball in his hands, he needs to do a better job seeing the court and looking for open teammates. He is also capable of filling the lanes and either spotting up and knocking down the jumper or making a move off the catch and heading to the basket.

Summary & Intangibles
Athleticism – High
BB IQ – Very High
Rivers is no doubt a NBA level talent. His game has been shaped to play in the NBA since he started playing, and while the Duke offense wasn't a place where it shined often, when it did, he looked almost unstoppable. He understands the game very well, but right now, he is most effective when the offense is running through him. Almost every movement he makes on offense is for him to try and get a player in a one-on-one situation in space. Unfortunately, there won't be many teams that will make him the primary option next season, so he will need to adjust – either creating more for other players or learning to move and be effective without the ball. Defensively, he will also need to work hard on his perimeter defense, especially off-the-ball defense. However, the talent is there, the understanding of a lot of the game is already in place, and there is a lot of room for him to grow if he is willing to accept being a secondary option for a while. Also, it will be a few years down the road, but with his vision and handling, he could become a starting point guard in the NBA. But again, he will need to work on creating shots for others more often. I think his draft value is in the lower part of the lottery (8-14), and no matter if the other areas don't develop quickly, I have no doubt he will be able to score plenty for someone.
Remember, leave any comments below, follow me on Twitter – @NBADraftBlog, or feel free to email me at [email protected]