After an uncharacteristic losing streak in the month after the massive brawl between Xavier and Cincinnati, Tu Holloway realized that some changes needed to be made in order to get the Musketeers season back on the right track. In order for team to get back to winning, Holloway was going to need to make a bigger effort to get his teammates involved, even if it meant sacrificing some of his own numbers; and it worked. Starting from Holloway taking only 3 shots in a win at Fordham, Xavier then won 14 of their last 19 games, including making it to the finals of the Atlantic 10 Tournament, and their 3rd Sweet 16 in 4 years. This didn't mean Holloway wasn't going to score anymore; he did that just as well as he did before. But getting everyone else more involved made the team as a whole better. It made Holloway a better player also, allowing him to work on other areas of his game, while knowing that if his team needed him to score, he could give it to them. Holloway wrapped up his college career in a big fashion, averaging over 22 points over 3 NCAA Tournament games. Now heading into his pro career, Holloway is working hard to show how complete a player he has become. He has spent time training in Indianapolis and Las Vegas, and has worked out for many NBA teams, including the Spurs, Knicks, 76ers, Memphis, and Lakers, with more scheduled leading up to the Draft. I had the chance to talk to Holloway recently about his game, shifting his focus during the season, and more: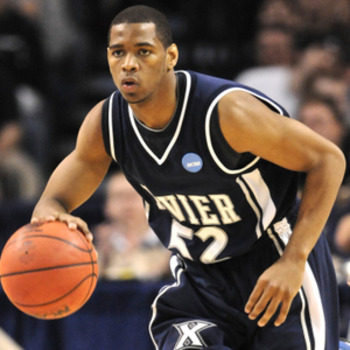 Tu on how his game developed at Xavier:
"Having stayed 4 years in college, I was able to develop different things every year. I learned how to different things depending on people guarded you. I learned to be consistent in different parts of my game. My senior year, we had a problem early on in the year, but I took it as an opportunity to help the younger players and get others, like Dez Wells and Mark Lyons, more involved. There were some games I would only take a couple of shots, but eventually getting the others involved helped us at the end of the year and the NCAA Tournament."
Tu on his strengths as a player:
"I think my passing ability is overlooked. Also, my defense and shooting have become stronger. I'm just trying to continue to develop. I may have played 4 years of college, but I still have room to get a lot better."
Tu on what parts of his game he still wants to improve:
"I am working hard on my point guard skills. I will need to be able to run my team, be vocal, and be a leader. There will always be room to improve and get better, no matter who you are."
Tu on what role he can fill immediately at the next level:
"I'm a competitor. I know I can be a rookie starter in the league. Look at what Isaiah Thomas did last year. I don't want to go to a team and say that I want to be a role player. I want to be a starter, and will keep working until I do."
Tu on playing in the Draft Combines in New Jersey and Chicago:
"New Jersey was different. There was the chance to play 5-on-5 with everyone. I spent about 95% of my time on the court playing point guard. I wanted to show teams that I can play there. In Chicago, it was a lot of 1-on-1 work. You were broken down by positions and teams could watch similar players go against each other. I guess it could help them make some decisions if they were interested in 2 players and got to watch them go against each other."
Tu on what he wants teams and fans to know about him:
"Honestly, the last couple of years, there was a lot of talk about me being one of the top point guards in the country. Now, even though I have gotten better, there is a lot of talk about some other guys probably being picked ahead of me. Watch me play, watch the past couple of seasons. I know I can help any team, and I am going to keep working hard to prove it."
I want to thank Tu for his time and I wish him the best of luck as he looks to fulfill his dream of getting to the NBA. I also want to thank Tzvi Grossman of ASM Sports for helping set up this interview. Tu has been on the NBA radar for a few seasons, and each year he has shown a different facet to his game that should endear him to NBA teams, and he certainly has the confidence to go after whatever he wants. If he can combine his scoring ability with the ability to run a team consistently, I see no reason why he couldn't be a valuable contributor to a NBA team.
Check back in the coming weeks for more great interviews and scouting reports as we head towards the 2012 NBA Draft. Follow me on Twitter – @NBADraftBlog – for updates, leave your comments below, or feel free to email me at [email protected]