For a program as storied at Temple, some subpar years during the first half of the last decade left a lot of fans concerned for the direction of the program. However, the seniors who just wrapped up their careers had a lot to do with getting the program headed in the right direction, including 101 wins and 4 NCAA appearances in the last 4 seasons. Ramone Moore was a vital part of that group, and it looked like he saved his best for last. Known primarily as a scorer during his first few years at Temple, Moore developed an impressive all-around game by his final season. The scoring was still there, leading the team with over 17 points per game, but he also posted career highs in rebounds and assists, while also playing the tough perimeter defense that Temple expects from their guards. Versatility, especially among the guard positions, is always in demand by NBA teams; allowing them to be flexible with their line-ups and personnel decisions. Moore brings a good level of skill, plus a great dose of maturity, to his game, and he should continue to be on NBA teams' workout lists heading into the Draft. Moore, who has been training with John Lucas in Houston, has already worked out for the 76ers, Chicago, Houston, and took part in the Minnesota group workout; and he still has more to come. I had the chance to talk to Moore recently about his development, his game, and more: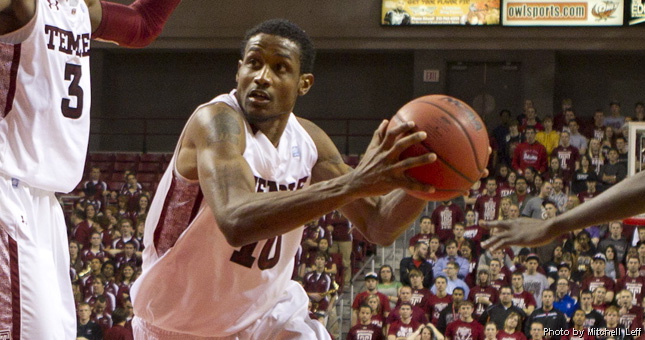 Ramone on how his game developed at Temple:
"A lot of things changed during college. My first couple years, I was mainly driving to the basket. Once my role increased, I knew I would have to do more shooting and ballhandling, so I worked a lot on those things."
Ramone on playing his college career in Philadelphia:
"It really meant a lot to me. It was the main reason I stayed home to play. I grew up among a lot of Temple fans, so for me to have a chance to be home and play for and support the community, it was what I really wanted. There were so many great players that came before me at Temple, so playing there was an honor."

Ramone on his strengths as a player:
"Shooting has become one of my bigger strengths. I have been working very hard on that, and doing things like moving without the ball. Once I get it going, I can be a really good scorer. I just do what I can to try and prepare for any situation I could be faced with."
Ramone on what parts of his game he still wants to improve:
"NBA guys are faster and stronger than at the college level, so I am working becoming stronger and faster myself. Also, the season will be much longer, so I am making sure I am prepared for that. The thing is you really don't know what it will be like until you go through it, so I am just trying to prepare the best I can. I've been working on my ballhandling more. I'm not a typical 2 guard, so I want to work on being able to make more plays for my teammates."
Ramone on what role he can fill immediately at the next level:
"I will be the guy who gets there early and leaves late; becoming a real part of the team. Whatever I need to learn, I will do it. I'll do whatever it takes to make my team better."
Ramone on what he wants teams and fans to know about him:
"I believe I am a great person. I was raised as a good kid, and I don't get into trouble. I am all about making the team better, and I have worked hard on making my attitude fit that. I have grown a lot over the years at Temple, and I am someone that people like to be around. I just want to be part of a team and doing what I can to make it better."
I want to thank Ramone for his time and I wish him the best of luck as he looks to fulfill his dream of getting to the NBA. I also want to thank Tzvi Grossman of ASM Sports for helping set up this interview. As Ramone said, having the opportunity to be able to play for your family and friends is special, but he not only did that, he shined. Temple has a long of history of developing successful players, and Ramone will see his name added to that list. His ability to score quickly and often, along with his understanding of the game and desire to continually improve, will make him a great part of any team he plays for next year.
Check back in the coming weeks for more great interviews and scouting reports as we head towards the 2012 NBA Draft. Follow me on Twitter – @NBADraftBlog – for updates, leave your comments below, or feel free to email me at [email protected]