When you play in a small conference, you need to take the most every chance you get to play in front of a larger audience. For a college basketball player, there is no larger audience than those watching the NCAA Tournament, so as a small-school player, it is almost vital to get there at least once in your career. As a freshman and sophomore, Kevin Thompson was a major reason why Morgan State had two of their best seasons in the last couple of decades, and he had the opportunity to play in 2 consecutive NCAA Tournaments. His sophomore year was a special one, averaging almost 13 points and 12 rebounds per game, including 4 games where he grabbed at least 20 rebounds. His junior season didn't feature any 20 rebound games, but he did have 13 games with a double-double. While his senior season didn't match either of the previous 2 in production, it was a down year for Morgan State as a whole. The fact is, throughout his career, he had success against small schools and big schools alike, and playing at Morgan State gave Thompson the opportunity to show what he could do to a big audience. I had a chance to talk briefly to Thompson, who was preparing for a workout with the Washington Wizards on June 13th, about his career, how he envisions his role at the next level, and more: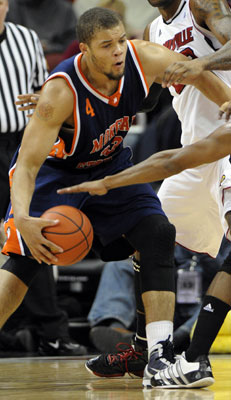 Kevin on his development at Morgan State:
"My biggest development was actually in the skills themselves. Learning how to post up and score, and also rebound were big things I worked on."
Kevin on his strengths as a player:
"My biggest strength as a player would be my ability to rebound on both ends of the court."
Kevin on what parts of his game he still wants to improve:
"I think the biggest thing I need to work on is my jump shot, being able to hit it consistently."
Kevin on his role at the next level:
"I will play any role they want. If they need me to rebound, set picks, or anything else, I will go out there and do it."
Kevin on if he thinks playing in the MEAC undervalues him:
"I know its low Division I, but we played a lot of great teams, and I have been getting looks for a while. I got to play in the NCAA Tournament a couple of times, so people got to know who I was."
Kevin on what he wants teams and fans to know about him:
"I work hard and I play hard. I will give my coach and my team 100% every game, whether I am playing or not."
I want to thank Kevin for his time and I wish him the best of luck as he looks to fulfill his dream of getting to the NBA. I also want to thank Jared Hodges at Walton Sports Management Group for setting up the interview. Kevin was a major part of Morgan State's success during his years there, including playing in 2 NCAA Tournament games in 2009 and 2010. His ability to rebound and use his body to get deep in the post will benefit some team, and in the right situation, Kevin could flourish as threat on both ends of the court.
Check back in the coming weeks for more great interviews and scouting reports as we head towards the 2012 NBA Draft. Follow me on Twitter – @NBADraftBlog – for updates, leave your comments below, or feel free to email me at [email protected]