There is an odd dichotomy present when it comes to big men in the NBA Draft. No position is more sought after, and when a top-level big is in the draft, the praise and attention heaped upon them is tremendous. However, the further the draft continues the less attention that is actually paid to the wide number of options available. This draft is the perfect example. If I was to tell you that I could give your team a 6'11, 265 pound center, who not only is a quality post player on both ends, but has the ability to step out and consistently hit shots from 15-20 feet. He can also rebound well and can pass out of either the high or low post effectively. More often than not, your team will need a player like this, yet there aren't many in the draft who fit that description. Well, there is a player who fits this description perfectly – LSU's Justin Hamilton. Hamilton, who played on year at LSU after transferring from Iowa State after 2 seasons, is a player who can provide numerous options for a team, and has shown the ability to adapt to very different systems and still play high-level basketball. Add to that maturity and a great understanding of the game, and his role within it, and you have a player who can come in immediately and make a solid contribution to any team. Yet, when the big men of this draft are mentioned, Hamilton's name doesn't appear as often as it should. In the next few weeks, I am sure that will change. Hamilton, who has been training at Impact out in Las Vegas, has already worked out for San Antonio, Golden State, Miami, and taken part in the New Jersey and Minnesota combines. Coming up, he will be in Toronto, Detroit, Dallas, Orlando, and Charlotte, and likely more will be added. I had the chance to talk to Hamilton recently about how his game developed, playing in 2 major conferences, and more: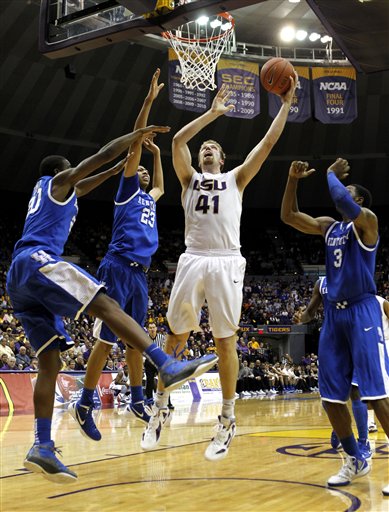 Justin on his decision to enter the NBA Draft:
"I felt I was done with the college life. I had proved myself against a lot of great players. I graduated last month and I am getting married in August, so I felt it was the right time to take my career to its next step."
Justin on how his game developed in college:
"Starting in the Big 12, I had the chance to play at the highest level of competition. Playing against players like Blake Griffin, Cole Aldrich, and other high quality bigs, I was learning the game against NBA caliber players. After transferring, I used the year off to my advantage. I spent my time working out and lifting weights, focusing on fundamentals, and working on my mid-range and 3-point shooting. The transfer really helped me and I was able to put together a very solid campaign last season."
Justin on his strengths as a player:
"I think my biggest strength is my ability to be versatile as a big man. I can do different things depending on the match-up. If I am playing against someone a bit smaller, I can post-up and I am comfortable operating around the basket. If I have an advantage, I can take the player outside the lane and hit the mid-range shot, or play as a pick-and-pop shooter. Every year, I have added new parts to my game and will continue to improve."
Justin on what parts of his game he still wants to improve:
"Now that I am done with school, I have the chance to work out and work on my game all day, as much as I want to. I have focused on changing my body, making it more of a NBA body, bigger and stronger."
Justin on his role at the next level:
"I am one of those guys, whatever I am asked to do, I will go out and do it the best that I can. I can play in the post, or I can come off the bench and knock down shots. I may start as a role player, but I am going to keep working hard so I am not just filling a role."
Justin on how playing his season in the SEC helped his game:
"I thought it was great for me and my game. Some people had written me off, saying I wasn't athletic enough, or too slow to play the faster pace in the SEC. It is a very athletic conference, but I think I learned, and played well against, high level big men like Festus Ezeli and Patric Young."
Justin on what he wants teams and fans to know about him:
"I still have so much room to improve before I reach my peak as a player. I am a hard worker, and will always outwork the next guy. I think my upside is great, and I will be a great teammate wherever I end up playing."
I want to thank Justin for his time and I wish him the best of luck as he looks to fulfill his dream of getting to the NBA. I also want to thank Tzvi Grossman of ASM Sports for helping set up this interview. A lot of players love to talk about how good they are or how much they have improved, but having watched Justin many times over 3 seasons, I have to agree with what he has done to this point with his skill level. Besides that, he has a very good understanding of the game, and knows what he needs to do to maximize his abilities for the benefit of his team. Even now, a young big man who can play effectively in the post and step out and knock down shots is highly sought after, and I think there will be more than a few teams looking to add Justin to their team if they have the opportunity. He is certainly a player to keep watching in the coming years.
Check back in the coming weeks for more great interviews and scouting reports as we head towards the 2012 NBA Draft. Follow me on Twitter – @NBADraftBlog – for updates, leave your comments below, or feel free to email me at [email protected]