Tom Crean left a good job at Marquette to clean up the mess that the Indiana basketball program had become. It was going to be tough and take time, so he needed to bring in players who could not only raise the talent level, but would be tough enough to handle adversity. After 3 long years, that original group of players got their payoff – a 27 win season, a last-second victory on national television over eventual champ Kentucky, and a trip to the NCAA Tournament. However, that Tournament trip was going to have to be made without one of those seniors, and team leaders, Verdell Jones III. Jones, a 6'5 guard who is known for his composure and versatility, tore his right ACL in the first round of the Big 10 Tournament. While he wasn't able to finish what he started at Indiana, he will always be a part of the group that carried the Hoosiers through one of their darkest periods. With his knee healing very well, Jones is now starting to focus more on his next steps. I had the chance to talk to Jones recently about his rehab, his Indiana career, Tom Crean's influence and much more: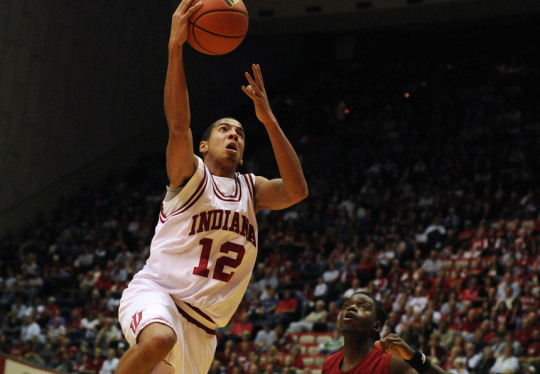 Verdell on his knee's status:
"It's going great. I have been cleared to do some light work – some shooting drills, jogging, light treadmill work. I should be ready to go soon."
Verdell on his development at Indiana:
"I learned how to play against much more physical players, being able to handle a lot of contact. Also, the coaches worked a lot on making my game much more complete."
Verdell on the influence of Coach Tom Crean:
"On the court, Coach Crean taught me a lot about attacking the basket more, and he had a big hand in my total development as a player. He also did a lot to help me become mentally strong, both on and off the court. Playing at Indiana is like having a giant magnifying glass on you, so you need to be able to handle that pressure."
Verdell on being part of Indiana's resurgence:
"It was amazing, coming in with the other seniors and Coach Crean, and being able to turn the program around in 4 years was a great accomplishment. It was great being part of it, and I have no doubt that they will continue to keep building."

Verdell on his strengths as a player:
"I think my mid-range game is very strong, and I have very good court vision. I can create shots for myself and for my teammates."
Verdell on what parts of his game he still wants to improve:
"I want to keep improving my outside shot, especially being able to hit the NBA 3. I also want to work on being more explosive and being able to take contact and finish stronger at the rim."
Verdell on his role at the next level:
"I think I can come right in and be able to help any team on offense. I can run the point and create for others, or I can play the 2 and be more of a slasher/shooter. Also, getting to play with Cody Zeller this year, I learned a lot about the best ways to feed bigs in the post."
Verdell on how playing in the Big 10 shaped his game:
"It definitely matured me a lot faster. The physical nature and so many good teams, there were no days off. You had to bring your best every game, especially being on TV so much. If you didn't, you were going to hear a lot about it."
Verdell on what he wants teams and fans to know about him:
"I am a gym rat. I have been playing the game all my life and this is what I do. The injury just made me want it that much more, and my rehab is pushed me to become even stronger. I am a motivated player and I will work my butt off for any team. "
I want to thank Verdell for his time and I wish him the best of luck as he looks to fulfill his dream of getting to the NBA. An injury such as Verdell's, especially when the team had come so far, could have been devastating for him. He has chosen to see it as just a temporary setback and promises to be back better than before. Verdell still has a lot he can accomplish as a player. A point guard at his size is always an advantage for a team, and his ability to play and defend either guard position should make him very valuable. When you add his skill to the determination and leadership he showed during some tough times for Indiana basketball, he will have a bright future playing for some team very soon.
Check back in the coming weeks for more great interviews and scouting reports as we head towards the 2012 NBA Draft. Follow me on Twitter – @NBADraftBlog – for updates, leave your comments below, or feel free to email me at [email protected]