As we head towards the 2012 NBA Draft, it is time to give some looks at players who may not be locks to be drafted, or are for one reason or another, are not being talked about much, but they may have the skills and intangibles which could translate to a NBA career. The Case For….takes a look at these players and tries to give a brief outline of what skills they have, what they are missing, and what steps would eventually lead them to the to the NBA. This edition looks at a talented junior, who may not have had the chance in college to show all he is capable of – Georgetown's Hollis Thompson. Thompson is one of the best perimeter shooters in this class, and he did what he was asked to in the Georgetown offense, but in rare glimpses, you could see he could do more. His ability and his understanding of the game he got from Georgetown will help him a lot, but will it be enough to get to the NBA? Here is The Case for Hollis Thompson: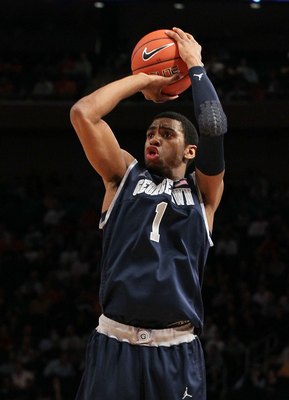 Hollis Thompson, Georgetown, Senior, 6'7, 205
12.8 ppg, 5.5 rpg, 1.5 apg, 46.4 FG%, 67.9 FT%, 43.0 3FG%
The Good – While Thompson may not have had many chances to show it over the last 3 seasons, he is a more complete offensive threat than he is given credit for. It starts with his jumper. He has excellent form and his size allows him to get great looks on the perimeter. He is able to shoot well off the catch or off the dribble, and he does a good job using screens to get open looks. He has range out to the NBA 3, and he has improved his ability to get good looks in the mid-range area. Thompson is a decent ballhandler, able to use both hands well and control the ball under pressure. He understands spacing on the court, and has good court vision. If he gets past his defender, he can get to the basket quickly, has good body control and can finish strong with either hand. On the defensive end, Thompson understands how to position himself well on the ball and does a good job getting low and balanced in front of his man. He also positions himself well off the ball, giving him the ability to disrupt passing lanes and provide good help defense. He runs the court well in transition and he has the ability to either take the ball to the basket off the pass, or to spot up for his jumper.
The Bad – Thompson spent so much time on the perimeter in college, he needs to show that he consistently take his man off the dribble, or to use screens to get into the lane. His first step could be a bit quicker, and because he shoots so well, he should use shot fakes more to get his defender in the air. While is ballhandling is decent, he needs to work on changing directions quickly and using his dribble more to create room for his jumper. In general, he needs to be more aggressive when looking to make a play. While he can rebound well at times, he needs to use his body more in looking to create space, and go strong after the ball instead of waiting for it to come to him. Defensively, the main thing he needs to continue to improve is his lateral movement. He could be more consistent with his movement, as well as needing to be quicker to guard the perimeter at the NBA level. Overall, he needs to needs to keep his energy level high and his effort consistent.
The Verdict – Thompson may be a bit undervalued because the Georgetown offense didn't allow him to show the full array of his abilities. But, it is being part of that offense that makes his value as a player higher. He has a great understanding of spacing and roles on the court, and he has the ability to fill a few different roles for many teams. He may be the best perimeter shooter of the non-guards in this draft, and near the top of the list overall. His ability to get to the basket should improve and with more free throw attempts, his consistency should improve as well. His defense on the perimeter will need to also be consistent for him to gain significant minutes, but if he makes some slight improvements, he should be capable of guarding a couple of positions well. Overall, he has a great understanding of the game, and combined with his ability to shoot and athleticism, he could be a valuable role player pretty quickly. He would be a prime candidate for a playoff team looking for some quality offense off the bench, but I still think he will show more if given the chance. I would establish his draft range to be in the 42-50 range, with the ability to be picked in the lower end of that range (42-46) if he can show to teams that he can be more than just a good shooter and he shows better foot speed and lateral movement.
Leave your comments below, email me any comments or suggestions at [email protected], and remember to follow me on Twitter – @NBADraftBlog.