Tough circumstances, whether brought on by a player's own action, or having it thrust on them, can damage even the most talented player's career. In many cases, they can snowball and end a career entirely. But in the best cases, a player can take tough circumstances and bad decisions and use them as a catalyst to make the changes they need, on and off the court. DJ Rivera was off to a promising start playing at St. Joseph's, until academic issues had him looking to transfer. His next stop was at Binghamton, and in 1 season, he dominated the America East Conference and led Binghamton to the NCAA Tournament. However, legal issues ended his career there, and he ended up finishing his career at the University of Montevallo, a small Division II school in Montevallo, Alabama. Given a chance to put everything behind him and finish career the right way, Rivera did just that, averaging over 21 points and almost 5 rebounds a game, while leading Montevallo to their first ever DII Championship game and earning himself Division II All-American honors. Rivera, the nephew of the late Loyola Marymount star Hank Gathers, has used his past to improve his future, both as a person and a player. I had the chance to talk to Rivera, who is training in his hometown of Philadelphia, about his past, his game, and his future: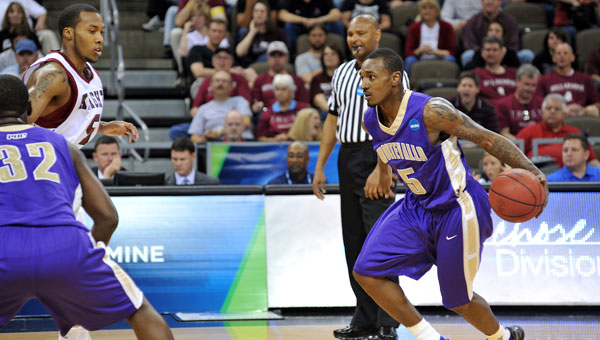 DJ on his development through college:
"I think by the end I had matured a lot as a person and as a player. The situations I had been through, really helped me put a lot of things in perspective. Each of my stops taught me something, and I was able to learn a lot on the court from different people."
DJ on his strengths as a player:
I think I can handle anything a team needs me to do. I think I am a very good defensive player. People may look at DII and think there aren't a lot of good players, but there are a lot of guys like me who were DI players, so you had to be a good defensive player."
DJ on what parts of his game he still wants to improve:
"I think I need to keep improving all parts of my game, but I really want to improve my point guard skills; understanding the role better and learning how to lead the team."
DJ on his role at the next level:
"Right away, I think I can bring energy to any team, filling any role the team needs from me. In whatever time I play, I can be a game-changer; on offense, defense, and things that don't show up in that stats."
DJ on whether he thinks he is being overlooked for playing in Division II:
"Not at all, every player is different. I know I will get some opportunities, so I will wait for teams to see what I can do. Teams know how to find talented players, wherever they are."
DJ on what he wants teams and fans to know about him:
"Everything that I went through has made me a better person and player. I will take full advantage of the opportunities that I have, and will be an asset on and off the court. I think because of my past, and that I have matured so quickly, will help a lot of teams. If the need me to bring offense, defense, or anything else, I am just asking for an opportunity to show what I can do."
I want to thank DJ for his time and I wish him the best of luck as he looks to fulfill his dream of getting to the NBA. I also want to thank Jared Hodges at Walton Sports Management Group for connecting me with DJ. There is no denying that Rivera is a talented player, and still has a lot of room to grow as a player. While he made mistakes in the past, he has taken ownership of them, and used adverse circumstances as an opportunity to improve as a person, then as a player. Whether he is given a chance now or later, I have no doubt, and neither does he, that he'll be ready to prove himself again.
Check back in the coming weeks for more great interviews and scouting reports as we head towards the 2012 NBA Draft. Follow me on Twitter – @NBADraftBlog – for updates, leave your comments below, or feel free to email me at [email protected]