The NBA Draft Blog Scouting Report looks at another member of the touted freshman in this year's group – Florida's Bradley Beal. Beal came into college with a reputation as a scorer, especially a shooter, but he showed very quickly that he is capable of so much more. He has an advanced understanding of the game, he is skilled in many areas, and he is still far from filling his potential. Some may question whether he may be tall enough to play the 2. Teams will need to decide that for themselves, but there is no questioning his ability and potential. Let's take a look at Bradley Beal's game, and see how it could translate to the NBA: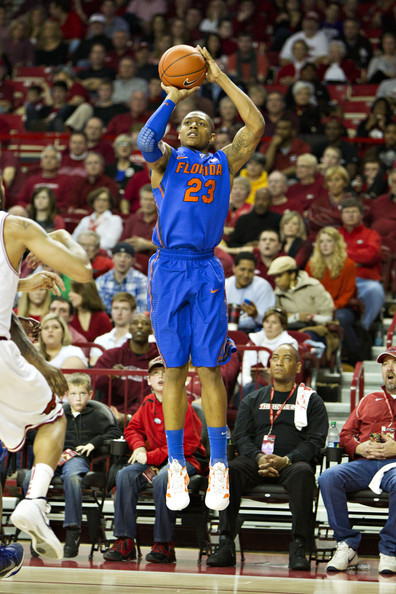 Bradley Beal, Florida – Freshman
Guard – 6'3, 207
14.8 ppg, 6.7 rpg, 2.2 apg, 44.5% FG, 76.9% FT, 33.9% 3FG

Offense
Perimeter Shooting- Coming into his freshman year, Beal had the reputation as an excellent perimeter shooter, and one of the best in his class. Though a look at his 1st season shooting numbers may not show it, Beal is now one of the top shooters entering the NBA Draft. He has very good form – squaring to the basket, using his legs well for lift, having a high release and good follow-through. His shot selection is above average, though it improved as he progressed through the year. He does need to watch a tendency to rush his jumper at times. He is effective off the catch and off the dribble. He uses his dribble well to create space for his jumper, though he needs to not use the step-back dribble and shot when it's not necessary. He also needs to work on moving without the ball, especially coming off of screens to shoot his jumper. He will have to do a better job coming tighter off the screen and move into his shot quickly. Many times last seasons, he took a wide path around which allowed the defender to disrupt his shot.
Ballhandling/Penetration- Beal is a good ballhandler, able to use both hands well, keeping the ball low and guarded, and with a variety of advanced dribbles, such as good crossover and hesitation dribble, at his disposal. Beal has an ability to take his man off the dribble. He doesn't have a great first step, but he knows how to get defenders off-balance with his dribble and ball-fakes, and is quick to take advantage. Once he gets past his defender, he has a good pull-up jumper, or if the help arrives quickly, he has gotten better at finding an open teammate. He takes long strides to the basket and has the ability to handle contact and get his shot off. He can finish with either hand, though he still needs to work on the angles he uses to attack the basket to get the best possible shot to finish. He can do a better job coming tighter off of screens and turning the corner quicker, but he is still effective. He will need to work on his pick-and-roll skills, especially making the right decision when the screener's defender hedges.
Rebounding/Passing- Beal does a decent job on the offensive boards, better when you look at his size. He is quick to react to missed shots, anticipates where misses will go, and goes strong after the ball. He makes good decisions once he gets the rebound, knowing when he can get a quick second shot off, or when to bring the ball back out. With the spacing at the NBA level generally being greater, these skills should help continue Beal to be able to contribute on the offensive boards. Beal is improving as a passer. He sees the court well, has improved his decision making, and throws passes that are easy for his teammates to make a play off of. He has also improved his ability to draw help defenders and find the open man off of penetration and screens. His ability to create should improve as he matures as a player.
Free Throw Shooting – Beal is a good free throw shooter, and should improve. As with his jumper, his form and release are very good, and when he misses, they aren't off by much, so repetition should help bring him to a great free throw shooter. He also does a good job getting to the line, not shying from contact, and knowing how to use shot and ball-fakes to get defenders off their feet.

Defense
Perimeter Defense- Beal is an above-average defender both on and off the ball, and, with some experience and small changes, he has the ability to be a good defender. On the ball, he positions himself well, gets low and has keeps his feet and arms active. He does need to watch how he balances himself when in his defensive stance, having a tendency to lean forward too much, which in turn leaves him unable to react as quick to changes of direction. His lateral movement and foot speed improved through the year, but can still be more consistent, and a bit quicker. He needs to improve how he handles screens, needing to be more effective getting over screens up top, and not losing his man when he is being run through multiple screens. Off the ball, he also does a very good job positioning himself, able to deny passing lanes when necessary, or in help position for penetration. He can find himself overplaying a bit often, and he will need to have a better understanding of his man's strengths at the next level. Also, his positioning allows him to be in spots from where he can get to missed shots quickly. He makes a good attempt to close on perimeter shooters, and does fall for ball and shot fakes easily.
Rebounding- Beal is an effective rebounder for his size, using his great court awareness and anticipation to get into good position to make a play for the missed shot. Once he gets to the spot, he looks to put a body on someone and secures the ball quickly. Beal also has the ability to grab a rebound and get the transition offense moving with little hesitation. It is his understanding of what good rebounder do, at any size, that makes him effective on the boards.

Transition
Beal does a very good job in transition, whether he is the one pushing the ball or if he runs one of the wings. He gets the ball up court quickly, keeps his head up, and generally makes good decisions about taking it to the basket or giving the ball up. On the wing, he has the ability to set up and knock down the long jumper, or to take the ball off the pass with his dribble to the basket. Defensively, he is very good at spacing himself against the break and preventing easy passes.

Summary & Intangibles
Athleticism – High
BB IQ – Very High
I don't care how tall Bradley Beal is, and neither will teams with a smart front office. Fundamentally skilled, Beal understands when he may be at a height disadvantage and he uses other methods to get the best possible look for his shot, or choosing to take them off the dribble if given the option. While Beal is an excellent shooter, that is far from all he is capable of. He can handle the ball, rebound, make good decisions, and push the ball in transition. His defense needs to continue to be improved, but in most cases, he is looking to make the right decision. Added to all of this is an understanding of the game extremely advanced for his age. He should be a very good NBA player, and in a few years, could be a great player. His draft range falls somewhere in the 2-8 range, but he is likely to go in the Top 5 picks.
Remember, leave any comments below, follow me on Twitter – @NBADraftBlog, or feel free to email me at [email protected]