The influence of a college coach can be almost as diverse as the coaches themselves. Whether you liked Kansas State's Frank Martin, or cringed when you saw him seething on the sideline, it was easy to tell that his players were prepared to do anything for him. That ability in itself is of great value to basketball players of any level, and nobody exemplified it more on Martin's team than Jamar Samuels. When Samuels would step on the court, it would be tough to peg him into any particular role. He could score around the basket, or hit the occasional jumper. He could be found guarding some of the best players in the country, crashing the boards on both ends, and you could never question his desire to win. A lot of what he did for his team wouldn't show up in a stat sheet. While Samuels did not get an opportunity to play in Kansas State's final game of the year in the NCAA Tournament because of a NCAA violation, his career as a player is really just getting started. I had the opportunity to speak to Samuels, who has been preparing for NBA workouts at IMG in Florida, about his game, Frank Martin's effect, and much more: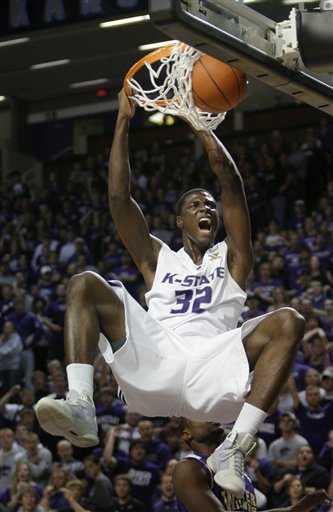 Jamar on his development at Kansas State:
"I learned to play with a lot of passion. I was always a feisty player, but Coach Martin and the other coaches knew how to bring it to another level. I also learned to work on my mindset; being ready for everything that could happen. Physically, I added a lot of needed weight to my frame, probably 45 pounds more than when I first got to college."
Jamar on playing for Frank Martin:
"Coach Martin really stressed work ethic, both on and off the court. He made you want to play hard for him. I learned a lot about loyalty and trust from him. He was a father figure to me, and helped make me into the man I am today."

Jamar on his strengths as a player:
"Playing defense and rebounding, especially getting offensive rebounds, are probably my biggest strengths. My shooting is improving as well. I have been down at IMG working every day at improving my game as a whole. No disrespect to anyone, but I can turn some heads when I get an opportunity."
Jamar on what parts of his game he still wants to improve:
"I want to definitely work on my ballhandling skills. I will have to play on the wing a lot more, so I will need to be consistent with the skills needed. I still want to add some strength and also work on my lateral movement on defense."
Jamar on his role at the next level:
"I would do a good job coming off the bench and giving a team what they need, whether it is rebounding, scoring, or intensity."
Jamar on playing in the Big 12 shaped his game:
"It definitely made me think. You can't back down from anyone or any team. I was out there guarding some of the best 4's in the country, and being able to guard guys like Perry Jones, Quincy Acy, showed me what I was capable of doing as a player."
Jamar on what he wants teams and fans to know about him:
"I am a very hungry player, and I am not going to back down from anything. If Kobe Bryant is in front of me, I am do everything I can to stop him. I have a lot to offer a team and with the opportunity, I can show them everything I can do to help them win."
I want to thank Jamar for his time and I wish him the best of luck as he looks to fulfill his dream of getting to the NBA. I also want to thank his agents at Above The Rim Management for helping to set up this interview. Jamar's college career may not have ended the way he wanted it to, but he is not letting that prevent him from continuing to get better, and to make the most of the opportunities he is given. While he may have never been the team's main option at Kansas State, it was impossible to watch a game and not hear his name being mentioned for making one big play or another. I am positive that basketball fans here have not seen the last of Jamar.
Check back in the coming weeks for more great interviews and scouting reports as we head towards the 2012 NBA Draft. Follow me on Twitter – @NBADraftBlog – for updates, leave your comments below, or feel free to email me at