As we head towards the 2012 NBA Draft, it is time to give some looks at players who may not be locks to be drafted, or are for one reason or another, are not being talked about much, but they may have the skills and intangibles which could translate to a NBA career. The Case For….takes a look at these players and tries to give a brief outline of what skills they have, what they are missing, and what steps would eventually lead them to the to the NBA. This edition looks at another senior who showed visible improvement in college, especially in his last 2 seasons, but also had a checkered discipline history, Alabama's JaMychal Green. Green, who was First Team All-SEC as a junior, and Second Team as a senior, is a solid defender and shot blocker, but also has shown development in his offensive abilities. He is a physical player, and has above average athleticism. However, he also was suspended 3 times in his 4 seasons, as recently as February 2012. Will teams be able to see a more mature Green, or will poor-decision making continue to haunt him? Here is The Case for JaMychal Green.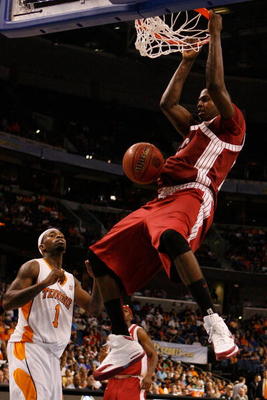 JaMychal Green, Alabama, Senior, 6'8, 228
14.0 ppg, 7.4 rpg, 1.5 bpg, 54.6 FG%, 69.0 FT%
The Good – Over the last 2 seasons, Green has showed a lot of improvement with his offensive skill-set. In the post, he uses his body well to fight for position and to shield the defender. He gives the passer a big target and he gets into his move quickly. I have been impressed with his ability to post up at different areas around the lane, and his ability to score in a variety of ways. He has developed a good up-and-under move, and his drop step is still improving. Green has shown a good touch around the basket, learning to shoot the ball instead of pushing it towards the basket. He has a smooth jump shot with good form, and should be able to hit consistently out to 15 feet, and out to 18 feet if left open. Green anticipates double-teams well in the post, and has become a very good passer. He sees the court well and is good at finding cutters and open shooters on the weak side. On the defensive end, Green is a very good shot blocker, having good timing and making sure to extend straight and avoid fouling. He positions himself well and uses his body to try and force players away from the basket. He is a good rebounder on both ends, getting good position and going strong after the ball and keeping it high after he secures it. On the offensive boards, he goes back up strong after getting the rebound and can muscle through contact.
The Bad – On the offensive end, while Green has improved his post play, he still has to work on making his footwork smoother. He has shown the ability to take some players to the basket off the dribble, but he hasn't shown that he can do it consistently. Also, he needs to do a better job setting and holding his screens, allowing his teammates to come off them better. Free throw shooting has been an issue, though the problem doesn't seem to be with his form, but with consistency. Defensively, he positions himself well on the perimeter, and does a good job getting low and wide, but his lateral movement needs to improve, as well as his reaction time to his man's moves. Also, if he is run through screens, he tends to try and force his way through, either forcing a switch or making him have to recover a big distance to his man. He needs to do a better job understanding the strengths and weaknesses of who he is guarding to know how to play them better. Also, he was suspended a few times from the team during his career, including a recent 3-game suspension this past February for "conduct detrimental to the team", though without knowing the specifics, it is tough to determine whether it is something teams may need to watch for. Teams will need to talk to him and decide for themselves.
The Verdict – One of the things I like about Green is that each season you were able to see the improvements he had made. From shooting to defending, he made some great strides, especially since he could have relied on just being a good shoot blocker and rebounder. Though it is hard to say how much better he can become, the player he is now can certainly be an asset to many NBA teams. If he can start to knock down his jumper from 15-18 feet regularly, while still showing an ability to be a decent post threat, he should be able to work his way into a team's rotation sooner rather than later. His shot blocking and rebounding should translate well to the NBA, though he will need to increase his foot speed and agility to defend well at the NBA level. I think Green's value falls somewhere in the 2nd half of the 2nd round, likely in the 42-50 range, though I think he has some skills which should earn him time rather quickly. Optimistically, I think whatever issues he had in college are behind him, though teams will get a better idea during interviews. The draft range is based solely on his play and abilities.
Leave your comments below, email me any comments or suggestions at [email protected], and remember to follow me on Twitter – @NBADraftBlog.