Today's NBA Draft Blog Scouting Report looks at a player who has been put under a microscope far more than any college sophomore should ever be – Baylor forward Perry Jones III. A great mix of athleticism and raw ability, Jones came to Baylor expected to make an immediate impact. By no stretch did he have a bad a freshman year, but compared to the lofty, mostly unfair, expectations, Jones was seen as disappointing. After missing games when the NCAA decided that he took improper benefits, Jones passed up being a potential Top 5-10 pick for another chance in college, and he improved, though again, not to the level people wanted or expected. He showed plenty of flashes pointing to why people were so high on him to begin with, but inconsistency seemed to plague him at points. Is the potential reward worth the risk of a Top 10 pick for Jones? Let's break down his game: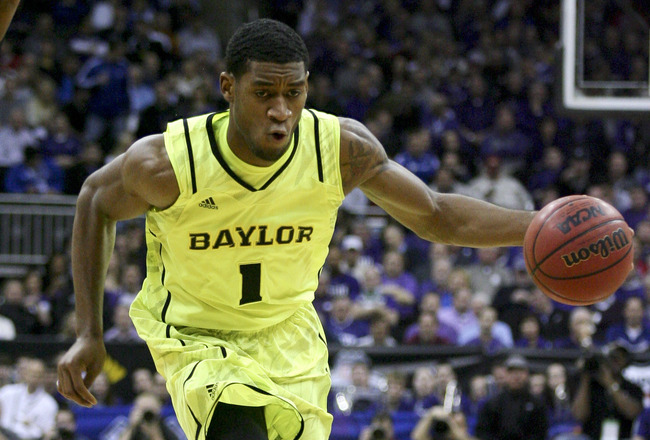 Perry Jones III, Baylor – Sophomore
Forward – 6'11, 235
13.5 ppg, 7.6 rpg, 1.3 apg, 50.0% FG, 69.6% FT

Offense
Post Skills/Footwork- Jones has a lot of the tools to be an effective player in the post. He has great length, quick feet, and a nice touch around the rim. However, the areas he seems to be lacking are some of the key fundamentals to be a post scorer. He needs to do a better job establishing position to start. Lack of strength is not the main issue here, it is that he needs to get lower and set a more solid base. Lack of strength may keep him from backing someone down, but his athleticism could lend to some very quick moves and a potentially very good face-up game. He does have 1 or 2 solid post moves right now, but even with those, he needs to get into his move quicker, and keeping the amount of dribbles to a minimum. He has shown the beginnings of a solid baseline drop step, but he didn't use it often. Also, he needs to have a better understanding of how the defender is playing behind him and look to make a move that takes advantage of that.
Ballhandling/Hands/Penetration – Jones handles the ball well for his size. He is adept at using both hands, though he prefers to use his natural right, and keeps the ball as low as someone near 7 feet tall can. While it's not something he has showed often, he does have a decent crossover dribble, as well as solid hesitation dribble. He has above average hands, and at times makes some spectacular plays off of tough passes. However, he can lose focus and either misjudge where a pass is going, or look to do something before he has the ball firmly. Jones has improved his ability to put the ball on the floor and make a move to the basket, though he still has some work to do to be effective consistently. His first step is average, though when he does get by his man, he can get to the rim quickly with his long strides. At the basket, he has the ability to finish with either hand, and can handle contact and still finish his shot. He has very good body control, but he needs to do a better job anticipating help defenders and avoiding the offensive foul. Ideally, he will need to add the ability to hit a pull-up jumper, but don't expect that immediately.
Perimeter Game- Jones' has great form on his jumper. He squares to the basket, gets great lift from his legs, has a high release point, and good rotation and arc. The only real negative at this point is his release time. While his form and shot are very fluid, he takes a long time to get from the catch to the release. His size allows him some leeway to shoot over the top, but in the NBA, he will need to get the shot off quicker. He has consistent range out to 15 feet, with the ability to hit at 18-20. With added strength and work, I wouldn't be surprised to see him be a decent enough NBA 3-point shooter that defenders can't ignore it. However, this all applies in catch-and-shoot situations. Shooting off the dribble or of a screen is another matter, and is something he will need to improve on as he develops his game. One area where Jones has become dangerous is his ability to make a quick cut to the rim from the perimeter and catch and finish off the lob pass. He uses back and side screens well, and has excellent timing.
Rebounding/Passing- Jones can be dangerous around the offensive glass, having the athleticism and length to get to misses quickly. He does a great job extending for the ball and keeping it high off once he has it. He has a great ability to jump multiple times quickly and has become very good at tipping balls in around the rim. He does need to use his lower body more to create space, though he doesn't get pushed around as easily as people claim. I wouldn't consider Jones a great passer, but he generally makes smart decisions, and is very good at hitting cutters or low post players from the high post. Again, like many things in Jones' game, it is a matter of being consistent.
Free Throw Shooting – As good as Jones form is when shooting his jumper, he has one major flaw which seems to hinder his free throw shooting – it lacks the fluid movement from his legs to the release. Everything looks fine until he gets ready to release, and there is a hesitation before the ball leaves his fingertips. It may not seem like much, but that little hitch causes the shot to lose some of its arc, meaning he won't have the forgiveness he would for being off just a bit. One slight fix and he could go from below 70% to possibly 80%. Also, he needs to do a better job looking to draw contact when he is around the basket, instead of avoiding it for an unhindered look that may not be as good a chance.

Defense
Post Defense- Jones improved as a post defender this past season, but he still has some fundamentals he needs to work on to play it at the NBA level. He positions himself well, but he needs to not stand straight up behind his man. Standing straight up may make him longer, but it makes it easier to back him down and also leaves him susceptible to quick post moves, such as drop steps. Also, he needs to learn to move his feet quicker, cut off angles to force his man away from the basket, and play more physical. He has very good court awareness and can get to spots quickly as a help defender. He does a decent job hedging on pick and roll situations, and getting his long arms out makes it difficult for the ballhandler to many options of the screen. He recovers well to his man who sets the screen and does a good job preventing a good pass off his man moving to the basket.
Perimeter Defense- Though he played in a zone defense, you can see what skills he has and what he needs to work on. He positions himself well on the ball, but like his post defense, he needs to make an effort to get lower in front of the ball. His lateral movement has improved, but again, he needs to be consistent, as well as quicker. He sees the court well, and can play passing lanes well off the ball. If he can increase his foot speed and reaction time, he potentially can be a very good perimeter defender. His length makes it difficult to get good looks, and he is athletic enough that he should be able to guard multiple positions.
Rebounding/Blocking- As on the offensive end, Jones could potentially be a good rebounder at the NBA level. However, no matter how athletic he is, he needs to be more physical and use his body to clear out space. If you watch him, you know he understands what he needs to do. He looks to box out, but often gives up the attempt quickly to just try and out-jump everyone. He does extend very well to get the ball, goes after it strong, and does a good job keeping the ball high. Based on his physical skills, Jones should be a much better shot blocker than he is. He reacts well, has long arms and can jump. His major problem seems to be in how he tries to block shots. Instead of going straight up with full extension, his arm comes across sideways, almost swiping at the ball. Not only isn't this an effective way to block a shot, it leads to some very poor fouls.

Transition
Other than Tyler Zeller, there isn't a big man in this class who runs the court as well as Jones. He gets up the court quickly, understands how to run the lanes on the break, and does a great job getting around the rim for the ball. What he needs to work on is being able to catch the ball on the wing and make a play with it, either knocking down the jumper, or taking the ball strong off the dribble. I think, in time, he will be able to do both, but he will need to work at it.

Summary & Intangibles
Athleticism – Very High
BB IQ – High
Jones' college career has been overly-criticized, and while some of it can be attributed to a lacks in focus at times, most of what plagues him has been the lack of proper coaching. Most of what he has shown that he can do is done off of raw talent and instinct, which is potentially very good news for the NBA General Manager. In a lot of ways, Jones may be as much of a blank slate that someone who played 2 years of college can be. If Jones is able to focus and keep his energy and effort levels up, and then pair that with the right coach and team, Jones could be a very good to great NBA player. There is nothing about his game that can't be fixed with a little time and instruction, and as he physically matures, he becomes that much more of a threat. Even when he was making mistakes on the court the past 2 seasons, in most cases, he was at least attempting the right thing, just executed wrong. While there is a risk in terms of how he will develop, I think the potential reward greatly outweighs it in this case. Jones' draft value falls in the 4-10 range, with him likely to be picked more in the 7-10 range.
Remember, leave any comments below, follow me on Twitter – @NBADraftBlog, or feel free to email me at [email protected]
Photo Credit: Ed Zurga/Getty Images