The downside to following draft websites and rumors is that a lot of the information you are fed is subjective, flawed, or flat out wrong. A player who the scouts love one year, or sometimes one month, can become an afterthought very quickly. The problem is, in most cases, nothing has changed, other than the writer's agenda. Take, for example, the case of Maalik Wayns. As a freshman at Villanova, Wayns showed flashes of the player he could become, and by his sophomore year, he had filled or surpassed most of it. While it wasn't guaranteed, there is a very good possibility that Wayns would have been drafted, and in a good spot, if he had left then. He made a good decision, came back to school to develop his game more, and put together a season that completely outshined his very good sophomore year. Yet, when he decided to leave school after his junior season, it was looked at as a bad decision. I know, it defies any and all logic. Here is what I do know – Wayns was able to be a top scorer and distributor in the best conference in the country. He also played very good defense against guys who are, or will be, NBA players. There are areas where he needs to still improve, but they are easy fixes. Possibly this may have been a by-product of Villanova's off-season, but if you actually watched his games, you saw a guy who not only didn't quit on his team, he did all he could to carry them in many cases. NBA teams seem to be realizing the same thing. Wayns has already worked out for Philadelphia, Houston, Golden State, and the Los Angeles Clippers, with many more scheduled in the coming weeks. I had the chance to talk to Wayns, who is training at Impact Basketball in Las Vegas, about his developing game, the Big East, and more: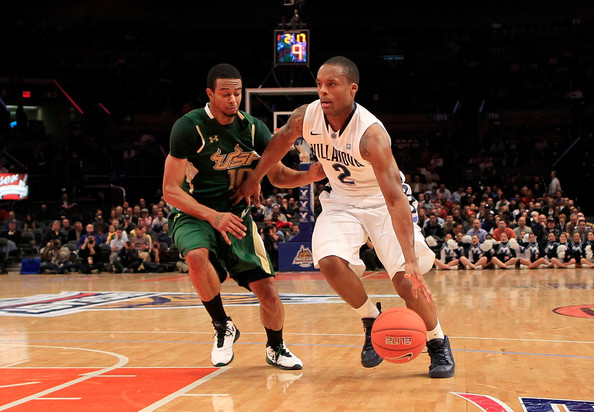 Maalik on his decision to enter the NBA Draft:
"Over the past 3 seasons, I really matured a lot, on and off the court. When the season ended, myself and my family had to decide what was best for me and my career, and we decided it was the right time for me to take my next step."
Maalik on the effect Villanova's season may have for him draft-wise:
"There may be some effect, but I don't think it will be that big of a deal. I could have come out of school last year, and there is a good chance I would have been drafted. I waited, worked more on my game, and now I just have to play the hand I was dealt. The team may have had a down year, but I am ready to show people that I am still a very good player."
Maalik on how his game developed at Villanova:
"I was able to become a great defender, and I learned a lot about the mental aspect of the game. I was able to become a much better point guard. When I first got to Villanova, I was known more as a scoring guard, but I have learned to set my teammates up well, while still keeping my ability to score. My shot selection improved over the 3 years, and I learned to be able to do whatever the game allows me to do."
Maalik on his strengths as a player:
"I think my biggest strength is being able to change the tempo of the game, being able to get out in the open court and pushing the ball. I am able to find ways to get my own shot, and to get my teammates good looks as well. My ability to shoot from the perimeter keeps improving, and I can bring leadership and solid defense every time on step on the court.
Maalik on what parts of his game he still wants to improve:
"I am still maturing as a player. I am still young, and there is room for improvement with all parts of my game. I think I have some good leadership skills, but I want to be a great leader of my teammates. Also, though my shooting has gotten better, I am working on being able to hit the NBA 3 consistently."
Maalik on his role at the next level:
"I think I can come right in and be a great spark off the bench. Whatever my minutes, I can push the ball, knock down open shots, get my teammates good looks, and do what I can to wear down the opponent's guards."
Maalik on taking part in the Nets' Draft Combine:
"I enjoyed getting to play with a lot of great players. In that kind of situation though, it is all about finding your spots. Maybe I could have taken my own shot more, and there is a lot of mixing and matching with guys who are all looking to find their spots as well. I think I was able to show that I could get my shot and get others their shots as well. "
Maalik on how playing in the Big East shaped him:
"Every night you were playing against the best, and so many of those guys are players who will be at the next level. The competition not only made us better players, but we had to be prepared every time we were on the court. There was no better way to prepare to be a professional than the Big East."
Maalik on what he wants teams and fans to know about him:
"I am a very good person, have great character, and will bring a positive energy anywhere I go. I will come in and work as hard as I can, no matter if I am a starter, or the 10th man. My game is still improving and I think I can bring a lot of skill and energy to any NBA team."
I want to thank Maalik for his time and I wish him the best of luck as he looks to fulfill his dream of getting to the NBA. I also want to thank Tzvi Grossman of ASM Sports for helping set up this interview. While it may have been tough for Maalik to go through as a guy who prides himself on being a winner, I think the way he handled the adversity of Villanova's bad season said a lot about him as a player, and as a person. The draft pundits can be fickle, but realistically, Maalik could have come out last year and made the NBA, and he is even a better player after this past season. When I first saw Maalik play 3 years ago, I thought he was going to be a NBA player, and his development has done nothing but make me think I am right. Keep an eye on Maalik, and don't be surprised when he makes it to the NBA.
Check back in the coming weeks for more great interviews and scouting reports as we head towards the 2012 NBA Draft. Follow me on Twitter – @NBADraftBlog – for updates, leave your comments below, or feel free to email me at [email protected]