I have discussed before what effect the "Georgetown" offense can have on a player. Players need to buy into the concept that individual numbers need to be sacrificed for the good of the team. However, what players lose in numbers, they gain back more in skill and understanding of the game. Players who learn the system well, can thrive in it, and with some patience, the numbers also begin to rise. Not many players have shown a greater understanding of the system, and the logic behind it, more than Hoyas' senior Jason Clark. Clark, who is more well-known for being a lock-down defender, became an offensive threat because he understood how the system worked and where he could take advantage of it. This past season, Clark led the Hoyas back to the NCAA Tournament, after being named First Team All-Big East. Improved offense, top-level defense, and leadership abilities – these are all things which should lead to a bright future for Clark. I had the chance to talk to Clark, who is Washington, D.C. preparing for more NBA workouts (Jason has worked out for San Antonio, Miami, Washington and Chicago). Here, Clark discusses the development of his game, the Georgetown system, and more: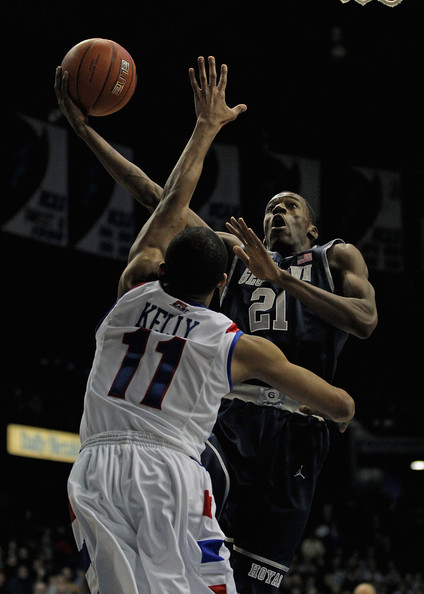 Jason on his development at Georgetown:
"My 4 years at Georgetown really taught me what a lot about what a takes to be a winner. Playing behind guys like Chris Wright and Austin Freeman, I was learning about and seeing the game differently, and adjusting to the speed of it. My shooting ability definitely improved over my college career, and while I always enjoyed playing defense, I think I was able to take it to another level in college."
Jason on playing in the "Georgetown" offense:
"It is definitely a team-oriented offense, and it can affect individual numbers, but what it teaches you is worth it. In the NBA, offense is based on being able to read the defender and make the right play. That is exactly what the focus of Coach Thompson's offense. While it is possible that players may be overlooked because the system may not be ideal for big numbers, it definitely prepares you to play at the next level."

Jason on his strengths as a player:
"I have to say that defense is my greatest strength. I take a lot of pride in going out and looking to shut down a team's best player. I am able to keep my intensity level high. Also, I think my ability to knock down the open jumper has become a big part of my game."
Jason on what parts of his game he still wants to improve:
"I want to keep improving my passing ability. I'm not a bad passer, but I can do little things to make what I do better. Also, I am working on getting back to playing the point guard position, which is probably where I will need to play at the next level. I used to play it, but at Georgetown I was used more at the 2, so now I am working on bringing back those skills to a high level."
Jason on his role at the next level:
"I think I can come in and bring intensity and make winning plays. Things like hustle plays, going after 50/50 balls, doing all the things the team needs to win; I can bring that immediately to a team, and will be a role I can start my career with. Scoring opportunities will come, especially if I am making the right plays."
Jason on playing in the Big East shaped his game:
"I know it is the best conference in the country. From top to bottom, you have to be prepared every night to play a very good team. Some conferences may have a few good teams, but then have teams that everyone beats by 30. To compete in the Big East, you really need to have the right mentality, knowing that there will be no easy nights, and you have to bring everything you have."
Jason on what he wants teams and fans to know about him:
"I am going to bring it every day. Intensity, effort, hard work – I will bring all of that and more. I will be the first guy to show up at the gym and the last guy to leave. Whatever my coach needs me to do; I will give it more than 100%. If I go in and do what I do well, I know I can make any team better. "
I want to thank Jason for his time and I wish him the best of luck as he looks to fulfill his dream of getting to the NBA. I also want to thank his agents at The Neustadt Group for helping to set up this interview. Jason is still somewhat of a rarity in today's game. He not only enjoys, but he thrives, off his ability to play tough defense. He doesn't want an easy assignment; give him your best player. None of that prevented Jason from becoming a legitimate offensive threat, or a leader, as well, and if he is able to bring back the point guard ability he referred to, he can be the type of complete players coaches love.
Check back in the coming weeks for more great interviews and scouting reports as we head towards the 2012 NBA Draft. Follow me on Twitter – @NBADraftBlog – for updates, leave your comments below, or feel free to email me at [email protected]