As we head towards the 2012 NBA Draft, it is time to give some looks at players who may not be locks to be drafted, or are for one reason or another, are not being talked about much, but they may have the skills and intangibles which could translate to a NBA career. The Case For….takes a look at these players and tries to give a brief outline of what skills they have, what they are missing, and what steps would eventually lead them to the to the NBA. This edition looks at one of college basketball's toughest players, Baylor senior forward, Quincy Acy. Acy has always been a very physical and, for opponents, very scary player. He knows how to use his body well and will gladly battle 2 or 3 guys around the basket if need be. What often flies under the radar though, are some of his skills, like his ability to consistently hit his mid-range jumper. He doesn't do anything great, but he does pretty much everything a team needs. Will his lack of experience playing outside of the lane area hurt him come draft time? Here is The Case for Quincy Acy.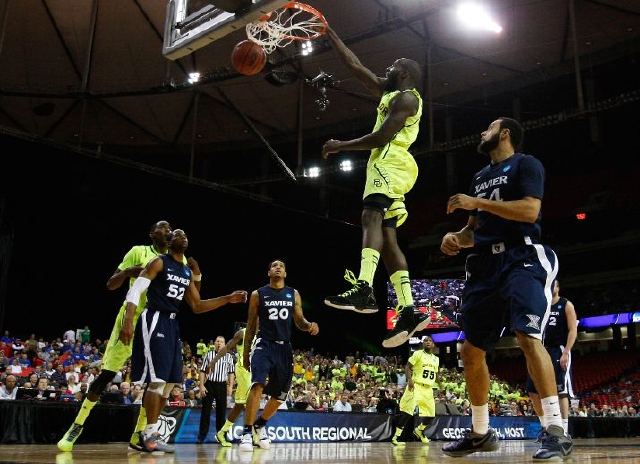 Quincy Acy, Baylor, Senior, Forward, 6'7, 235
12.0 ppg, 7.4 rpg, 1.8 bpg, 57.7 FG%, 78.2 FT%
The Good – While Acy has made a name for himself with his physical play, he is quite skilled as well. On the offensive end, he is able to play, and be effective, in both the high and low posts. He uses his strength well to establish position in the post and has the ability to finish strong around the rim while drawing contact. In the high post, he is an adept passer in high-low situations, and he has the ability to knock down 15-18 foot jumpers regularly. Acy regularly does a lot of the little things to keep the offense moving – setting solid screens, hitting the offensive boards, making the extra pass. His ability to hit the mid-range jumper and set good screens could make him an ideal pick-and-pop option at the next level. Defensively, Acy is a very physical post defender, and he does a great job using his body to clear out space for rebounds. He boxes out well, and goes strong after rebounds, securing the ball and keeping it high. While he has spent the large majority of his career playing zone, he positions himself well and he is the heart of the zone, being aware of the offenses movements and helping his teammates get into position.
The Bad – While Acy is able to score in a variety of ways, He is only effective in a few areas. In the post, while he does a good job battling for position, he is often standing up straight while doing it, allowing the defender to deny the entry pass as well as giving him leverage in fighting for the spot. He relies on strength to get to the basket area, but he will need to add another post move or two. He has trouble recognizing double teams quickly in the post and he needs to be able to move the ball out quicker. His ballhandling skills need to be sharper, and he has to develop a semblance of a perimeter game outside of the immediate lane area; enough to keep the defense honest on him. On the defensive end, playing almost all zone makes it tough to accurately judge his man to man abilities, but the individual skills can be seen. The one major area he will need to improve is his lateral movement and positioning on the perimeter. Also, if guarding the post, he needs to make an adjustment similar to the one on offense – he needs to use his lower body more to establish position, as well as forming a wide, solid base.
The Verdict – It is easy to watch Acy and see him filling a few different roles at the NBA level. He can be an energy guy off the bench, hitting the boards, setting screens, getting physical with the other team. However, if you look a bit longer, there is a player here who can be much more of a contributor if he works to fix some his weak areas, especially improving his game out on the perimeter more on both ends. He is a good shooter, tough rebounder, works hard on defense, can run the floor, and finish above the rim. The thing that sticks out to me most though is his leadership. He wasn't the raw talent of Perry Jones, or the young athleticism of Quincy Miller, or even the brashness of Pierre Jackson. He was the heart of that Baylor team, and when that team was going through its biggest dysfunctions, Acy was the one guy you could count on every night to show up and work. Acy is the kind of player the coach of a great NBA team can look down his bench and, whether he plays him or not, knows that he is giving his team everything. While this may not equate to being drafted, it certainly should, and probably higher than one would think. His value is in the first half of the 2nd round, around the 37-45 range. Smart teams will find a way to get him on their team.
Leave your comments below, email me any comments or suggestions at [email protected], and remember to follow me on Twitter – @NBADraftBlog.