Today's NBA Draft Blog Scouting Report looks at one of the more athletic players in this draft, Mississippi State's Arnett Moultrie. Moultrie made an immediate impact for the Bulldogs after sitting out a season for transferring from UTEP. There are very few areas where Moultrie's agility, speed, and jumping ability didn't help his team, but his basketball skills didn't measure up as well. Will this have a major impact on where he is drafted next month? Let's take a look at Arnett Moultrie: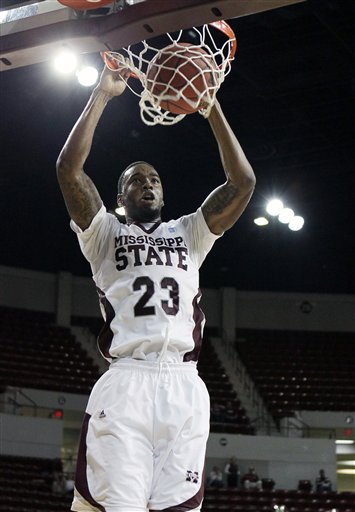 Arnett Moultrie, Mississippi State – Junior
Forward – 6'11, 250
16.4 ppg, 10.5 rpg, 54.9% FG, 78.0% FT
Offense
Post Skills/Footwork- Moultrie has shown some improvement playing in the post, but he still has a lot of work to do to be able to function there at the NBA level. It starts with trying to establish position on the blocks. When he first looks to get position, he does a good job sealing off the defender, though he could use his lower body a bit more to create some space. However, once the defender starts getting physical, he gives up the spot too quickly. He needs to make sure he fights for that space. He does a good job getting his long arms out to secure the pass, but once he has the ball, there are more issues. One, he doesn't seem to have any real post moves, other than a few dribbles into the lane, followed by a short hook or jumper. Second, he only seems to be comfortable doing this on the left block and being able to make the move over his left shoulder (using his right hand). Last, while his touch his improved, he still tends to send the ball towards the basket like a dart, instead of shooting the ball with some arc and rotation. Moultrie has improved his face up game out of the low post, and with his athleticism and an improved shot, this could become a strength for him in the NBA. Moultrie is very comfortable playing in the high post and ideally, this should be where he can impact the game at the next level. The individual skills he brings at this spot will be talked about more in each section below, but combined they make him very strong in the high post. Moultrie has good foot speed, but his footwork in the post can be awkward and slow. Once Moultrie gets the ball in the low post, he needs to use his foot speed to his advantage. With his length and speed, he could do a lot of damage with a proper drop step, or even a ball fake and up-and-under would be an improvement. In pick-and-roll situations, Moultrie does a very good job setting solid screens, but he needs to be better at opening up quicker, and either making a quick move to the basket or stepping out on pick-and-pop opportunities.
Ballhandling/Hands/Penetration- Moultrie handles the ball well for his size, though he really needs to improve his ability to use his left for more than 1 or 2 dribbles. Again, with his athleticism and speed, he could do very well with an improved handle. He has very good hands, and his ability to catch passes around the rim may be the best in this draft. He does a good job setting a target for passes and has a great ability to handle difficult passes. Moultrie is a mixed bag when it comes to getting to the basket. He has an above average first step for his size, and can get from the perimeter to the basket in very few strides. However, his limited left hand makes it easy to overplay him to one side and his lack of consistent perimeter shooting makes it easy to sag on him defensively. Once he gets into the lane though, he can be spectacular at times, if he has room to elevate and finish with a dunk. He needs to improve his ability to use the backboard for tough angles, and to definitely improve his touch around the rim. Moultrie does a very good job reacting to the help defenders, and often makes a good play, whether it is a pass to where the help came from or taking a short jumper, though again, even his short jumper needs work. He is very good at making cuts to the basket or open spots, and can be very dangerous working the baseline and getting free off of screens, from both the top and the side.
Perimeter Shooting- With his understanding of how to play the high post, Moultrie needs to become a much more consistent shooter. The majority of his form is good, though his tendency to not use his legs much leaves the shot very flat, often just a tad bit higher than a line drive, and his release is slow. He has very good shot selection, and will rarely force a bad shot when covered well. If he can become consistent at the high post and mid-range, he could become, as mentioned before, a very good option on pick-and-pop plays. I know he has shown the ability to hit a college three on occasion, but this is not something a team will want from him, at least not in the first season or two.
Rebounding/Passing- Moultrie is a fantastic offensive rebounder, combining length and athleticism with instincts to get to missed shots quickly. He also does a very good job keeping balls alive that he know he may not be able to get to right away. However, assuming he does get stronger, he still needs to work on using his body to box out and create space, instead of just going after the ball. Once he has the ball, he can a second shot off quickly, and he is a definite threat to make a play on a missed shot charging in from the perimeter. Most of Moultrie's passing ability is good, especially from the high post or perimeter. His ability to see over the top allows him to make great passes in high-low situations or to hit an open man on the weak side. In the low post, he needs to do a better job anticipating double-teams and get the ball back out quickly to the open man. The passes he makes are generally good – easy to catch and put in good locations for his teammates to do something with the ball.
Free Throw Shooting – Moultrie has done a great job getting more consistent from the free throw line. As noted earlier, he needs to definitely get the ball up higher off his release to get some arc and rotation on the ball. If not, he needs to be right on target to get the ball in. He gets to the line a decent amount of times, but with some experience, should learn how to draw contact better around the rim.

Defense
Post Defense- Similar to his offense, Moultrie needs to do a much better job establishing position in the post on defense. The biggest thing he needs to improve is using his lower body to anchor his position and not get backed down. Also, he needs to utilize his foot speed better in being able to prevent quick moves such as drop steps. His understanding of what he needs to do seems to be there, but he needs to be a step quicker doing it. Another area of concern is his lack of court awareness on the defensive end. He needs to get much better at seeing everything around him, including cutters and screens, and be able to guide his teammates. Moultrie's lack of defensive awareness also affects his ability to be a good help defender around the basket. He seems to always get to the help spot, but a step or two late. When his man is setting a screen on the perimeter, he needs to learn how to hedge on the ballhandler. The majority of what I saw was take a few steps back off the screen, so he wouldn't get beat. That isn't going to work in the NBA.
Perimeter Defense- Moultrie showed significant improvement in how he guarded out on the perimeter. He positioned himself well, on and off the ball, and made an effort to get low and keep his arms out. His lateral movement also showed some improvement, but he still needs to slide quicker and more consistently. Off the ball, he usually positions himself well, but he needs to watch a tendency to wander towards the lane, especially if he is guarding a good shooter. He has also improved how he gets around screens on the perimeter, making an effort to get over the screens when necessary. With his length, he should do a better job closing on shooters and either distracting or altering their shot. .
Rebounding/Blocking- Similar to his offensive rebounding, Moultrie has great instincts and he uses his long arms and athletic ability to get to missed shots quickly. He needs to be more consistent with using his body to box out, or he will have a lot tougher time in the NBA. If he can just make that alteration to establish his position better, he could be a very good to great rebounder in the NBA. Moultrie has the mold of what should be a good shot-blocker. However, going back to his awareness and less than ideal help skills, he is often not in position to make a play. Even if he wasn't to block, his team will need him to at least alter shots.

Transition
Moultrie can be very dangerous in transition. He has very good speed and understands how to run the lanes and make a cut to the rim, where he can be met with a nicely-timed lob pass. However, that's the current extent of his ability. He isn't a skilled enough ballhandler to take the ball himself from the wings in most situations, and he isn't a good enough shooter to be a spot up threat. Again, if he improves these areas, he can be a real threat.

Summary & Intangibles
Athleticism – Very High
BB IQ – Above Average
There is no doubt that Moultrie has made good strides in his college career, but he is still very raw as a basketball player. The large majority of the impact he has on a game is due to his length and athleticism, not his skill. At the college level, that may work. It won't happen in the NBA. He really needs to become much more skilled in many areas – shooting, post offense and defense, court awareness – to have any kind of real impact at the NBA level. He may certainly get there someday, but it's not going to happen soon. He would best develop somewhere where he can be a solid 7th or 8th man for a year or two, and work on bringing his skill levels up. Lottery teams need a player who can make any impact right away, unless of course they are a good team who got a bad team's pick. By my accounts, every team in the lottery needs players to step in immediately. Moultrie's value most likely lies somewhere in the 17-24 range of the 1st round, meaning those teams will be able to put him in a very good scenario for him. Again, this is not an indictment of what Moultrie's career will be. 4 or 5 years down the road, there is a good chance that many will be talking about how good he is.
Remember, leave any comments below, follow me on Twitter – @NBADraftBlog, or feel free to email me at the link up top.
Photo Credit: AP/Rogelio V. Solis