Just about a month away from the NBA Draft, so the scouting reports will be coming to you quickly. Today's NBA Draft Blog Scouting Report looks at a player who made the transition from 6th man to National Player of the Year candidate in 1 short year. Kansas' Thomas Robinson bided his time behind the Morris Twins his sophomore year, but with them gone this past season, he looked to make up single-handedly for the loss of both. Known as an energy guy off the bench, Robinson showed a developing post game, a semblance of a jump shot, and the defense and rebounding which he had shown before. The improvement was great, and he is still just getting started, but how will his game look in the NBA and will it be an easy transition? Let's break down Thomas Robinson: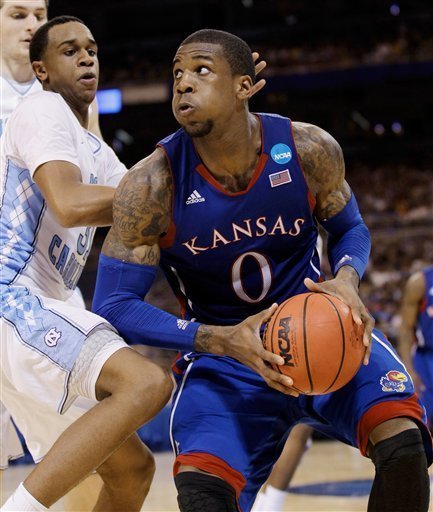 Thomas Robinson, Kansas – Junior
Forward – 6'10, 237
17.6 ppg, 11.8 rpg, 1.8 apg, 50.3% FG, 67.2% FT
Offense
Post Skills/Footwork- Robinson has shown marked improvement over the past 3 years developing as a primary post option. Setting up on the blocks, he gets wide and low, forcing the defender to play behind and preventing him from denying the entry pass. He works hard to establish his position and is quick to move spots and re-establish as the ball moves around the perimeter. He gets his arms extended to receive the ball and he can handle almost pass thrown to him. His footwork in the post is good, bordering on great. He has developed an excellent drop-step, which he can use effectively on either side of the lane, as well as being able to make get the ball and with a quick dribble and step, be able to score at the rim. He does need to improve using his lower body to back down defenders and be aware when defenders are overplaying him into a trap or help defenders. Around the basket, he can finish as strong as anyone, and is constantly improving his ability to shoot with touch and finish with both hands. Robinson has also developed one of the better face-up games out of the post that was seen in the NCAA this past season. His athleticism and ballhandling for his size make it easy for him to get by big defenders who come out to guard him, though because his jumper is still very much a work-in-progress, defenders can still stay back towards the basket. Once he starts to hit that jumper consistently, it will be that much tougher to stop him. In pick-and-roll situations, he is a solid screener and opens up quickly to the basket, though he needs to make sure to make his move to the rim and not always in a straight line.
Ballhandling/Hands/Penetration- Robinson handles the ball very well for his size, keeping great control of the ball, close to his body and low. The big key is that he doesn't use his dribble without purpose. Every move has an end result in his mind. His right is definitely much better than his left, but he did show large improvement with his left this past season. He has great hands, and can handle any pass, even bad ones. Plus he has the athleticism to get up and go after passes around the rim. The key to Robinson's future as a pro will be the improvement of his penetration skills. Fundamentally, he does things well – he has a good first step, uses long strides to get to the lane and does not shy from contact. There are a few things he still needs to improve as he develops. One, while his explosiveness is a gift, going full speed is not always going to pay off in the NBA. He needs to do a better job recognizing the help defenders getting into position and learn to either get rid of the ball or pull up for a short jumper. He has good body control, so these adjustments shouldn't be difficult. Also, he needs to be more comfortable going to his left, preventing the defense from overplaying his right. Once he gets to the basket, there is very little to do to stop him, other than foul.
Perimeter Shooting- Robinson has definitely improved as a perimeter shooter, but there is still a lot of work to be done. He gets square to the basket and he has a quick, high release. However, there is a hitch in the fluid movement of his shot, creating a slight hesitation near the release point. With repetition, he should be able to get his jumper to be much smoother. Also, though he is square to the basket, his feet are often to close together, not giving him a solid base to shoot out of and making it much tougher to get a smooth release with good arc. If he can improve this area, he can be a threat from any part of the court and can be used in a variety of ways, including pick-and-pops and as a 3 in a bigger lineup. However, before we get that point, consistency in his shot will be a must.
Rebounding/Passing- Robinson is very good on the offensive boards, using his athleticism and length to get to misses quickly. He has excellent instincts around the basket and does a good job getting to spots quickly. He goes after the ball strong and gets great extension with his arms. I would like to see him use his body, especially his lower body, to create space around the basket. He was able to rely on his athleticism in college, but will need more in the NBA. Once he gets the rebound, he has the ability to elevate quickly and finish strong, if he has the space. Another area Robinson has improved greatly is his passing. He sees the floor well and understands spacing. He can be very dangerous when help defenders come to him in the post. He has the ability to hit another post player, or a perimeter shooter or cutter, quickly. One area where he needs to improve is recognizing double-teams better and getting the ball back out quicker.
Free Throw Shooting – Robinson, while improved, still has some major work to do on his free-throw shooting. Read the portion about his form above, and you see the issue. However, the hesitation and hitch in the release is more pronounced when at the line. Because of his ability to draw contact and get to the line a great amount, he needs to improve this as quickly as possible.

Defense
Post Defense- Robinson can be a very good post defender, combining strength and footwork to make it very difficult for post players to get to the basket. As with a lot of other skills I have noted already, Robinson does need to use his lower body better at the NBA level to be able to defend as well as he has before. He also does a good job understanding when denying the post and fronting the post are better options, and he is capable of defending a variety of offensive styles. He moves his feet well and reacts quickly to a variety of post moves, though one area he does need to improve is his susceptibility to ball/shot fakes. If he can avoid that and work on using his lower body to anchor his position in the post, he should be able to adapt to defending the NBA post players well. On pick-and-rolls, he does a great job hedging on the ballhandler, but he needs to work on recovering to his man quicker.
Perimeter Defense- It is great to see someone Robinson's size play defense on the perimeter the way he does. On the ball, he has great balance and positioning, he gets low with his arms out, and he has great lateral movement. While he will need to work on his foot speed for the NBA level, the fundamentals of solid defense are all there. Off the ball, he positions himself well to start, but as the play develops, you can see him start to drift closer to the lane. Unless he knows that his man is not a real threat from the perimeter, he needs to not allow too much space – once he goes to help, his man is left wide open.
Rebounding/Blocking- Robinson is a very good rebounder, but as noted in the offensive rebounding section, he needs to become more physical and use his lower body more to create space and seal the area. While his athleticism is still great, there will be many more like him in the NBA, so using his body to establish position will be a must. Robinson could be a quality shot-blocker, though it isn't a strength of his, mainly to do with timing, but he does a very good job picking spots where he knows he can get a clean block with little contact.

Transition
Robinson would be a great player in an up-tempo system. He can get out in front on the break, or he can run the wings. From either position, he can get to the basket and finish strong. He also has the ability to push the ball himself in transition, though I wouldn't recommend he do it often. It is a great way to get the break started and it still allows him to give the ball up and make a cut to the rim and finish. He has great speed and he understands spacing in transition, so with the ball or not, he can draw defenders and open up the court.
Summary & Intangibles
Athleticism – Very High
BB IQ – High
I was one of the first people to have doubts prior to this season whether Robinson could make all of the adjustments he needed to, including playing a lot more minutes and becoming a primary post option. I was wrong. Anything that Robinson needed to do this year, he did. He is a top-level athlete who is now really just developing as a basketball "player." He has the ability to score or pass out of the post, is working on his perimeter shot, can run the floor better than most his size, is a rebound magnet, and can defend all over the court. Every time he played this past season, he showed more than the previous game. Not to say that there aren't flaws, his jumper and free-throw shooting need a lot of work, and learning to use his body and strength more in the post, are very important things he needs to improve. Even with those flaws, he is one of the best players in this draft, and one of just a few lottery picks who will be ready to step in and be a major contributor immediately. I see almost no way he falls out of the Top 5, and should fall at 2-4 depending on the final order. If the draft was based on immediate impact, Robinson would be in play for the #1 pick, and maybe there is some scenario out there where it could happen (though I have tried and couldn't come up with one.) Even in the 2-4 range, he is going to make whatever team he plays for a lot better than they were going in, and I wouldn't be surprised if at this time next season, he is Thomas Robinson, NBA's Rookie of the Year.
Remember, leave any comments below, follow me on Twitter – @NBADraftBlog, or feel free to email me at [email protected]
Photo Credit: AP