When the list for the New Jersey draft combine came out last week, one of the biggest questions I received from people was "who is Malik Alvin?", quickly followed by "where is Shaw?" However, a lot of big college fans knew who Alvin was. After stops at UTEP and Binghamton, both of which ended under poor circumstances, Alvin took what was essentially his last shot at Shaw, a Division II school in North Carolina, and he made the most of it. After leading Shaw to the Division II Sweet 16, Alvin received numerous accolades, including Boxtorow's NAIA/Division II HBCU Player of the Year, Division II First Team All-American, and Player of the Year in the CIAA. While the road to redemption can be long, Alvin is certainly headed in the right direction, and there is no denying that the talent that had him in Division I is still there. I had the chance to talk to Alvin recently while he is Philly training for NBA team workouts. Alvin discusses his game, the draft combine and more: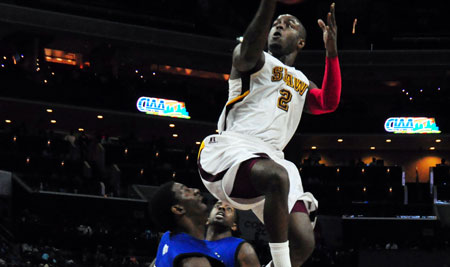 Malik on playing at Shaw:
"Some people I knew from Philadelphia knew the coach there, and he had a scholarship to use. As soon as I got there, I got right to work and went from there. As a senior, the coach was looking for a leader to take over the team, so he put the ball in my hands and trusted me to get things done."
Malik on his strengths as a player:
"I think my strengths include being a spot-up shooter, being able to push the ball quickly in transition, and being able to get into the lane. Once I get into the lane, the defense almost always commits, so I can get the ball to open teammates."
Malik on parts of his game he wants to improve:
"I definitely want to improve running a team better, being able to tell guys where to be on the court, and getting them the ball in areas where they are comfortable and can make plays. I want to make sure I am vocal out there and bring great energy."
Malik on how he envisions his immediate role at the next level:
"I think right away I can do a good job coming off the bench as a back-up point guard. I can go out there and bring energy, make the other team's guards tired. Whatever a team needs, I will look to fill that role."
Malik on competing in the New Jersey draft combine:
"Going through that experience gave me a much better appreciation of what work I need to do to get to the next level, and what teams will be looking for once I get the chance to work out for them."

Malik on making it to the next level out of Division II:
"I am pretty sure guys look down at where I played, and most have never even heard of it. The thing is, I played Division I ball, at a high level. It's all about being able to play the game, that's it."

Malik on what he wants teams and fans to know about him:
"Coming from where I came from, has made me stronger and made me work that much harder. I have turned my life around. I made mistakes, and had my ups and downs, but I have learned a lot. It has all been a learning experience for me. I have no doubt that I will bring 100% effort to whatever my role will be. I am a gym rat; basketball is my life and I am completely dedicated to it."
I want to thank Malik for his time and I wish him the best of luck as he prepares to fulfill his dream of getting to the NBA. Making the move to the next level from Division I is tough, doing it from anywhere else is that much tougher, but Malik has been through more, and still came out stronger for it. Having seen him compete against the players from big schools at the New Jersey combine, Malik showed that he was as skilled and as capable as any player there. From here, it will only be a matter of opportunity.
Check back in the coming weeks for more great interviews and scouting reports as we head towards the 2012 NBA Draft. Follow me on Twitter - @NBADraftBlog – for updates, leave your comments below, or feel free to email me at [email protected]