As I have discussed previously during this year's interview series, one of the great joys of studying players for the draft, as well as being a fan of the game, is to watch how players develop during their college career. However, developing as a player on one of college basketball's elite programs can be surprisingly overlooked. Part of it is the large amount of talent that the team has, but the larger part of it is, on a stage that big, people are quicker to point out faults and deficiencies over progress, for whatever reason. Take away the fact that John Henson spent 3 years playing for the University of North Carolina, and watch how much his game progressed year to year. As a freshman, Henson was an intriguing prospect, reminding many of a Tar Heel who recently departed to the NBA, Ed Davis. Long, with good defensive instincts, UNC fans were excited to see what he could do. In his sophomore year, they got it and more. Henson became a fantastic defender, shot blocker and rebounder, and making some contributions on the offensive end, fulfilling pretty much what people had hoped. Henson could have taken reputation and lived off it in college, or even have taken it to the NBA. He wanted another year, and what he showed as a player this season easily surpassed anything people though just a few years earlier. The defense, shot blocking, rebounding were all still there and still improving, but this year, Henson showed significant development on the offensive end. Whether it was his post moves, his ability to hit mid-range jumpers, or his passing ability out of the post, Henson showed as complete a game as any other big man in college. Yet, people will point to things like stats, or the talent surrounding him, and say, "2 more points per game, and less rebounds and blocks, how much improvement is that really?" Watch the player he was as a freshman and watch him this past season – Henson is now a NBA player, he will be a good one at that, and he is still improving.
I had the chance to talk to John recently while he is down in Houston training with John Lucas, where he will be until he starts working out for teams close to two weeks before the NBA Draft. John and I discussed his development, playing for Roy Williams, and more: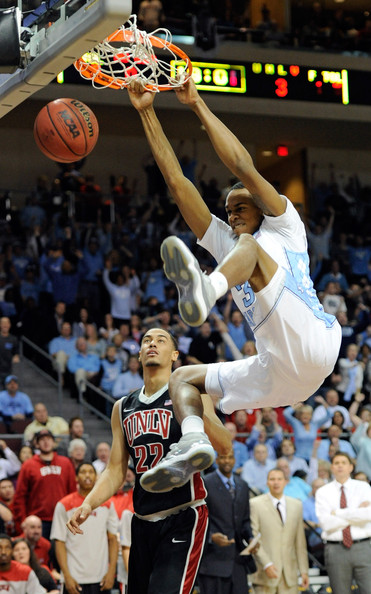 John on the development of his game in North Carolina:
"I think the way my game developed the most was mentally, having a better understanding of the game and what I needed to do to help the team. Obviously, my offensive game also developed over the 3 years. Having constant access to the gym gave me the chance to always be working at my game."
John on the influence of Coach Roy Williams:
"Coach Williams was a major influence on me as a player and a person. As a player, he would let you do all the things you were able to on the court, and as you developed and learned more, he would give you the freedom to use it all. It definitely gave me confidence that I would be able to grow as a player, and I was able to bring that confidence onto the court. Also, Coach Williams always had a good reputation in developing big guys, and that is why I decided to play for him."
John on the decision to enter the NBA Draft this year:
"I had really progressed as a player on both ends over the 3 years, and I could have left last year and probably been picked pretty high, I still wanted to give it one more run with the team. After the season ended, I knew it was time for me to go as a player to take that next step in my game."
John on his strengths as a player:
"I think the biggest strength to my game is the ability to impact it without having to have the ball, or to have plays running through me. I can have as much, or more, of an impact on the game defensively and rebounding as I can scoring."
John on parts of his game he wants to improve:
"I am working hard to improve my strength to help me at the next level. I also am working on things such as footwork, being able to slide defensively better. Overall, I want to continue to develop all parts of my game constantly."
John on how he envisions his immediate role at the next level:
"I think I can step in right away and be a defensive presence and use my length and instincts to hold my own. On the offensive end, I can rebound and help open up lanes for the guards to get to the basket. Whatever the team will need from me, I will do it for them."

John on what he wants teams and fans to know about him:
"I have played at the highest level and have had the best of coaches, and I can bring my experiences and be an asset to any team. I can be a positive influence, on and off the court, and can be a great fit for any team. I am still growing as a player and look forward to having a great, new experience."
I want to thank John for his time and I wish him the best of luck as he prepares to fulfill his dream of getting to the NBA. I also want to thank Williams & Connolly, especially their publicist, Meredith Geisler, for helping to arrange this interview. Sometimes it can be easy to overlook how good of a player John became while at North Carolina, not only because of the sheer amount of talent on the whole team, but also because he was a great defensive presence almost immediately. If you go back and watch him from Day 1 in Chapel Hill, you can't help but admire the amount of work he put in to become as complete a threat as he has become, as well as having a sense that there is still a lot more development to come in the future.
Check back in the coming weeks for more great interviews and scouting reports as we head towards the 2012 NBA Draft. Follow me on Twitter – @NBADraftBlog – for updates, leave your comments below, or feel free to email me at [email protected]
Photo Credit: Ethan Miller/Getty Images North America