As we head towards the 2012 NBA Draft, it is time to give some looks at players who are not locks to be drafted, but may have the skills and intangibles which could translate to a NBA career. The Case For….takes a look at these players and tries to give a brief outline of what skills they have, what they are missing, and what steps would eventually lead them to the to the NBA. This edition looks at one of college basketball's biggest enigmas – Mississippi State big man, Renardo Sidney. With remarkable raw ability for his size, very few players over the last few years had the word "potential" attached to them as much as Sidney. Yet, in a brief college career, the amount of times that Sidney seemed to be making strides was greatly outnumbered by the times he seemed to regress or flat out give up. The talent is there though, and you have to wonder if there is some team that thinks they can be the one who finally gets him on track? Let's look at The Case For…Renardo Sidney: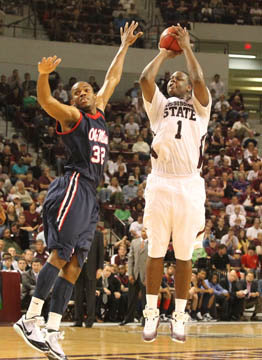 Renardo Sidney, Mississippi State, Junior, 6'10, 290
14.8 ppg, 3.8 rpg, 4.1 apg, 40.2 FG%, 78.5 FT%, 36.9 3FG%
The Good – Sidney understands the fundamentals of being a post player and has very good footwork for his size. He uses his body well to seal off defenders and gives a big target for entry passes. He is efficient when he has his mind set to make a move and is good at minimizing the steps and dribbles he uses. When he decides to back you down, there aren't many who can stop him. Sidney has nice touch on his shot around the basket, and he understands how to use the backboard well on tough angles. He has the ability to face up and has a decent shot from 10-15 feet, and has shown improvement with his ability to hit out to the college 3-point line. He sees the court well and can do a good job hitting cutters and weak side shooters. Defensively, when he uses his body well, he is tough to maneuver around in the post, forcing players into short jumpers or facing up. Sidney does a decent job showing on pick-and-rolls, and his width can have an effect on the ballhandler trying to turn the corner.
The Bad – Effort, consistency, conditioning, attitude – all areas which have plagued Sidney since his high school days. There have been times, like the start of this past season, when it looked like he had settled into a role with the Bulldogs, only to see regression happen quickly. Looking at those 4 things, you see directly where it affects his game. On both ends, he can be slow to set up and is often a few steps behind the play. His shot selection needs to improve and he needs to be a much better rebounder for his size. On the defensive end, he needs to be much quicker to react, both to the movements of his man and as a help defender in the lane. Slow reaction causes too many bad fouls on his part. Because of his conditioning, he often has to come out of games, even when he is playing well, after only 5 or 6 minute stretches. What seems like, or can actually be, disinterest can bring the energy level down for the whole team, and if you watched the Bulldogs this season, you understand what I am talking about.
The Verdict – Saying this surprises me as much as anyone, but I really believe that a NBA team needs to take a legitimate chance on Sidney. The raw talent is still there, and you can see flashes in almost every game, but there is some kind of disconnect which is preventing him from putting the mental and physical aspects of the game together. But, if a team was going to make a legitimate commitment to trying to salvage what is left of his potential, I think they are going to have to go and find a way to bring him into their system immediately. Now, this certainly doesn't mean using a draft pick on him, though if I am a team with few needs and a late 2nd round pick. The risk/reward potential with Sidney could be worth it. Remember, he wasn't exactly surrounded with quality coaching in Starkville either. It is certainly worth more than stashing another international player who will never come over, or if they do, leave quickly because they can't adjust. So, as of now, I don't think Sidney will be drafted, but I know that if he at least handles his team workouts with maturity, there will be a team that sees what I do, and may even use that end of the 2nd round pick on him. Even if it doesn't pan out, it is certainly a better pick than that Majok pick was last year.
Leave your comments below, email me any comments or suggestions at [email protected], and remember to follow me on Twitter – @NBADraftBlog.