A little lesson for the fans and media out there when it comes to draft coverage – Because you see a name on the list of players who declare for the NBA Draft that you haven't heard of, it doesn't make their decision a "mistake" or "head-scratcher." Unfortunately, a variety of things often prevent players from getting the exposure that many others do. Teams on the West Coast will often discuss what is known as "East Coast bias" in media coverage. But what if you are even further west than the West Coast? If you haven't had the opportunity to watch Hawaii's Joston Thomas play, I recommend you find some film of his game immediately. Thomas is athletic, has a NBA-body, and has shown a great ability to score and rebound, while mostly playing far from what would be his natural position. When you take time to put all of this together, it becomes quite clear why Thomas would make the decision to enter the NBA Draft, no matter if you don't know him or aren't impressed by his numbers. Thomas would have been as impressive, or possibly more, at a higher profile program. For now though, that's the past; Thomas is focused firmly on the future. I had the opportunity to catch up with Joston while he is New York training for the NBA Draft Combine being held in New Jersey May 19-20 (Joston is in the 1st session on the 19th). Joston talks about his game, where he thinks he can go from here, and more: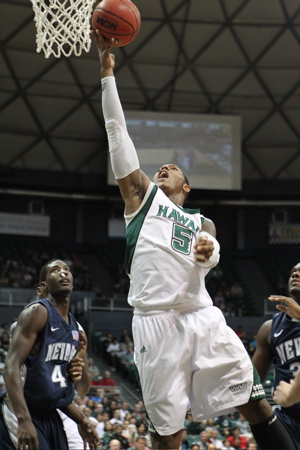 Joston on the development of his game in college:
"I was lucky to have good coaches at both schools (College of Southern Idaho and Hawaii). At CSI, I was playing more of the 3 or 4 spots, and in Hawaii, it was more of the 4 or 5, so I had to learn and adjust my game. In the end, it made me a better all-around player."
Joston on his strengths as a player:
"I think my body is my biggest strength. It allows me to do so many things. At 6'7, 230, I have the ability to play inside and out and defend different positions. Other than that, I don't look much at strengths and weaknesses because I am always working to improve all parts of my game every day."
Joston on the decision to enter the NBA Draft this year:
"There wasn't one specific thing that drove me to the decision. It came down to that I felt I was ready for the next step in development, and for me to get better, I had to play against the best. It's always been a childhood dream of mine to play in the NBA, and after this past season, I think I showed a lot of what is needed to do that. I love this sport and I want to be the best I can."
Joston on what he hopes to show teams at the Draft Combine in New Jersey:
"Specifically, I want to go in and show how far my game has come along. I want to work hard and have fun playing the game. When I first got to college, I was over-anxious and wasn't enjoying playing, but I am in a much better place now. I want to go out there and show all of the teams how complete my all-around game is, and have fun while I am doing it. I am in a great situation and I want to take advantage of it. "
Joston on how he envisions his immediate role at the next level:
"Anywhere I go, I can bring hard work and a lot of intensity to the team. Not a lot of people get this opportunity, so I will give it everything I have. Whatever a team needs me to do, I am ready to do it."

Joston on what he wants teams and fans to know about him:
"I have a hard-working, intense attitude. As long as I keep doing this, I know that I will always get better and my team will always get better. I look forward to being able to show everyone what I can bring to their team and enjoy playing the game I love."
I want to thank Joston for his time and I wish him the best of luck as he looks to fulfill his dream of getting to the NBA. I also want to thank Pinnacle Management Corp. for setting up this interview. A lot of fans may be wondering who Joston is, but I know the teams know who he is and they are looking forward to seeing what he can bring, especially when put in a situation where he can bring out the best in his natural ability.
Check back in the coming weeks for more great interviews and scouting reports as we head towards the 2012 NBA Draft. Follow me on Twitter – @NBADraftBlog – for updates, leave your comments below, or feel free to email me at [email protected]