Popular opinion will tell you that if you are a college basketball player and are not playing Division 1, you will not be able to play in the NBA as your next step. There have been a few notable exceptions through the years, but the talent pool for the NBA Draft every year is almost exclusively filled with D1 players. Luckily, there are people out there in the NBA scouting community who realize that talent can be found almost anywhere, and with an opportunity, these players can be valuable contributors at the highest level. I am not sure how many, but I am sure it is a small amount, of my readers have heard of Whitman College and know very little about Walla Walla, Washington, other than you can amuse yourself for hours saying it over and over. If you did know about Whitman, you would know that they had a player who had not only one of the best seasons this past year in Division 3, but one of the best seasons of any college player. David Michaels averaged 20 points and 6 rebounds per game, while shooting 55% from the field and a remarkable 46% from 3-point range. At 6'7 and 215 pounds, Michaels showed the ability to score on the perimeter, mid-range and long-range, and in the post, where he has advanced post skills for his size. Michaels received validation for his skills when he was invited to compete at the Portsmouth Invitational Tournament for the best seniors in the country. I had the chance to talk to Michaels as he prepares to graduate and head home to Las Vegas to train at Impact Basketball for upcoming NBA team workouts. Michaels discusses his game, competing as a Division 3 player, and more: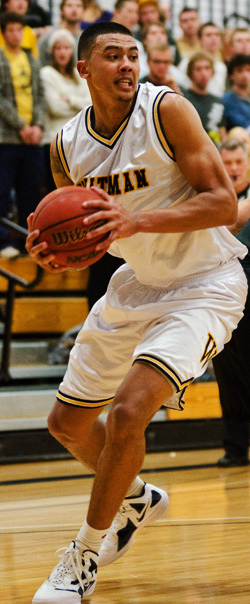 David on choosing to attend Whitman:
"The initial thing to me was its reputation as a great academic institution. My coach there has gotten the job late in the recruiting process, but both he and the school were highly recommended by people I trust. The important thing to me is that not only a great place to go for basketball, it was equally great outside of playing basketball."
David on the development of his game at Whitman:
"Playing there really instilled in me the work ethic to play the game at a higher level. As I developed over the years, my confidence grew with my game. I was able to work with (Assistant Coach) Stephen Garnett during the summers, and that really helped me to have the year I just had."
David on his strengths as a player:
"My shot is probably my biggest weapon and strength. I can play as a big guard and be a threat on the wings, and I can be effective using my post game as well."
David on areas he wants to improve as a player:
"I want to keep working on improving my ballhandling skills, being able to take defenders off the dribble and attack the rim. Overall, I want to work on my strong and weak areas – work on developing a 1-dribble jumper, and improving my foot speed to be a better defender at the next level."
David on his experience at Portsmouth:
"It was an amazing experience and an honor to be selected. I had the opportunity to play against some of the best players at the Division 1 level, and it gave me the chance as Division 3 player to show that I could raise my game to play with them. Once I showed I could do it, it helped me realize that I belonged there with everyone."
David on how he envisions his immediate role at the next level:
"I think I can definitely bring offense from the perimeter, as well as producing in the post against smaller defenders. I will be a great teammate, compete every night, and will continue to develop my leadership skills. It will be a new role and a new culture, so I will adjust and work effectively to be the best teammate I can be."
David on competing as a Division 3 player:
"There are a few similarities between all the NCAA divisions. There are definitely guys at the Division 3 level who are great players and compete at the highest levels, but didn't get as much exposure before and during college. I have no doubt that there are Division3 players who could compete effectively anywhere. Portsmouth showed me a lot more about what the Division 1 game does have. There are a lot of talented and gifted players, but the athleticism seems to be the biggest difference."

David on what he wants teams and fans to know about him:
"I believe I can be a guy who comes in and works hard to be the best player I can be for any team. I am motivated, I love basketball, and I love to compete. I can help a team in any way I can, and I will do whatever it takes. If I am given the opportunity, I will bring the energy and dedication that teams are looking for, and I can't wait to get this started."
I want to thank David for his time and I wish him the best of luck as he looks to fulfill his dream of getting to the NBA. I also want to thank Jordan Brewer at Pro One Sports Management for setting up this interview. My message here is very simple; you cannot judge a player's ability and potential until you actually see them play. Watch David play and then try to tell me that he doesn't have a legitimate shot at the NBA someday – I don't think you will be able to.
Check back in the coming weeks for more great interviews and scouting reports as we head towards the 2012 NBA Draft. Follow me on Twitter – @NBADraftBlog – for updates, leave your comments below, or feel free to email me at [email protected]