For a lot of players, coming out of a small conference and proving yourself to NBA teams can be a daunting task. Not for Rakim Sanders though. The Fairfield senior had 1 season to impress after transferring from Boston College, and he more than succeeded. Sanders did a lot of everything for the Stags. He led the team in points, rebounds, and steals as Fairfield made it to the semifinals of the CIT. No matter what team, a 6'5 player who averages a near double-double is someone you better keep an eye on. I had the chance to catch up with Sanders recently in Houston where he is working out with former NBA star John Lucas. Here Sanders discusses his game, playing in Portsmouth, and much more: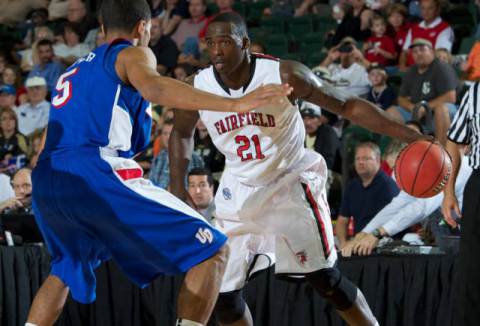 Rakim on how his game developed between his time at Boston College and Fairfield:
"I had a better understanding of the game. I was watching, taking things in, and keeping note of it for when I played."
Rakim on his strengths as a player:
"Defense is probably my biggest strength. I can defend multiple positions, using my strength and toughness. I think my versatility helps with matchups."
Rakim on what parts of his game he still wants to improve:
"Ballhandling is the thing I need to work on the most. Being able to take the ball to the basket."
Rakim on his experience at the Portsmouth Invitational Tournament:
"It was definitely an interesting experience. Being there with a lot of other guys, some who were talked about a lot, and some who weren't talked about much at all was good to see. I think I was able to show that I could step onto the court with anybody and do well."
Rakim on his role at the next level:
"I think I can come right in and be a stopper on the defensive end. I can guard a few positions, so I can fill different roles for any team."
Rakim on how coming from a small conference affects draft position:
"I don't really think about things like that. I know what kind of player I am, so who I played for doesn't make a difference."
Rakim on what he wants teams and fans to know about him:
"I am a tough player and a positive person. No matter where I go, I will give it everything I have to help the team."
I want to thank Rakim for his time and I wish him the best of luck as he looks to fulfill his dream of getting to the NBA. I also want to thank his agent, Brian Samuels of Evolution Group, LLC, for setting up this interview. Sanders is everything he said, and more, as a player. One of the toughest players in college last season, Sanders plays much bigger than his 6'5 height while maintaining his quickness. He is a unique talent and one that should have his share of NBA teams wanting to get a better look at him.
Check back in the coming weeks for more great interviews and scouting reports as we head towards the 2012 NBA Draft. Follow me on Twitter – @NBADraftBlog – for updates, leave your comments below, or feel free to email me at [email protected]