Cleveland State was in the middle of NBA Draft conversations last year with talk surrounding eventual 1st round pick Norris Cole. While there may not be a 1st round pick to find off of this year's roster, there were still some quality players on the roster, including senior guard D'aundray Brown. Brown, who came back from missing a year to injury to become a 2-time All-Defensive Team member in the Horizon Conference, was a major reason for the success Cleveland State had this past season. With good speed and athleticism, Brown has the ability to score to go along with his tough defense. I had the chance to talk to Brown recently about how his game developed, perception of the Horizon League, and more :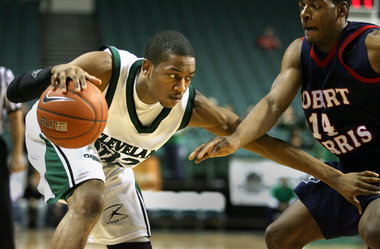 D'Aundray on how his game developed at Cleveland State:
"It took some time to adjust to the college game, but once I did, things started to progress. Defense was always my strong suit going into college, but at Cleveland State I was able to develop my ability as a leader and as an offensive threat."
D'Aundray on his strengths as a player:
"As I said, defense as always been a strong part of my game. Playing tight defense and getting to 50-50 balls. Also, I think my ability to get out into the open court in transition is very strong."
D'Aundray on what parts of his game he still wants to improve:
"I need to keep working on extending the range of my shot, and fine tuning the mechanics of it. Also, I am putting in a lot of work on my ballhandling skills, which I am sure I will need at the next level."
D'Aundray on how pro teams view the Horizon League:
"The people who work for the pro teams recognize good talent wherever they happen to play. If you have the talent, they will find you for their team."
D'Aundray on his role at the next level:
"I want to go in and be a threat on the floor on both ends. Whatever a team needs me to do, I will be happy to contribute."
D'Aundray on what he wants teams and fans to know about him:
"I am a hard worker who will never quit. I have a unique ability to get the ball and love to play defense. I think I have the intangibles that every team is looking for."
I want to thank D'Aundray for his time and I wish him the best of luck as he looks to fulfill his dream of getting to the NBA. I also want to thank his agent, Dino Pergola of HOF Player Representatives, for setting up this interview. D'Aundray has a lot of the qualities that pro teams all over the world are looking for, and the confidence to go with it. I am sure we will be hearing great things about D'Aundray in the future.
Check back in the coming weeks for more great interviews and scouting reports as we head towards the 2012 NBA Draft. Follow me on Twitter – @NBADraftBlog – for updates, leave your comments below, or feel free to email me at [email protected]