Under Coach Scott Drew, Baylor basketball has resurrected itself from the damage done by Dave Bliss to become one of the powerhouses of college hoops. While the recruitment of top high school prospects is important, it is the players who value their role and give their 100 percent in everything they do, who often make a huge difference in the success of a team. Anthony Jones was a Top 100 recruit coming out of high school. He did what he was asked to at Baylor and eventually earned his position as a starter. His senior year though, the staff decided that the team would play better with Jones coming off the bench. A lot of players would not take it well, but Jones still went out there and did what he did best, and he was a valuable player on an Elite Eight team. Jones, an athletic forward who can shoot over the defense, is now in Houston preparing to put together all he learned in the college game and bring it to another level. I had the chance to talk to Jones recently about Baylor, the development of his game, and more: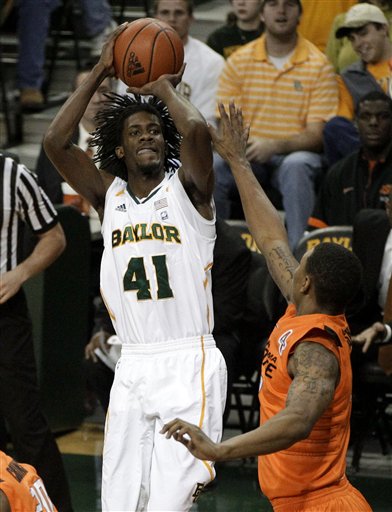 Anthony on how his game developed at Baylor:
"I think the area that developed the most was in becoming a leader and just maturing as a player. My time at Baylor was up and down, but I wouldn't trade it for anything. I got to be a part of some great teams, teams that went far in the NCAA Tournament. You never forget that."
Anthony on his strengths as a player:
"Definitely my ability to shoot the ball well at 6'10 is the biggest strength. It lets me step out and shoot over smaller defenders, and also stretch the defense and space the floor."
Anthony on what parts of his game he still wants to improve:
"I definitely need to keep working on my strength, getting stronger and building muscle. I am going to keep working on improving all parts of my game."
Anthony on his role at Baylor:
"While everyone wants to be a starter, I was willing to sacrifice my starting job for what was best for the team. It's not that hard of a decision, I was still the 6th or 7th man on an elite team, and had an experience a lot of players never get."
Anthony on his role at the next level:
"With my ability to shoot, I can go out there and space the floor and knock down shots from the perimeter. That won't be all, but I can do that right away for most teams."
Anthony on preparing for NBA workouts:
"I am working with John Lucas in Houston. It is a great way to get ready. Not only does he know what we need to do physically to make it, but he has been there before, and he lets us know what it takes to play at that level."
Anthony on what he wants teams and fans to know about him:
"I am grateful for what I have done and for the opportunity in front of me. I know I can bring a lot to a team, either on the floor or off. The team winning is the most important thing. I had the chance to win 100 games in college, so I know what it takes, and have the intangibles and mindset that winning players need to have."
I want to thank Anthony for his time and I wish him the best of luck as he looks to fulfill his dream of getting to the NBA. I also want to thank his agent, Austin Walton of Walton Sports Management Group for setting up this interview. Jones is the type of player you see in drafts for all sports. It's not always about numbers when you determine how good a player can be. Jones started some games at Baylor, but he could have gone to smaller school and put up flashy numbers and been a star. However, the mindset of a winner is tough to come by, and Jones definitely has it. The fact that he sacrificed for the best of his team is a testament to his character, and it is something that will be attractive to a lot of pro teams.
Check back in the coming weeks for more great interviews and scouting reports as we head towards the 2012 NBA Draft. Follow me on Twitter – @NBADraftBlog – for updates, leave your comments below, or feel free to email me at [email protected]