There was a lot of attention given to the presumed #1 pick in this year's draft, Anthony Davis, and his remarkable ability to block shots. Yet, many would be hard-pressed to name the player who finished second. If they looked further, they would find out that this player was the shot-blocking leader in the nation the previous year, and he also finished his college career 5th on the NCAA all-time blocks leaders, right between 2 names you surely recognized, Tim Duncan and Alonzo Mourning. Who is this player? He is William Mosely from Northwestern State in Louisiana. A phenomenal athlete who is a terror on the defensive end, Mosely's numbers become even more impressive when you realize that he is 6'7. Along with his defensive prowess, he continues to evolve on the offensive end, and his progression as a player is not close to being complete. Recently, I had the chance to catch up with Mosely while he is preparing for NBA workouts, training in Huntsville, Alabama at the prestigious D1 Sports Training. After speaking to Mosley, his humble demeanor and hard-work attitude leave you even more impressed. Here Mosely talks about his game, his future and more: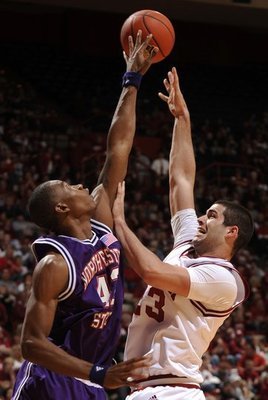 William on how his game developed at Northwestern State:
"My progression continued all throughout my college years. Every year, I wanted more and more to do what I could to improve. I just kept working on every part of my game over my whole college career. "
William on his strengths as a player (Author's Note: I asked him other than "rebounding and blocking shots"):
(Laughs) "Rebounding and blocking shots. Those are definitely my strengths."
William on what parts of his game he still wants to improve:
"I want to improve my ballhandling, especially when making post moves. I want to keep improving how I shoot free throws. Overall, I just want to improve my whole offensive game."
William on the perception of coming out of the Southland Conference:
"There are so many people who don't know about us. Playing at Northwestern State, it was located in the smallest city in a small conference. Not many people knew where we were. It definitely helped me, and a lot of other guys, because we really needed to work that much harder to stand out."
William on his role at the next level:
"I think I can just step right in, be a rebounder and shot-blocker. I am a hard worker, and I will keep working hard to make sure I stay there."
William on preparing for NBA workouts:
"I have been working a lot, working with professional trainers to get in the best shape I can. I am training at D1 Sports Training. They've done a lot of work with a bunch of pro athletes. "
William on what he wants teams and fans to know about him:
"I am going to come in and give it my all every day. Like college, I am going to work and work to keep improving. I'm a hustle player, a team player."
I want to thank William for his time and I wish him the best of luck as he looks to fulfill his dream of getting to the NBA. Thank you also to Jordan Brewer at Pro One Sports Management for setting up this interview. William is a rare talent and what school he played for shouldn't make a difference. No matter who he played, he was a menace to teams that tried to challenge him around the basket.
Check back in the coming weeks for more great interviews and scouting reports as we head towards the 2012 NBA Draft. Follow me on Twitter – @NBADraftBlog – for updates, leave your comments below, or feel free to email me at [email protected]