The story is one that many have gotten used to – talented player signs with a big school but, for whatever reason, the fit isn't exactly right. The player transfer to a smaller school and the opportunity brings out the best in their game. Quincy Roberts, a big guard with an array of ways to impact the game, followed just this route. Roberts went to St. John's out of high school, and garnered significant minutes right off the bat, including a handful of starts in Big East play. An injury cost him a year and then a coaching change sealed that St. John's would not be the place where he can be the player he needed to be. Transferring to Grambling, Roberts became eligible for the spring semester this past season and showed immediately why he needed a change of scenery. He averaged almost 23 points and 6 rebounds a game in just 21 games, before making the decision that professional basketball was his next stop. I spoke to Roberts recently about his decision to transfer, his game, and more: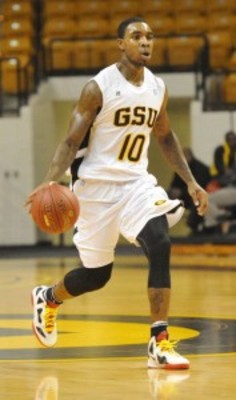 Quincy on how his transfer to Grambling affected his game:
"All of the waiting to play, it taught me to focus. When I got to Grambling, I just came in an worked hard every day. The coaching staff gave me an opportunity to show what I can do and I took advantage of it."
Quincy on his strengths as a player:
"Defending is one of my biggest strengths. I can also create my own shot, knock down open shots. I have also worked to get better helping my teammates get their shot and being an overall team player."
Quincy on what parts of his game he still wants to improve:
"I want to keep being as consistent a player as I can be. I don't think that any one of my skills needs work more than another. I am going to keep improving on everything no matter what."
Quincy on declaring early for the NBA Draft:
"It was my 4th year in school and I felt in my heart that I was ready to move on to the next level. I was ready to be a professional."
Quincy on his role at the next level:
"I think I can come right in and defend, run the floor, knock down open shots. I can help the team by talking out there, helping my teammates, getting everyone out there to enjoy the game."
Quincy on preparing for NBA workouts:
"I am working on getting the best condition I can be in. I'm working on different moves, as well as improving my ballhandling."
Quincy on what he wants teams and fans to know about him:
"I am a hard worker and a good person. I will keep working hard and it gets results. I will do whatever the team needs me to do. I can play a lot or come off the bench, score or not take shots at all, but I will be prepared to do whatever is necessary."
I want to thank Quincy for his time and I wish him the best of luck as he looks to fulfill his dream of getting to the NBA. I have said it before in this space over the last couple of years – what school or conference a player comes from has little bearing on their ability to play in the NBA. Roberts played in the Big East, and even started some games as a freshman, before deciding his opportunities would be best somewhere else. Considering the numbers he put up in less than 1 full season at Grambling, it is safe to say that Roberts can play; it will be a matter of getting in front of the teams now.
Check back in the coming weeks for more great interviews and scouting reports as we head towards the 2012 NBA Draft. Follow me on Twitter – @NBADraftBlog – for updates, leave your comments below, or feel free to email me at [email protected]