As we head towards the 2012 NBA Draft, it is time to give some looks at players who are not locks to be drafted, but may have the skills and intangibles which could translate to a NBA career. The Case For….takes a look at these players and tries to give a brief outline of what skills they have, what they are missing, and what steps would eventually lead them to the to the NBA. This edition looks at one of college basketball's top guards over the last couple of seasons, Wisconsin's Jordan Taylor. Taylor, who had a breakout junior season playing alongside future NBA draftee Jon Leuer, came into the 2011-12 season with major expectations. While the loss of Leuer drew more attention to Taylor, he still put together a very impressive senior season, ending in a one-point Sweet Sixteen loss to Syracuse. More impressive was how much his team needed him to be on the court to be successful, averaging 36 minutes a game last season. Taylor will not wow you with speed or athleticism, but he is effective and he is a winner. Is that enough for the NBA to come calling come draft time? Here is The Case For…Jordan Taylor.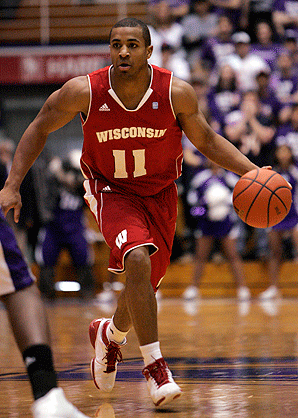 Jordan Taylor, Wisconsin, Senior, 6'1, 195
14.8 ppg, 3.8 rpg, 4.1 apg (2.6:1 a/to), 40.2 FG%, 78.5 FT%, 36.9 3FG%
The Good – Taylor has developed over 4 years into an extremely steady point guard. He runs offenses efficiently, is a solid ballhandler, makes good decisions and has learned how to get his teammates the ball where they can best make a play. He has shown the ability to score in a variety of ways. He can consistently knock down open shots from long range, and he has a way of methodically breaking down defenders to get into the lane. He goes strong to the basket and doesn't shy from contact. A true leader, he wants the ball when the game is on the line. Defensively, he does a good job positioning himself and has a good grasp on the strengths of who he is guarding. Off-the-ball, he denies the passing lane well and does a good job directing his teammates on cutters and screens. While he doesn't push the ball much in transition, when he does, he makes good decisions and can either hit the pull-up jumper, take it all the way to the basket strong, or make smart passes to open teammates.
The Bad – Taylor is a good athlete, but he lacks a lot of the quickness that people like to associate with his position. His first step isn't great and as noted above, he needs to gradually break down his defender to get by him. He has trouble creating space on his own to hit his jumper, and his shot selection, while not bad, could be better. He also needs to become more proficient running the pick-and-roll, though it wasn't a major part of his college game. Defensively, he needs to improve his lateral movement and foot speed, though he does make up for his lack here with an impressive ability to cut off angles. At 6'1, his size, though not a tremendous issue, can affect his ability to see the floor well at the next level.
The Verdict – There has become this fascination recently among draft experts, fans, and some teams, with placing athletic ability over almost everything else when determining a player's draft value. As flawed as it is, there is a tiny bit of merit to it. However, if a player can make up for his lack of athleticism with a high basketball IQ and understanding of his opponent, then they have as good a chance of succeeding as anyone else. In my opinion, Taylor falls in this latter group. His ability to run an offense is one of the best I have seen from this year's point guard group. He can knock down open shots and, while not flashy, he finds ways to create and score. Defensively, he will need to put some work in, just to adjust to the speed of the NBA game, but his lack of speed is not a reason to discount him. If he can show that he can run the pick-and-roll with precision, I have no doubt that he can be a good backup point guard at the NBA level. His experience and understanding of the game make him closer to be able to contribute than a lot of the other point guard prospects in this draft. If there is a team with a late 2nd round pick who needs a solid backup option that can help immediately, they can't do much better than Taylor.
Leave your comments below, email me any comments or suggestions at [email protected], and remember to follow me on Twitter – @NBADraftBlog.
Photo Credit: Tommy Giglio/US Presswire