Over the past few years, I have spoken to many players from small schools who are trying to beat the odds and make it to the NBA. Very few do, but it is rarely for lack of effort. Once in a while though, you find a small school player who has a major school game. Meet Terrence Joyner. Joyner is certainly not your typical small conference player. A 6'3 point guard with a long wingspan, Joyner was a top recruit coming out of high school, and after a few stops, took his game to Mississippi Valley State. Aside from being a top recruit, Joyner has spent most of his life playing with some of the NBA's top players, including James Harden and Brandon Jennings. Joyner is athletic, can score and distribute, and is a good defender. Add all of that to a high level of confidence and you have a player who should open the eyes of NBA teams before the draft. I had the opportunity to talk to Joyner recently while he is out in Las Vegas training at Impact Basketball: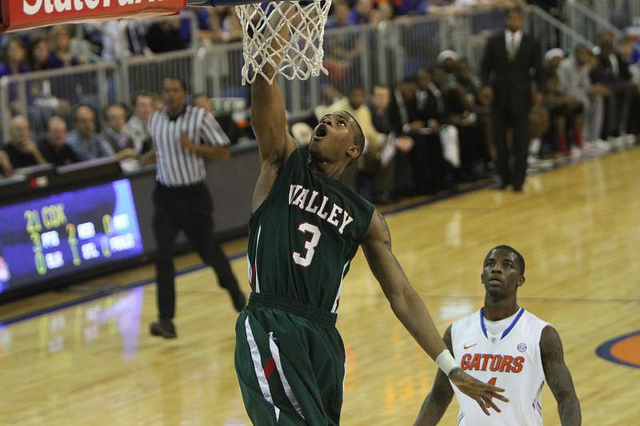 Terrence on how his game developed at Mississippi Valley State:
"My game developed drastically while I was there. I had been a top recruit coming out of high school (Rivals had him rated as the 22nd best point guard in the country), originally signed with Arkansas, ended up at New Mexico State, and eventually ended up at Mississippi Valley State. I wanted to keep my game at a high level. I would work out and play in the summer with guys like James Harden and Brandon Jennings, who I grew up with. They would introduce me to things I needed to do to play at the NBA level, and I would add those to my game."
Terrence on playing for Sean Woods:
"Coach Woods definitely brought the best out of me, as a person and as a player. He was a great defensive player and he worked on making me a great defensive player. We were close on and off the court, very much like a father/son relationship. That made me work as hard as I could for him."

Terrence on playing in the SWAC:
"Playing there makes you work that much harder to make it to the next level. It's tough playing there, none of the luxuries big school teams get, but it really teaches you about life, both on and off the court. I do have a chip on my shoulder, but I certainly don't have a small school game or mentality.

Terrence on his strengths as a player:
"I am a great shooter. I can get my shot off a bunch of ways – off the dribble, off the pick-and-roll, catch and shoot. I think my leadership ability is also a major strength. I can get my teammates to follow me. Defensively, I have also become much stronger. I think all of these would translate well to the NBA.
Terrence on what parts of his game he still wants to improve:
"I think my game is pretty solid, but I will continue to always work on all parts of my game. Along with that, I want to work to make sure my conditioning is as good as it can be."
Terrence on players from Los Angeles:
"If you look at the NBA now, LA guards are dominating. You have Harden and Jennings, Darren Collison, DeMar DeRozan, Jrue Holiday, Russell Westbrook. All from LA, and I have played with these guys my whole life. I think I have put myself in this position to join them. Playing with them has given me no fear, I am confident in my abilities."
Terrence on what he wants teams and fans to know about him:
"I am a leader and I am a winner. I have all of the intangibles and skills to be a great point guard. I know I am a sleeper in this draft, and wherever I go, I will have to earn every second I get. My game should transition well to the NBA, but I won't stop working. The fear of not reaching my dream makes me work even harder. "
I want to thank Terrence for his time and I wish him the best of luck as he looks to fulfill his dream of getting to the NBA. Thank you also to his agent, Dino Pergola at HOF Player Representatives for his time in getting this interview. Joyner is definitely one of the more unique players I have spoken to. He has full faith in his game and his abilities, and after you talk to him, you believe what he is saying. The thing that sets him apart though is that he backs it all up on the court.
Follow me on Twitter for more information – @NBADraftBlog – leave your comments below, or feel free to email me – [email protected]