The story broke a few weeks ago, and it was tough to find any basketball fan or media member who wasn't appalled by the story they were hearing. Former top recruit and Florida International sophomore Dominique Ferguson had requested a release to transfer after two seasons due to the firing of his coach, Isiah Thomas, and a desire to play closer to his family in Indianapolis. Florida International refused to grant him his release, even with some restrictions. In a shocking display of hubris, an appeals panel wrote that they believed that Ferguson would be much better off staying at the school. Left with little option, other than paying to play for another school himself, Ferguson decided to declare for the NBA Draft. While Ferguson hadn't quite developed yet into the player people expected, this past season he showed numerous flashes of the athleticism and ability which made him a coveted high school recruit. Not letting the situation deter him, Ferguson is working hard to prepare to show what he can do to NBA teams. I had the chance to talk to Dominique recently about his game, his development, and more: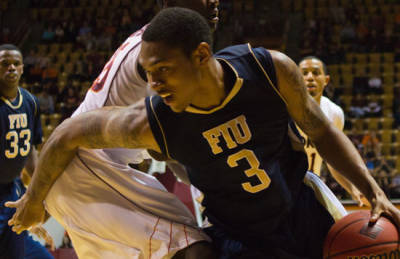 Dominique on how his game developed at Florida International:
"It developed a little in some areas, but not that much. It definitely developed me mentally as a player. I have a much better mental sense of the game, but for the rest of my game, I feel I am making it up for it now with my work."
Dominique on his strengths as a player:
"I don't think I have any one strength in particular. I feel I can do multiple things well, but one area doesn't dominate. I think I am a jack-of-all-trades. I can rebound, pass, and score."

Dominique on what parts of his game he still wants to improve:
"I definitely want to work on getting stronger to be more physical. I also want to keep improving my ballhandling skills and being more consistent with my shot."
Dominique on how he sees his role at the next level:
"I can fill whatever role the coach wants me to do. If they need a scorer, a rebounder, defender, I will do it. Once I get the opportunity, I will do whatever I need to do to make my team better."
Dominique on how the FIU transfer issue affects his draft work:
"I don't think that it (late decision to enter NBA Draft) has put me at a disadvantage. Once you are in, everyone is the same. People go up and down through the process. There are players with high hopes, and a lot of talk about them who end up not going high in the draft, or at all, and there are a lot of guys who nobody talked about and they get picked and do well. As long as I get the opportunity, I will show what kind of player I am capable of being."
Dominique on what he wants teams and fans to know about him:
"No matter what, I am going to come in and play my hardest. All I need is someone or some team to give me a chance and see what happens. I will just work as hard as I can and make the most of any opportunity."
I want to thank Dominique for his time and I wish him the best of luck as he looks to fulfill his dream of getting to the NBA. Thank you also to his agent, Brian Samuels at Evolution Group, LLC for setting up this interview. The circumstances may not have been ideal for Dominique to enter the draft, but he is still a very talented player who taking this opportunity seriously. I fully expect that Dominique will get the chance to show the NBA how good a player he can be.
More interviews will be posted all the way until the NBA Draft, so keep checking back. Follow me on Twitter – @NBADraftBlog – leave your comments below, or feel free to email me at [email protected]