Today, the NBA Draft Blog Scouting Report looks at a freshman guard who has the ability to make your jaw drop and make you cringe, all in a few plays – Washington's Tony Wroten. Part of talented backcourt with Abdul Gaddy and Terrence Ross (see Scouting Report here), Wroten was able to get to the basket almost too easily this past season. But will his lack of a jumper and poor decision making seriously affect his draft position? Let's take a look: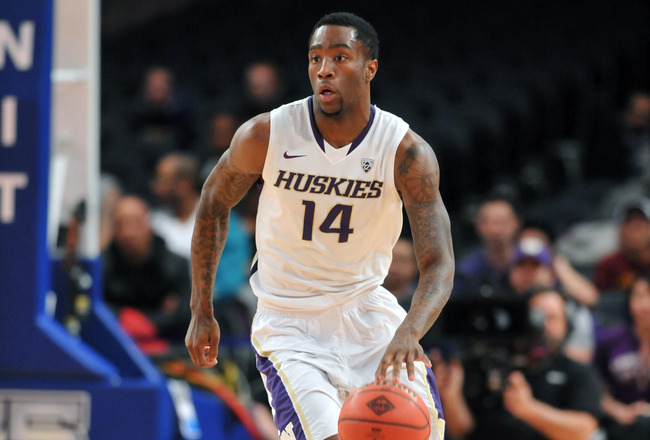 Tony Wroten, Washington – Freshman
Guard – 6'5, 205
16.0 ppg, 5.0 rpg, 3.7 apg, 1.9 spg, 44.3% FG, 58.3% FT, 16.1% 3FG
Offense

Perimeter Shooting- One of Wroten's biggest weaknesses is his ability to hit his jumper with any consistency. His form is decent until the point where he needs to release the ball and he doesn't get a smooth follow-through. He seems to hold back on his wrist snap and he ends up pushing the ball. The few times he does get the follow-through correct, he is at least an average shooter. He has average range and release time. He moves well without the ball, comes off of screens well, and is very good at creating space for his shot with his dribble. He has little semblance of a mid-range game; almost every shot is from deep or he takes it to the basket.
Ballhandling/Penetration- This is where Wroten has earned most of his accolades. He is a very good ballhandler, able to use both hands well, and with a full complement of advanced dribbles, including a fantastic hesitation, to keep the defender off-balance. He does a good job keeping his handle low and close to his body. He needs to work on not relying on his left hand so much, and he needs to also do a better job against pressure defense. He has a tendency to try and force his way out of traps by splitting them or backing out of them. Wroten has an explosive first step, and with his long strides, seems to get to the basket very quickly. He has good body control and can avoid defenders on his way to the basket. He should work on not always forcing the play all the way to the basket, especially when the help rotates quickly. He needs to develop a decent pull-up jumper or floater for these situations. He uses screens very well, comes off them tight, and turns the corner quickly to get into the lane. Another key area Wroten will need to improve is his reliance on forcing almost everything to his left. He needs to become more comfortable taking the ball to the right side of the basket and also using his right hand to finish on that side.
Rebounding/Passing- Wroten has good size and long arms which allows him to get to missed shots well. He is very active around the basket and has a good sense for where the ball will go. Wroten can be a great passer at times, though he needs to cut down on his mistakes. He sees the floor very well and his size allows him to see most everything from the perimeter. Most of his passes are crisp and on point, though his decision making needs to a lot of work. Just because he can see an opening, doesn't mean it is always a good idea to try and make the play. He also needs to work on kicking the ball out to the perimeter after he draws help defenders on his penetration, as well as becoming more comfortable making passes in pick-and-roll situations.
Free Throw Shooting – As with his perimeter shooting, Wroten needs a lot of work to become a better free throw shooter. His flawed release gives any ball a little off target almost no chance of going in. If he can fix this, he can be a prolific scorer based on the amount of fouls he draws when going to the basket. Also, his poor shooting can relegate him to the bench in crunchtime situations.

Defense
Perimeter Defense- Wroten is a very good defender, both on and off the ball. When his man has the ball, he does a good job positioning himself, gets low to the ground and keeps his hands and feet active. His lateral movement is very good and he has little trouble cutting off players when they try to make a move on him. He also does a good job recognizing and getting over screens, and this allows him to defend the pick-and-roll well, while letting the screener's defender play off a bit more. Off the ball, he does a very good job again with positioning, denies passing lanes well, and has excellent court awareness. He is a good help defender and does a good job getting easy steals. The main area he needs to work on is his tendency to gamble too often and overplaying his man looking for a steal. NBA level players will see this and make a quick cut to the basket, left wide open. He also needs to make more of an effort to close on shooters, especially since he is usually in good position to do so.
Rebounding- Wroten is active on the defensive glass and looks to grab a rebound whenever he can. He uses his athleticism and instincts to get to balls quickly He needs to make sure he puts a body on someone when a shot goes up, but he should still be a good rebounder at his position in the NBA.

Transition
Wroten does a very good job in transition, though he needs to improve his decision making with the ball. He gets down the court extremely quick and is a fantastic finisher. He does need to work on his tunnel vision and look for open teammates, especially on the perimeter, if the defense sags against him. Since he doesn't have a jump shot, you know if he has the ball, he is going to the basket,

Summary & Intangibles
Athleticism – Very High
BB IQ – High
Wroten is one of those players who look attractive when you see them at first, but once you watch more, the flaws become extremely glaring. His ability to get to the basket is near the best in this draft class, but he is not going to have such an easy time in the NBA, especially when teams don't need to worry about him hitting jumpers yet. Also, forcing the action to his left isn't going to work well at the next level, and his decision making needs to go up a few levels. Defensively, he should be able to help some teams almost immediately and he could do well on a team that likes to push the ball almost all game. His best fit would be with a team that has time develop him, preferably with a veteran point guard to take him under his wing. The raw talent is undeniable, but his problem areas are serious problems right now. He is looking at going somewhere near the end of the 1st round (23-30), which in the long run may be best for his development.
Remember, leave any comments below, follow me on Twitter – @NBADraftBlog, or feel free to email me at [email protected]