As we head towards the 2012 NBA Draft, it is time to give some looks at players who are not locks to be drafted or whose position can fluctuate quickly, but may have the skills and intangibles which could translate to a NBA career. The Case For….takes a look at these players and tries to give a brief outline of what skills they have, what they are missing, and what steps would eventually lead them to the to the NBA. This edition looks at one of the breakout names from the 2012 NCAA Tournament, Norfolk State center Kyle O'Quinn. America came to know O'Quinn when he led his 15th seeded team to a massive upset over 2nd seed Missouri in the Round of 64. O'Quinn put on arguably the best single game of the Tournament with 26 points and 14 rebounds. The Player of the Year in the MEAC, also picked up his second consecutive conference Defensive Player of the Year award, and to top it off, O'Quinn went to the Portsmouth Invitational Tournament and took home the MVP award. O'Quinn has shown athleticism and skill, but will it be enough for him to compete in the NBA, and what does that mean for him come draft time. Here is the Case For…Kyle O'Quinn.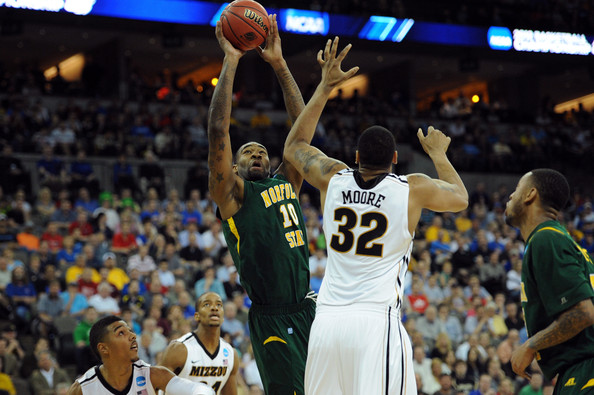 Kyle O'Quinn, Norfolk State, Senior, 6'10, 245
15.9 ppg, 10.3 rpg, 2.6 bpg, 57.3 FG%, 69.6 FT%
The Good – O'Quinn has a NBA-ready body – solidly built and very athletic for his size. He is very active around the basket and has the ability to finish strong, while also having a nice touch when needed. O'Quinn has the ability to hit his jumper from 10-15 feet consistently and has the skill and form to eventually hit from 15-18 consistently. He is a solid screener on the perimeter, and is a decent option on the pick-and-roll. He opens well after the screen, but needs to get to the basket quicker. O'Quinn passes well, especially from the perimeter and high post. He is a very good offensive rebounder, using very good leaping ability and instincts combined with his long arms to get to balls quickly. He has very good body control and can get second shots off quickly. On the defensive end, he uses the same traits to hit the boards hard. He has strong hands and does a good job securing the ball. He is also an excellent shot blocker, with great timing and the ability to extend straight up to avoid fouling. Finally, he plays the game hard and shows great maturity when on the court.
The Bad – O'Quinn needs to do a better job using his body to establish position in the post. He needs to use his lower body more to seal the defender and make his base lower and wider to avoid being denied over the top. Along with this, O'Quinn needs to develop his moves in the post more, refining his drop step and becoming comfortable making moves on both sides of the basket. He also needs to be more physical on the defensive end. He doesn't use his body well to prevent the offensive player from backing him down, preferring to let him go for his shot and try to block it. This extends to his rebounding as well. O'Quinn relies on his athleticism to get to missed shots, but he needs to make sure to put a body on someone before he goes for the ball. .
The Verdict – O'Quinn has become the classic case of NCAA Tournament overhype. That doesn't mean he isn't NBA material, he certainly is, but the areas he needs to improve in are some of the most vital for his position in the league. Not only does he need to learn to be more physical, but the fundamentals of post play on both ends need to be improved. His maturity and athleticism make him worth a shot in the 2nd round, and he should provide some good energy off the bench along with his rebounding and shot-blocking ability. I think his proper value lies somewhere in the middle of the 2nd round (42-49), but he should be able to contribute pretty quickly to whatever team picks him.
Leave your comments below, email me any comments or suggestions at [email protected], and remember to follow me on Twitter – @NBADraftBlog.