Every fan knows the story of how Gonzaga, a small school in Spokane, Washington, became a major force on the national college basketball scene. A tough national schedule played with tough, skilled players has led to the kind of success small schools only dream of. The latest Bulldog looking to take his game past Spokane and on to the NBA is center Robert Sacre. Sacre established himself as a defensive force almost immediately after getting to Gonzaga, culminating this year by being named the West Coast Conference's Defensive Player of the Year. A highly-skilled big man who can work in the post, or knock down the 15-foot jumper consistently, Sacre has all of the ingredients to be an effective NBA player. I recently had the chance to talk to Sacre while he is training for NBA workouts at IMG in Florida. During the conversation, Sacre showed he has a great grasp on the players and the history of the game. Here, he discusses his development, playing the Gonzaga schedule, and much more: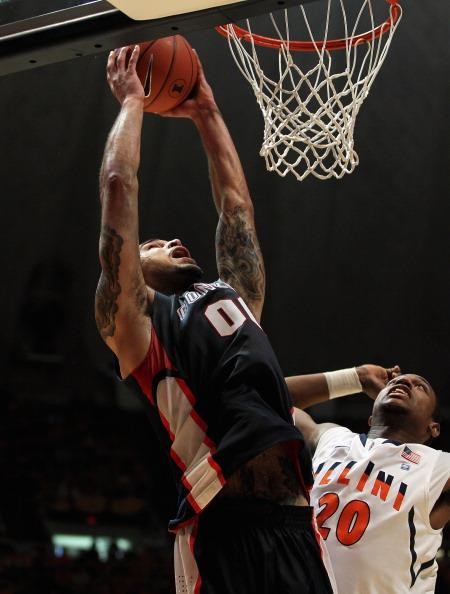 Robert on choosing to play at Gonzaga:
"I am very thankful and happy that I went to Gonzaga. I have no regrets over the decision (over "larger" schools.) You can't look back and wonder 'what if?' I had a great time playing there and it made me a better player. Everything the coaching staff told me would happen, did, and now I am on the verge of my dream."
Robert on how his game developed at Gonzaga:
"I was very raw when I got to Gonzaga. I put a lot of time in the gum, working on every part of my game. Each year I spent a lot of time working on my weaknesses. It may be a cliché, but hard work really does pay off. Even when it's something you don't want to do, you see it pay off for you. "
Robert on the strengths to his game:
"My biggest strength is definitely playing defense. I can run the floor well also. I see my game to be similar to Kendrick Perkins or Carlos Boozer."
Robert on what parts of his game he still wants to improve:
"I need to work on handling double teams better, getting the ball out quicker. I also need to keep working on improving my rebounding, that's a big key. I think these are easy fixes though and as long as I continue to work hard at it, I will definitely improve. "
Robert on Mark Few's scheduling:
"It was exactly what I wanted. I wanted to play for a program that wanted to play the very best. I know the WCC wasn't a powerhouse, but for me it was the perfect situation. I got to travel everywhere and play the best teams. And because Gonzaga was always on TV, my family got to see almost every one of my games. Coach Few would always ask us who we wanted to play and he would go out and always try to make it happen."
Robert on how he envisions his role at the start of his pro career:
"First and foremost, I will be there to play defense and bring energy to the team. But my role will probably differ depending on what team I play with. If they need me to defend and rebound, or if they need me to provide offense in the post, I can do all of those things. I played on some great teams and I know that I can be whatever a team needs me to be. In that way, I see myself as a very dynamic player."
Robert on what he wants teams and fans to know about him:
"I am a great team player. I will bring energy, passion and fire to whatever city and to whatever team I play for. I feel all I need is a chance and I can shine and be successful. "
I want to thank Robert for his time and I wish him the best of luck as he looks to fulfill his dream of getting to the NBA. Thank you also to his agents, Keith Kreiter and Greg Haenke at Edge Sports International, Inc. for the opportunity to do this interview. If you have seen Robert play, and most of you have, then you already know that he will be a major asset to whatever NBA team picks him.
Check back for more interviews, as well as scouting reports, over the next few weeks. Follow me on Twitter: @NBADraftBlog and feel free to email me: [email protected]