Today's NBA Draft Blog Scouting Report looks at a big man with a lot of potential, Illinois' Meyers Leonard. Leonard is 7'1 and athletic for his size, but he still needs to improve a lot of areas of his game, on both ends of the floor. Will his potential and size be enough to get him into the lottery? Let's take a look at Meyers Leonard: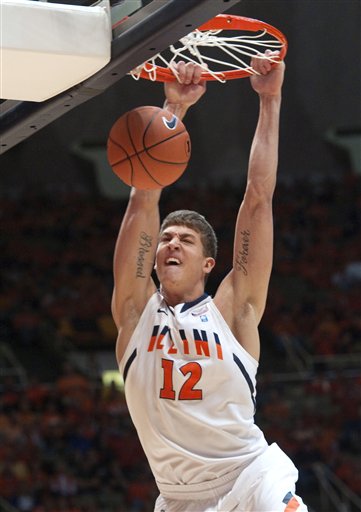 Meyers Leonard, Illinois – Sophomore
Center – 7'1, 245
13.6 ppg, 8.2 rpg, 1.9 bpg, 58.4% FG, 73.2% FT
Offense
Post Skills/Footwork- Leonard has shown some improvements since his first year at Illinois in working the post. He has done a better job using his body to establish position, but he still needs to do more. He needs to use his lower body more to keep the defender off of him, and also do a better job creating a target for his man to get him the ball in a good spot. When he gets the ball in the post, he has developed a few solid moves and he has nice touch around the rim. He does a good job getting into his move once he gets the ball, though his movements need to be more fluid and he should not over dribble when he makes his move. He is stronger when setting up on the left block and going over his left shoulder, though he has shown a little improvement on the opposite side, especially with finishing with his left hand. He does a very good job setting screens in the lane or on the perimeter, but needs to work on opening up quicker to the basket on pick-and-roll situations. Leonard has also developed a nice turn-around jumper out to 8-10 feet, and should be able to turn this into a consistent face-up jumper. He has very good footwork and foot speed at 7'1, but he needs to continue to work this advantage into his post game. Improving his drop step in the post and being able to face up and take his man to the basket should be key areas he works on leading up to the draft.
Ballhandling/Hands – Leonard is a decent ballhandler for his size, though he needs to do a much better job keeping his dribble lower and closer to his body. This past season, he was very susceptible to a quick strip from a help or double-team defender. He has shown that he is comfortable handling the ball with either hand around the rim, but seems to avoid using his left if he can. Leonard has good hands, but needs to work on getting a better handle on tough passes, especially when setting up in the post.
Perimeter Shooting- Leonard has the making of a player who should eventually be a consistent shooter from 15-18 feet. He has good form on his shot and has smooth, consistent stroke. He does need to watch a tendency to rush his shot and not get enough arc on it. If he can improve his range, over time he should become a good option working off the high post or in pick-and-pop situations.
Rebounding/Passing- Leonard uses his athleticism very well to grab offensive rebounds. He jumps quickly and has the ability to get a second chance up quickly. However, he needs to get much stronger and use his body more at the NBA level. If he can establish solid position first, he should be very effective on the boards. Also he needs to work on anticipating where the missed shot will go and use his quickness to beat other big men to the spot. Leonard sees the floor well and can be a dangerous passer out of the high post or on the perimeter. He needs to work on anticipating double teams better and get the ball out to the open man quicker before he is trapped.
Free Throw Shooting – Leonard is a good free throw shooter, but he has room to improve. He has good form and a consistent stroke. He does need to do a better job getting to the line. At 7'1, he needs to go strong to the basket and draw contact.

Defense
Post Defense- Similar to his post offense, Leonard has the physical tools to be a very good post defender, but he still needs to make some improvements/adjustments for the NBA level. As on the offensive end, added strength and learning how to use his body well are essential. He has to do a better job setting a wide base, staying balance and not giving his man the opportunity to back him down. He has the footwork and foot speed to counter smaller, quicker players in the post, but he needs to improve his reaction time to their movements. He needs to be more aggressive overall on the defensive end, especially as a help defender in the lane. More often than not, Leonard would choose to stay close to an average perimeter shooter than help on a player going to the basket. At 7'1, he needs to go after that ball and discourage people from looking to penetrate against him. He is a good defender on the pick-and-roll, hedging well and using his length to make all options tough on the ballhandler. He does need to work a bit more on recovering to his man after he shows on the screen, but he has improved.
Rebounding/Blocking- Again, Leonard has the physical tools to be a very good rebounder at the NBA level. As on the offensive end, he uses his athleticism and length to get to balls quickly and he does a good job securing the ball once he gets it. But, also like the offensive end, he needs to be much more physical. He needs to make sure to use his lower body to force players away from the basket area and to go after the ball once he has the position. Also, having better court awareness and seeing when and from where the shot goes up, should allow him to create the space he needs. Leonard is an average shot-blocker, but should be much better for his size. He does a good job getting full extension on the block attempt and he has good body control to avoid contact. But like his defense overall, he needs to be more aggressive and use his abilities to his team's advantage. He needs to not worry about fouling and just look to make the play. When he does block a shot, he does a good job trying to block it to one of his own teammates.

Summary & Intangibles
Athleticism – High
BB IQ – Above Average
Leonard's game is all about potential. 7'1 with good athleticism should give him the upper hand in being a very good pro. However, there are so many areas he needs to work on, that it will be at least a year or two before he has any kind of impact at the NBA level. Getting stronger and being more physical are the most important things he needs to do to get consistent time on the court, and if he learns to be more aggressive, he should be a decent post option over time for some team. He also needs to work on not letting a foul call or missed opportunity get to him during a game. Too many times, it not only took his game down, it took his team's game down as well. There is a lot of raw talent that can become very good with the right team. Look for him to go in the middle of the 1st round, most likely in the 14-21 range.

Remember, leave any comments below, follow me on Twitter – @NBADraftBlog, or feel free to email me at [email protected]
Photo Credit: AP Photo/Robert K. O'Daniell